Posted on
Sun, Jun 19, 2011 : 11:01 a.m.
Retirement years offer promise of a great new life
By Robert Faber
Editor's note: This is another in a series of occasional columns by long-time Ann Arbor resident Robert Faber on what he describes as his most recently acquired area of expertise - growing old.
It was some years ago that I was first introduced to the highly touted joys of retirement — and I was hooked. Waking at seven in the morning, hearing the birds celebrating their small victories over slow-moving worms, then rolling over in bed without any attendant feelings of guilt — what's not to like?
It was the promise of a great new time of life — feared by some, overly glorified by others and badly played by many. Letting the birds and worms fight it out is an interesting sideshow, but it is a battle that does not add much to our day. Now that we've been freed of meeting schedules set by the obligations of jobs we no longer have, we can deal with routines of our own choosing.
The freedom of retirement can be a wonderful gift, but it can also be a challenge. Doing nothing can be very appealing, but it wears thin very quickly and can be dangerously self-destructive.
Much of our careers in the workplace were directed toward providing for our families and our futures, but now that the goals have been met or are no longer relevant, that same need for productivity remains. Just that the rewards have changed — the productivity flows in different directions.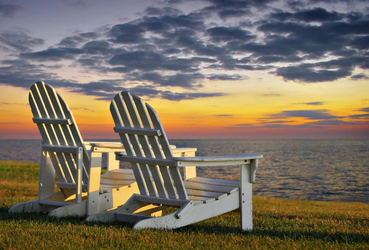 Tom Ricciardi | Dreamstime.com
For myself, I can now focus on those pursuits for which I never before had sufficient time, such as building wobbly tables to support equipment I rarely use, or giving full attention to improving a golf game which inexplicably seems to deteriorate with practice.
Now I'm busy writing letters of protest or praise to people and companies who rarely answer, or little notes of clarification to people who took offense at my last notes or struggling to understand the mysteries of my computer in order to write those notes and apologies.
Leading a life of indolence doesn't take a lot of training and can be addictive, so background experience is helpful. While my years in the fabric business, for example, taught me no retirement skills except, perhaps, woolgathering (sorry 'bout that) and my travel agency added little more, the disciplines they encouraged are good for any age and activity — or inactivity, depending upon the chosen path.
The point is that movement itself is important — not necessarily the direction of that movement. My half-century of skiing, for example, need not be off the agenda, but now clearly off the table — or off the slopes — is taking hills too steep or moguls too high. Nor will I stay on the mountain until the last chairlift closes.
But it makes little difference how much my athletic routines have diminished — I've given up trying to show off. My kids have long known my limitations and finally I, too, have admitted to them, so now it's just for the fun of it — and that's all I need.
Not that I was ever resentful of my full-time-and-a-half work routine, but there's no question that holding a job, supporting a family and raising children really does cut into a person's free time.
I had always managed to find time for satisfying activities unrelated to my job — perhaps playing squash with my friend at mid-afternoon of a business-day, or taking a couple of days off to see a show in New York with my wife. But now with the freedom of retirement, I can participate openly rather than surreptitiously — and without feelings of guilt.
Nevertheless, retired time is not totally free time, not completely without some degree of guilt attached to inactivity. Several decades ago, for example, my wife's father, an untrained and unrecognized scholar who used to complain that he was 200 years behind in his reading, also retired. But even then he had to deal with a new and unexpected obstacle, complaining that, "You can't read Dostoevsky in the morning."
The character and nature of old age obligations are different from those of our younger years. Our kids need us less and our mortgage has been paid, but we still have a place in the world, we still have people around us — whether strangers or family — who need our help or advice.
If it is true that you can't read Dostoevsky in the morning, it is also true that life, even during its golden phase, cannot be devoted exclusively to the joys of self-indulgence. Among other reasons, it is because indulgence is that much sweeter when it stands in sharp relief to the pursuit of some more philanthropic obligation.
And we've got plenty of gratifying alternative obligations right here in River City. Many local organizations exist that have undertaken to assist citizens who cannot assist themselves — to feed the poor, care for the helpless, tend the ill, shelter the homeless, teach the young. They are all seriously underfunded and depend for their very existence on volunteers who have the time to give.
An almost uniform reaction of those involved with such organizations and services is the rare and remarkable fact that everybody — -- the organizations that continue functioning even while inadequately funded; those recipients whose troubled lives are made bearable by the services provided; and the volunteers whose service to their fellows adds meaning to their own lives.
In short, we don't have to quit when we quit — there's always more to do. After all those years of earning a living this might seem like working another job, but now we can do it on our own time and at our own pace — and to the fulfillment of our own most personal needs.
Bob Faber has been a resident of Ann Arbor since 1954. He and his wife, Eunice, owned a fabric store and later a travel agency. He served a couple of terms on the Ann Arbor City Council. He may be reached at rgfaber@comcast.net.