Posted on
Sun, Jan 6, 2013 : 5:58 a.m.
Top 5: Ann Arbor development sites to watch for activity in 2013
By Paula Gardner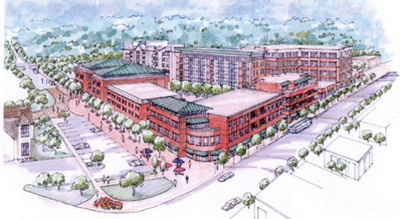 Ann Arbor Business Review
Looking at Ann Arbor and its potential for private development left most people with a simple conclusion in recent years: It doesn't make sense to build.
But that changed in 2012, as construction concluded on some projects, started on several others and prompted developers to line up the next wave of building.
There was a time - back in 2011 or so - when it seemed like Arbor Hills Crossing on Washtenaw would be a vacant lot for some time to come. Or that Village Green might keep delaying City Apartments. Or even that Sterling Lofts 411 could stand alone as a student high-rise on its East Washington block.
No more. The Varsity is ahead of schedule on East Washington, and the other new projects are proceeding quickly. (Even on late December Saturdays, I recently noticed).
And now even the most distant building projects have momentum: The former West Towne Condos found new life as apartments, and the new owner of the project at West Liberty and Maple wants to build 53 new units at the now-Blue Heron Pond. The new apartments on the edge of downtown will be taking shape at 618 S. Main. Neighbors are gearing up to battle still more student housing on East Huron, while the high rise on Church Street seems to be finding acceptance.
And now we even find out that the Downtown Development Authority is ready to set a plan in motion to sell the city-owned development properties in the central business district.
So far, the city seems to be avoiding the breakneck development pace that both added residences and retail spaces to the city - and left some developers (and banks) holding property that just couldn't sustain its value during the recession.
We suspect plenty of people are seeking opportunities to build here, and that we'll see still more plans unveiled in 2013.
Here are properties that I'm watching most closely this year for development activity:
1. Glen Ann Place: The site plan was expiring in November as the original developers still owed $80,000 in back taxes. Yet the assemblage of land that would have allowed the 9-story mixed-use project on the block at Glen and Ann remains close to two of the hottest economic engines in Southeast Michigan: The University of Michigan Medical Center and U-M's central campus. The original price of the land and the development may not have aligned with reality, but someone - or some people - simply have to see some potential here.
2. 202 S. Division: This property, at the southwest corner of South Division and East Washington, could have been a hotel. But weeks after a Chicago developer sought to submit plans in 2011, it seemed to go into limbo. The property stayed vacant through discussions over whether a hotel could be built on the Library Lot. It stayed vacant as two high-rises took shape across the street and a third is in the works a block away. It's vacant as the corner of Liberty and South Division grows as a destination. Will it remain vacant through 2013? Hardly seems likely, but the developers (so far) haven't talked.
3. 48.51 acres north of Arborland: This property abuts a popular landmark Ann Arbor shopping center, a subdivision with $400,000 homes and it's in the city limits. It's also been listed for sale for $4.9 million as it went through foreclosure. City officials have been getting inquiries on it; it may have sold in late 2012, but details remain sketchy. This property also is next to US-23 and may not have easy access from Huron River Drive - but it could be a barometer for two questions about our city. The first: When will significant residential development begin again? And the second is what kind of potential developers see in carving out new uses for long-existing vacant land here. In 2008, two hotels, restaurants and senior housing were proposed here.
4. 1380 N. Main: It's stunning and disappointing to me that Ann Arbor has built itself into one of Michigan's most dynamic cities by turning its back on the Huron River. But that's exactly what much of North Main Street does. As a gateway, it's unattractive; as a place that capitalizes on a tremendous natural asset, it just doesn't maximize potential. The city is trying to address the corridor, particularly a bit farther south near Summit Street. But when developers break ground on this proposed office complex, we'll know that something is about to happen in this underutilized part of town. It comes with risks (close to the highway and it'll be costly to build), but also could have a big payback for the city.
5. Lower Town: This could be the ultimate barometer for Ann Arbor's rebound. These 7.8 acres once were envisioned for one of the largest single redevelopment projects in city history, back when a $172 million project only seemed a bit far-fetched. Today, it's easy to look back with amazement that it got as far as it did. (State pensioners, who now own it, may feel the same way). Lower Town continues to give Ann Arbor a development reality check. When someone sees something truly viable for this site - which remains close to the U-M medical campus, a lot of additional building activity and successful residential properties - we'll know that Ann Arbor truly has emerged from the downturn. And I'm not discounting some type of public use for that "something viable."
Paula Gardner is Community News Director at AnnArbor.com. Reach her by email or follow her on Twitter.