Posted on
Sat, Dec 8, 2012 : 5:59 a.m.
Top 5: Restaurants around Ann Arbor that I hope never change
By Paula Gardner
News that Blimpy Burger faces a move due to what appears to be the imminent purchase of its building by the University of Michigan hit Ann Arbor hard.
The day before we confirmed that news, many of my colleagues and I were considering just how many restaurants play into our list of Ann Arbor institutions.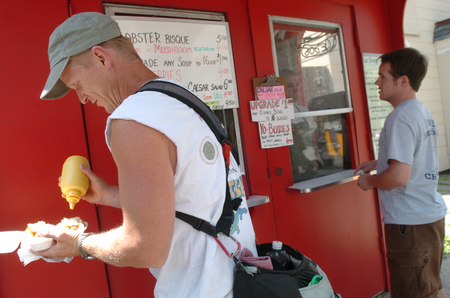 AnnArbor.com files
They're the places that help us define Ann Arbor and our experience here. Consider the student: It doesn't matter what classes you took while at U-M, what your grades were or how long you stayed after graduation. At some point, a whole lot of the carnivores who enroll on campus ended up standing in line while watching a guy with a spatula beat a ball of ground beef into a really tasty burger.
That's the core of the Blimpy experience, but other places bring the same element of "I love that place!" reaction to anyone who's lived here for some time.
I recently wrote a column on the stores that I wish I could still shop at in Ann Arbor in honor of the "buy local" movement.
Now, as this restaurant faces change — and its patrons hope owner Rich Magner finds a new location that's serves him as well or better — it's joining a whole wave of additional changes in the local restaurant market. It's an industry with a short average lifespan, making the places that survive decades even more notable.
All of that makes me think of this list: The Top 5 restaurants around Ann Arbor I hope never change. (Or change much. Never is a long time, and sometimes — maybe — they can be improved).
1. Knight's Steakhouse. What if you went in there one day and the booths were gone or the drinks had fruit in them? "Nonsense," you'd say. Or at least I would. It's a place of red meat, liquor served with only a little splash of a single mixer, regular patrons and familiar staff. An owner might walk you to your table. (And now there's no smoky haze to walk through while you're doing that. I'll call that an improvement.)
2. Le Dog on East Liberty. I'll confess that I rarely eat here — I'm slowly turning into a soup person. But I love that this little red hot dog stand near South Division (formerly a retail no-man's land) sells an amazing array of gourmet soups. Its survival and client base are both notable. Those customers are loyal. That says a lot.
3. Old Town. I felt like I was really touching the urban core of Ann Arbor when, as a newer U-M student, I not only crossed South Division but also South Main Street to reach this destination. High ceilings, simple small tables, a lovely old-fashioned bar and dependable menu and staff move this place into the "venerable" category for me. I used to confuse it with the Del Rio. Now I don't even know if people know what that means.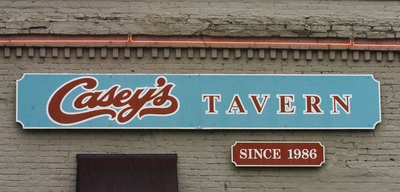 AnnArbor.com files
4. Casey's Tavern. You might want to call this place "venerable" also. It hasn't been around as long as Old Town, but one tends to forget that — it just seems like it has. It's the kind of place that immediately feels familiar. The food from the surprisingly interesting menu is always good, and it's a Townie destination for anyone who wants a break from the activity (and outsiders) headed toward downtown.
5. Hey, it's hard to limit this to five. I'm going to name three more places, and I still feel like I'm missing some: Paesano. Afternoon Delight. Ray's Red Hots. They're all here for different reasons. I enjoy the atmosphere at Paesano, which stays so welcoming even as the menu or facility is updated. Afternoon Delight turned the cafeteria concept into a uniquely Ann Arbor way of running a restaurant with healthy food and personal attention. And I still call Ray's Red Hots by its previous name (Red Hot Lovers) — just like I still always get the same order (and it's not even a hot dog).
Paula Gardner is Community News Director of AnnArbor.com. She can be reached by email or followed on Twitter.