Posted on
Sun, Jun 16, 2013 : 5:55 a.m.
University of Michigan's next president will need rare combination of qualities
By AnnArbor.com Staff
The University of Michigan faces a major challenge in the coming months as it searches for a new president to replace Mary Sue Coleman, who will retire next year.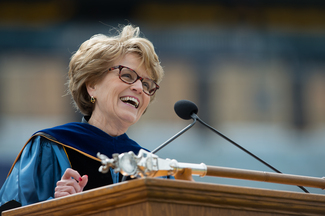 Courtney Sacco | AnnArbor.com
Although the ultimate decision will rest with the Board of Regents, the exact
form the search will take
has yet to be announced. Focus groups are likely; an advisory committee, which was used when Coleman was hired in 2002, may be used again. Last month, the university's faculty members publicly (and understandably) stated they
want a voice in the process
.
Whatever form the search takes, it's clear that certain qualities will be important to find in the person the university eventually hires. Among them:
• An ability to envision the needs of the future. In many respects, an institution as large as U-M can't always move quickly, both physically and organizationally. Adjusting educational offerings to the dynamic demands of the modern job market, for example, must be foreseen and planned long before they can be implemented.
• An innovative stance toward the evolution of higher education, particularly in regards to the continued growth of online education.
• An awareness of the financial pressures the university has faced and will face—and at the same time, a real understanding of the financial pressures facing current and prospective students. This means fundraising skills, as well as dedication to limit increases in student costs.
• A true appreciation of the important role the university plays in Michigan, the nation, and even the world. This includes a willingness to speak out and be a visible leader on higher-education issues.
It sounds like a lot to ask, and it is. But it's heartening to recall that the last time the university faced this position, it did succeed in finding a candidate with most if not all of these qualities.
That would be Coleman, of course. While we wouldn't call her a perfect president, she proved to be a solid choice and effective leader as U-M's 13th president. And now, as U-M looks to find her successor, she can serve as an excellent model for the ideal candidate.