Posted on
Sun, Apr 28, 2013 : 5:59 a.m.
Hunt for next University of Michigan president likely to be an intricate, top-secret search
By Kellie Woodhouse
Many unknowns surround the search for the University of Michigan's next president — from the list of contenders to the process that will guide regents as they look— but one thing is for sure: the hunt will be tightly monitored and top secret.
When Mary Sue Coleman was chosen for the top post in 2002, it was a complete surprise to most everyone on campus— including members of a search advisory committee. Many were convinced Joe White, a former dean of the business school who was serving as interim president at the time, would nab the top spot.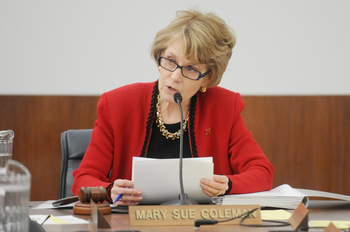 Melanie Maxwell I AnnArbor.com
Coleman, then president of the University of Iowa, hadn't been looking for a new job. But a search firm hired by the eight-member Board of Regents contacted her and asked if she would be interested in the position, according to a May 2002 Ann Arbor News article. She was, but only if her interest was kept a secret. She didn't want Iowa knowing she was considering a new job.
"It poisons the relationship in their home institution," said U-M social work professor Lawrence Root, who served on the 16-member search committee that advised the regents during their 2002 presidential search committee.
The search that produced Coleman, who announced April 18 that she will retire when her contract expires July 31, 2014 was the most secretive in U-M history. The previous search, which resulted in the hiring of law school dean Lee Bollinger in 1996, was much more open.
A 1999 decision by the Michigan Supreme Court made it legal for public universities to conduct closed searches when seeking a president. The only public meeting required is the meeting in which regents announce their choice.
"It's very important that the search process is allowed to occur outside the glare of the greater public," said Earl Lewis, former dean of U-M's Rackham Graduate School and the chairman of the 2002 search advisory committee. Lewis left U-M in 2004 to become the provost of Emory University and is now the president of the Andrew W. Mellon Foundation.
In 1996, four of the five finalists, including Bollinger, were publicly announced and input was sought in public meetings. The fifth finalist dropped out to avoid having his or her name become public, according to Ann Arbor News articles from the time.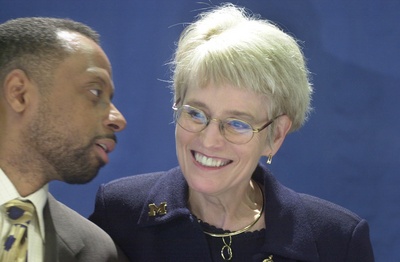 Ann Arbor News file photo
"There are stories of candidates whose names were leaked during the process, which compromised their ability to work at their current job," Lewis said. "You also want to be able to engage the candidate in the fullest conversation possible."
At the same time, the closed process can concern university stakeholders, who understandably want input on the final choice.
The university will likely hold focus groups to better understand the characteristics faculty, staff and students are looking for in a leader. Those groups will avoid talk about specific candidates. In 2002 the search advisory committee, which included 10 faculty members, one student, an alumnus and four other stakeholders and was appointed by regents, met with 25 to 30 campus groups to get their feedback. But not even the advisory committee knew the regents' final choice until the public announcement.
"The fact that this was a confidential search made it possible for me to participate," Coleman told The Ann Arbor News shortly after being hired in 2002.
Board of Regents Chairman Larry Deitch has served on U-M's governing board for more than two decades and was also chairman during the 2002 presidential search. He said the nascent search is still taking form and the board hasn't decided if it will follow the same search process it did in 2002. He declined further comment for this article.
Current regents Andrea Fischer Newman and Katherine White, both of Ann Arbor, also served on the board during the 2002 search, but either refused comment for this article or did not respond to inquiries. Newman told AnnArbor.com in March that the board hadn't decided whether it would convene an advisory committee like it did in 2002.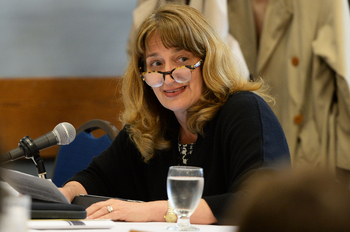 Melanie Maxwell I AnnArbor.com
"We have not determined that for this time, but that was the way it was done last time," she said.
An advisory board, because of its consultive nature, is not subject to Michigan's Open Meetings Act or Freedom of Information Act, said Lisa Rycus Mikalonis, a media lawyer working out of Southfield.
The regents worked with Chicago firm A.T. Kearney during the 2002 search. Shelly Storbeck, an A.T. Kearney representative who worked with U-M in the search, declined to comment for this article. Storbeck has since started her own search firm. The board hasn't announced whether it will employ a search firm to find Coleman's replacement. The 2002 search cost U-M $335,000, according to a July 2002 Ann Arbor News article.
Presidential searches take on a variety of forms, depending on the institution. Regents can choose to convene an advisory committee or employ a search firm, or forgo both.
Schools such as Yale University and the Massachusetts Institute of Technology chose a leader quickly the last time they named a new president because the governing boards reportedly had replacements in mind. Other schools, like the University of Minnesota, are mandated by state law to hold public searches. Most elite schools, however, hold closed searches.
"Hiring a president is the most critical job of the board and we will seek an exceptional candidate who will lead the university into its third century," Newman said during a public board meeting on April 18. "There are many details to finalize and we anticipate a formal search will begin this summer."
In 2002, the 16 advisory committee members took oaths not to talk, but the secrecy of the search was not limited to eliminating leaks.
Everything from meetings to meals was carefully planned to avoid public attention. All interviews were conducted outside of Ann Arbor. Committee members were careful to arrive and leave meetings at different times and were cautious with receipts or anything else that might leave clues.
"It was very artfully managed," said Root. "[Candidates] can't run into each other at the airport."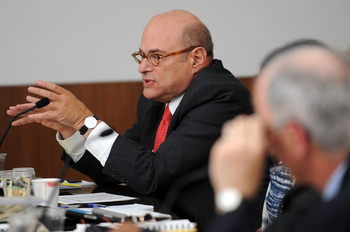 Melanie Maxwell I AnnArbor.com
Recent searches for top university positions like the provost, general counsel and library dean indicate that the university remains closed-lipped when filling top academic positions.
"I've made some noises about that recently," said business school professor Scott Masten, who wants tenure-track faculty that don't also hold administrative positions to be involved in the search for Coleman's replacement.
"It is absolutely secret until the day it's announced. It's understandable why they do that," he said. "But that means it is much more important that the search committee... represent as many interests on campus as possible. The regular faculty are one of those groups."
Kim Kearfott, head of faculty government at U-M, has also emphasized the importance of faculty involvement during a search. The faculty senate is drafting a list of desired qualities in the next president. Kearfott said she has not been contacted for suggestions as to who should serve on an advisory search committee.
"I've been working now at public and private institutions. It is the responsibility of the board ... to hire the president," Lewis said. " It's actually not the responsibility of the faculty ... staff or alumni."
During the 2002 search the advisory committee began with more than 200 names. Since then, U-M's national profile has risen.
"It's a good job to step into," Root said.
Names tossed around on campus include: Teresa Sullivan, former U-M provost and current president of the University of Virginia who maintained strong support among U-M regents when she was temporarily ousted by the school's governing board; Marvin Krislov, president of Oberlin College and the former general counsel who led U-M's legal team as it supported affirmative action before the U.S. Supreme Court in early 2002; former U-M provost Nancy Cantor, who is set to retire as Syracuse University's president in 2014; and Martha Pollack, a former School of Information dean who will begin as U-M's provost in May.
Yet the list of possible finalists is large and it's unclear who regents consider top contenders. Although many U-M presidents have had some tie to the Ann Arbor school prior to assuming the presidency, the board may go with an outsider again like it did with Coleman. The board may also seek racial diversity in its applicant pool, as all U-M presidents have been white.
"There will be an ample number of candidates in the final process," said Lewis. "The University of Michigan has never had a challenge in finding individuals."
Kellie Woodhouse covers higher education for AnnArbor.com. Reach her at kelliewoodhouse@annarbor.com or 734-623-4602 and follow her on twitter.