Posted on
Thu, Apr 18, 2013 : 3:01 p.m.
University of Michigan President Mary Sue Coleman to retire in 2014
By Kellie Woodhouse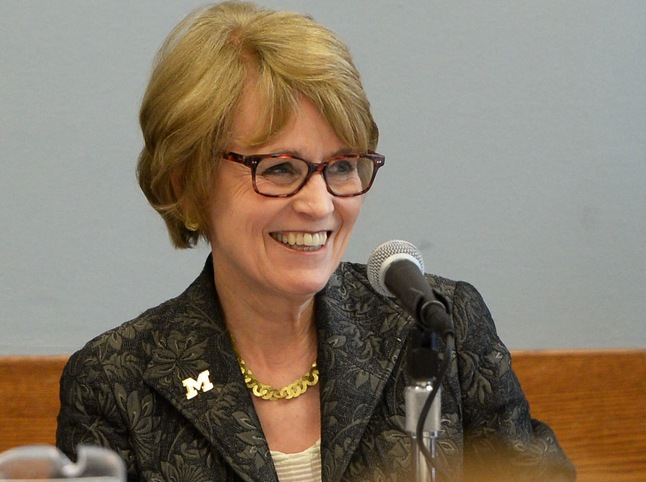 Melanie Maxwell | AnnArbor.com
Editor's note: This story has been updated several times with additional comments.
University of Michigan President Mary Sue Coleman will retire when her contract ends in July 2014.
"I fully anticipate that the next 15 months will be like the last 11 years, very busy," 69-year-old Coleman said during a Thursday Board of Regents meeting held at the Michigan Union.
Coleman said after her retirement, she and her husband plan to live in Ann Arbor and "remain active in the community."
"We've always lived in college towns and there's really no place like Ann Arbor," she said.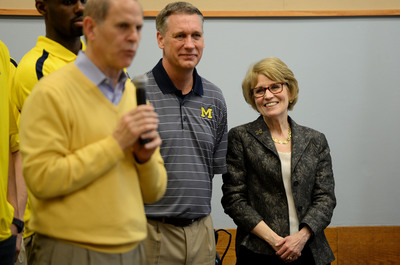 Melanie Maxwell | AnnArbor.com
Coleman is the first-ever female president of the university. The biochemist and former University of Iowa president is the fourth-longest-serving president in the University of Michigan's history.
"Her presidency is arguably the most transformative in our university's history," said senior Manish Parikh, U-M Central Student Government president. "She is a remarkable human being."
U-M regent Mark Bernstein said the school has been transformed over the past 11 years by Coleman's leadership despite "divestment from higher education funding" by the state.
"She has led this university though its most transformative moments," he said. "She leaves very big shoes to fill and shoes that will be very difficult to fill. This is a different institution than the one she started as president."
Mayor John Hieftje said he felt the city had a better relationship with Coleman than with Lee Bollinger, U-M's president from 1996 to 2001 before Coleman arrived in 2002.
"Mary Sue engaged with the city better," he said. "We started an effort with the university to build more collaboration around economic development and technology. She took it very seriously."
Hieftje credited Coleman with helping to launch the university's Office of Technology Transfer, which has helped take research and technology from U-M to the marketplace, creating new tech jobs here and elsewhere. He said he always felt like Coleman was accessible.
"If I need to talk to the president, I can do that, and I see her about town occasionally," he said. "I think she has enjoyed life in Ann Arbor. Every time I see her, she seems pretty happy."
Coleman was the fifth-highest paid public university president in the nation during fiscal 2010-11, according to previous reports. Her compensation was $845,000 from July 2010 to June 2011, in addition to roughly $50,000 a year in retirement pay and her use of a U-M-provided car and house.
U-M Regent Andrea Newman said the school is in the final stages of compiling a search committee for her successor.
"She has positioned the university for future impact," Newman said, adding that "hiring a president is the most critical job of the board."
Coleman has led the university since 2002. During that time, enrollment has reached record levels, more than $600 million has been allocated toward dorm renovations, the university has renovated Michigan Stadium and built several multimillion dollar academic buildings, including the Stephen M. Ross School of Business, new buildings for the law and public policy schools and the new $175 million North Quad, a joint academic building and residence hall. The $754 million 12-story C.S. Mott Children's Hospital and Von Voigtlander Women's Hospital was also constructed under her watch.
Coleman also raised $3.2 billion through the Michigan Difference capital campaign and laid the groundwork to raise billions more in the next campaign, slated to begin in the fall.
Coleman has also brought millions of sustainability measures to the Ann Arbor campus, testified about the importance of state funding in Lansing and has served as the co-chair of the National Advisory Council on Innovation and Entrepreneurship.
"She has great academic values. She truly values student learning and the student experience and high quality research," U-M provost Philip Hanlon said of Coleman. "She's tough and tenacious and that's what you have to be to run an organization this big."
The total student headcount was 43,426 in fall of last year, compared with 42,716 from the year before. The fall 2012 figure is nearly 12 percent more than the 38,618 headcount at the university in fall 2002.
Coleman said the work will continue in the months leading up to her retirement.
"We have [building] renovations going on, we've got academic programs, we've got hiring faculty, we're still populating North Campus, we're dealing with health care changes and the health care environment. We've got a great strategic plan we still have to implement," Coleman said. "So we still have a lot of work to do the next year and I am going to be excited by that work and not slow down."
U-M sophomore Robin Carey said Coleman first inspired him when he saw her speak at freshman orientation.
"She gives really inspiring speeches and she seems really personable," Carey said. "The first time I saw her I didn't think she was unapproachable."
Alyssa Gibbs, a freshman at U-M, said she appreciated Coleman's open letter to President Obama on college affordability.
"I remember it was a huge deal…I thought it was really cool and I took the time to read the letter."
She added: "When I was going through the admission process I would see videos of her speaking. I knew she had a large presence at the university and it's unfortunate that she's retiring."
Lizzy Alfs and Ryan J. Stanton contributed to this report.
Kellie Woodhouse covers higher education for AnnArbor.com. Reach her at kelliewoodhouse@annarbor.com or 734-623-4602 and follow her on twitter.