Posted on
Sun, Aug 14, 2011 : 7 a.m.
Turnout was dismal in August primary; tell us why you didn't vote
By Tony Dearing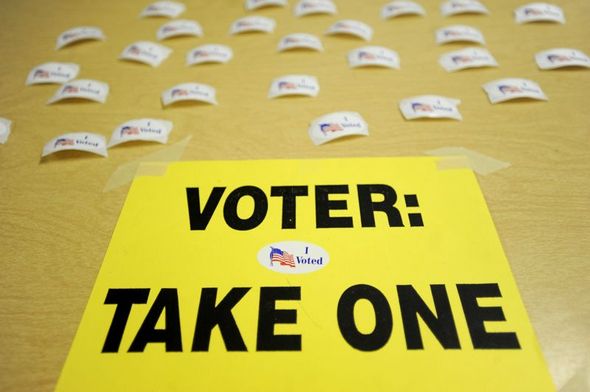 Angela Cesere | AnnArbor.com
When Wisconsinites went to the polls last week to vote on
the recall of six Republican
lawmakers, the turnout topped 50 percent in some parts of the state. It's obvious that many voters felt a sense of passion and urgency, and it showed at the polls.
We can't help but contrast that record participation in Wisconsin with the anemic turnout that Ann Arbor saw in the August primary for City Council races.
At a time when Ann Arbor has just gone through deep, painful budget cuts and faces more in the coming year, four challengers faced off against three Democratic council incumbents — and the public could barely muster a yawn.
The voter turnout in the three wards with contested races was a paltry 8.5 percent. In one precinct, the apathy was complete. Of the more than 2,000 registered voters in Precinct 2 of the 2nd Ward, not a single person cast a ballot. There were three other precincts where the turnout was under 2 percent.
We raise this concern not to wring our hands or to scold, but rather in the hope that we can start a conversation with our readers about why so few people vote in city elections and what we as a community can do to change that.
We think that conversation is needed. The city faces so many serious issues that directly affect all of us, and these elections are too important for nearly the entire electorate to sit out.
Low voter turnout is nothing new in Ann Arbor. In last year's August primary, with a gubernatorial race and other state offices being contested, the turnout was a barely respectable 21 percent. In the 2009 primary, with only City Council races on the ballot, the turnout was 11 percent.
It's hard to reconcile this electoral indifference with the smart, opinionated, progressive city that we know Ann Arbor to be. Activism and political awareness are ingrained in this community. It's been a hot-bed of activity in the effort to recall Gov. Snyder. It was well ahead of the state in adopting a medical marijuana initiative. In November 2008, energized by the candidacy of Barack Obama, the countywide turnout was just under 70 percent.
So we know the community can get engaged with issues and candidates when it's moved to, and it's hard to understand why the local political situation doesn't register with people. The decisions made by Ann Arbor City Council are the ones that affect us all most directly, and whether it's harsh cuts to public safety or decisions about major capital projects or the discussion the community will eventually have about whether it's willing to increase taxes or keep cutting services, there is a great deal at stake right now.
We don't know if people somehow fail to connect City Council races with the important decisions that council members make. Or if residents don't respond to their choices in candidates, or don't find the differences between candidates are distinct enough to feel that the outcome of local elections matter. Does the higher rate of transience in Ann Arbor lead to people being less vested in the community? Do some people skip the primary because it falls during the summer vacation season?
We wonder if the residents of this technologically savvy community would be more likely to vote if they could do so online, or if they were offered other alternatives that have been discussed in the past, like same-day voter registration or moving elections to a Saturday or allowing voting to occur over several days, or liberalizing the absentee voter rules.
We ask ourselves what we as a news organization serving the community could be doing to better inform the public and encourage more people to vote. What local organizations might we partner with to improve turnout?
Ultimately, it's not enough to offer platitudes about the responsibility that we as citizens have to vote. While Ann Arborites continue to embrace a variety of causes that engage them, they stay away from the polls in droves when it's their local representatives who are being decided. Something is causing that disconnect, and we'd like to understand what that is and work toward solutions to address it.
If you live in Ann Arbor and you don't vote in city elections, we're asking you to tell us why not. You can do so online by responding to the poll that you'll find at annarbor.com/polls. Or you can send an email to Tony Dearing, chief content officer for AnnArbor.com, at tonydearing@annarbor.com.
Our local elected officials face many difficult issues, and decisions aren't made well in a vacuum. The city hosts public hearings on the budget or other issues and few people attend. The city runs elections and most residents stay home. Nothing improves democracy like an educated and involved citizenship. Ann Arbor is more than capable of that, but it isn't happening. Tell us why not. We're listening.
(This editorial was published in today's newspaper and reflects the opinion of the Editorial Board at AnnArbor.com.)