Posted on
Tue, Nov 13, 2012 : 5:58 a.m.
Pedestrian's death on Ann Arbor-Saline Road prompts questions of safety
By Kyle Feldscher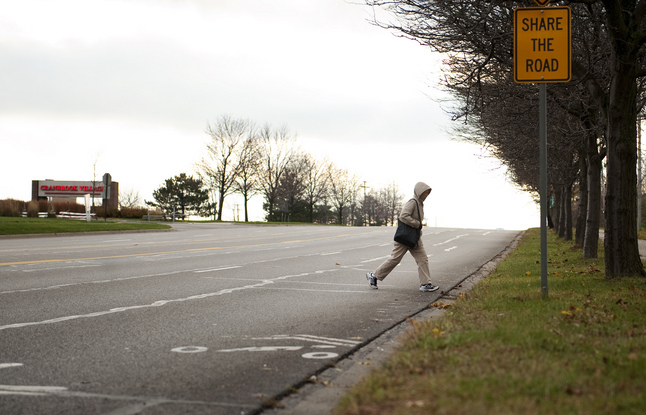 Daniel Brenner | AnnArbor.com
The owner of several Ann Arbor shopping centers on Ann Arbor-Saline Road says safety improvements could be needed along the corridor after
a woman was killed there Friday after being hit by a truck
.
Tom Goldberg, owner of Woodland Plaza and Cranbrook Village along with other properties near Ann Arbor-Saline Road, said he's concerned about pedestrian safety after the Friday-evening crash. A 70-year-old Ann Arbor woman was killed after the 6 p.m. crash near the intersection of Ann Arbor-Saline Road and Oakbrook Drive.
As the woman was crossing in an area without crosswalks, Goldberg said the installation of crosswalks on the road might be a possible way to prevent more fatalities in the area.
"We should look at things expeditiously," he said. "Maybe more lighting or crosswalks, maybe lowering the speed. There are various ways to attack it and increase safety."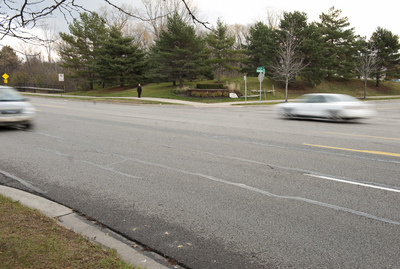 Daniel Brenner | AnnArbor.com
The crash Friday was the third in two days that ended with a fatality.
A 59-year-year-old Ypsilanti Township woman died
Thursday after being struck by a vehicle on Golfside Drive in Pittsfield Township and a 19-year-old Ypsilanti Township man
died Saturday from injuries he suffered
in a Thursday morning crash on Hewitt Road in Ypsilanti Township.
Police from Ann Arbor, Pittsfield Township and Ypsilanti Township did not release more information on the crashes Monday. Ann Arbor police Lt. Renee Bush said the investigating officers on the Friday crash were out of the office Monday and she was unable to get more information on the investigation from them.
Sgt. Geoffrey Fox, of the Washtenaw County Sheriff's Office, was not available to provide more information on the Hewitt Road crash. Pittsfield Township Deputy Police Chief Gordy Schick did not respond to a request for comment.
Despite Friday's fatal crash on Ann Arbor-Saline Road, Goldberg said he has not heard complaints from tenants at his properties about problems crossing the road.
Ann Arbor-Saline Road is four lanes, five in some spots with a center turn lane, with a speed limit of 45 miles per hour between Eisenhower Parkway and South Main Street. There are marked crosswalks at intersections with those two streets.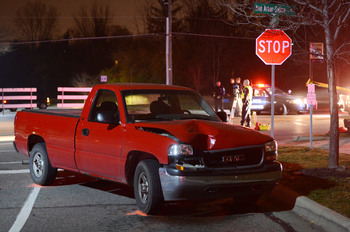 Melanie Maxwell | AnnArbor.com
Ann Arbor City Councilwoman
Margie Teall
(D-4th Ward) said residents hadn't mentioned the stretch of Ann Arbor Saline Road between South Main and Eisenhower as a potential concern to her before Friday. She said she'll be asking some questions of city officials after the woman's death to try to see what can be done to improve safety in the area.
"I hope so," Teall said, when asked if safety concerns would be brought to the council chambers. "It certainly is on my radar."
Goldberg said he's not an expert, but the fast-moving traffic in the area isn't entirely conducive to pedestrians. With the growth of residential neighborhoods in the area, it may be time to look at ways to make the road safer for non-motorized traffic, he said.
"If not for the financial crisis, the whole traffic situation would have been much worse," he said. "There were a lot of projects that were compromised or shut down because of the collapse of the housing market. My suspicion is you will see more activity on the west side of town and more traffic issues that will arise because of it. It's very serious."
Kyle Feldscher covers cops and courts for AnnArbor.com. He can be reached at kylefeldscher@annarbor.com or you can follow him on Twitter.