Pioneer High School student: MTV show 'did a great job of showing what really happened'
Posted on Fri, Jun 24, 2011 : 5:59 a.m.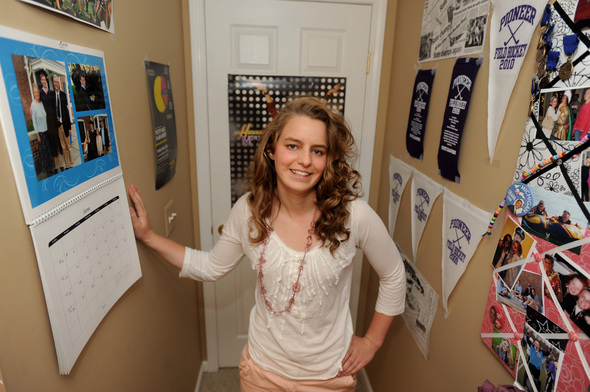 Angela Cesere | AnnArbor.com

The mood inside the Hamstra household while a group gathered to watch the episode of "Made" starring Pioneer High School graduate Emma Hamstra was almost jovial Thursday as friends and family shared the laughs and tears the show caused.

Emma, 17, was on the show to be transformed from a "preppy poet," as the episode description called her, into a rapper.

Despite not wanting to open up and expose her true feelings to the world, by the end of the episode Emma was rapping a song that she wrote, on a stage in front of 2,000 people, clad in a white jumpsuit.

The episode had moments of laughs, such as when Emma's father Dan Hamstra broke out his dance moves while his daughter practiced her rap, and caused some tears when Emma relived the already-controversial scene in teacher Vicki Shields' African American Humanities class, explaining why she wanted to be a rapper.

However, immediately after she was done watching the episode with about 20 friends and family members crammed into her basement viewing party, Emma was all smiles. She said she was pleased with how the show ended up coming out.

"I think the show did a great job of showing what really happened. The story line was good, (and) I don't think anyone came across as over exaggerated," Emma said. "I think it was a really good episode."

The episode re-airs on MTV at 10:30 a.m. Saturday.
For more information
Much of the viewing party at the Hamstra house was spent laughing and joking about the show. Many of the friends who were gathered in the basement were either in the episode or had been a part of Emma's support system during the filming.
The most emotional portion of the show was Emma's visit to the African American Humanities class, which ended with Emma leaving the classroom and briskly walking to the bathroom in tears, closing a stall door behind her. After watching the incident again, Emma struggled to keep her emotions in check with tears welling in her eyes.
The scene in the classroom was filmed just six days after Emma's grandfather had died, which left her in an already-emotional state, she said.
She said going through the experience of filming the episode and dealing with questions of whether she can rap because she is white has caused her to look at race in a new way.
"I understood race was tricky before I did this, but I didn't understand how bad it was," she said. "It's pretty bad."
One example she mentioned was coverage on AnnArbor.com of a situation at Dicken Elementary School, when the principal drew criticism after allowing a field trip for African-American students.
"… It's a tricky situation," she said.
Emma didn't have much time to think about the fallout from the episode — the University of Massachusetts-bound field hockey player left for Virginia Beach, Va. to tryout for the U.S. National Field Hockey team soon after the show was over.
Shields said after the episode aired that the show was edited in a way to make it as controversial as possible and didn't reflect the entire conversation.
The class Emma spoke to about her quest to become a rapper was in the midst of learning about cultural appropriation and how white people have appropriated portions of African American culture over time, for better and for worse.
When addressing the class, Emma tells them she wants to focus her rap on her experience being bullied at Pioneer and the field hockey team. She said she's a feminist and wanted to rap about her beliefs. Students and Shields question how she's going to be able to reach an African American audience as a white person and not understanding where the music had come from historically.
Shields said the original plan was for the entire class period to be spent listening to Emma talking about why she wanted to become a rapper but the show's producers wanted a question and answer portion inserted. That portion of the class ended up being the only thing shown to the MTV audience.
"I wanted her to get in and say what she would say and get out because I knew (the editing) was going to happen," Shields said. "They said no, five minutes of questions. They asked a couple of easy questions and she started crying and that's what you see on Made. Now I'm getting emails about bullying her and I shouldn't be a teacher and the irony is I didn't want to be on the show in the first place."
Despite the show filing during a stressful time, Emma's mother, Ruth Hamstra, said her daughter came out a stronger person on the other side.
Emma had to finally open up and face her fear of being vulnerable through her rap and has now worked more personal messages into her poetry, Ruth Hamstra said.
"She conquered it. I was surprised at how well she did," Ruth Hamstra said. "She looked amazing and she really took it as something she wanted to be at her best at and conquer."