Posted on
Wed, Jun 8, 2011 : 5:58 a.m.
Ann Arbor planning officials delay consideration of proposed Arbor Hills Crossing shopping center
By Ryan J. Stanton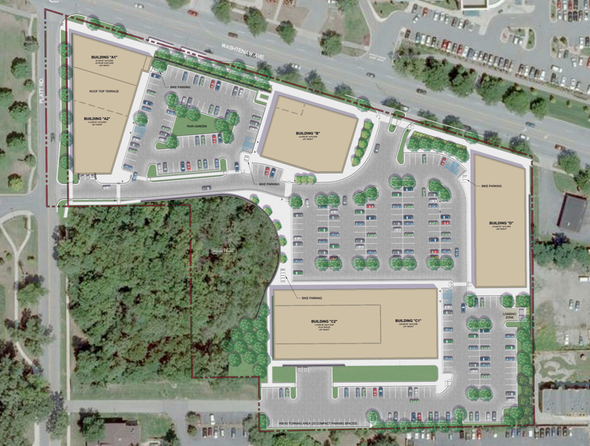 Column/poll: Should new Ann Arbor retail development be 7 times proposed size?
Ann Arbor planning commissioners followed city staff's recommendation Tuesday night and delayed consideration of a new shopping center project known as Arbor Hills Crossing.
The developer's petition is being postponed to allow additional opportunity to address issues regarding access, stormwater and the Platt and Washtenaw intersection.
But other issues were raised, too.
Commissioner Bonnie Bona expressed disappointment the developer isn't using the site — located at the southeast corner of Washtenaw and Platt across from Whole Foods — to its fullest potential. She noted city regulations would allow the developer to build up to a 649,066-square-foot project, but only 90,700 square feet is being proposed.
"What did we not do to encourage you to increase the density of this site?" Bona asked the developer, suggesting she would have liked to have seen the addition of residential units and underground parking — and a project that takes better advantage of nearby transit.
Image courtesy of developer
As it stands, the developer proposes to construct four retail buildings with some potential office space totaling 90,700 square feet. Six vacant buildings would be demolished.
The tallest building would measure 42 feet in height.
The property has been vacant since a former car dealership was demolished to make way for a previously planned project: Huron Village South, which was not developed.
After buying the property from the lender in 2010, Ann Arbor real estate owner and developer Campus Realty is taking a new version of the plans before city officials. Campus Realty is partnering with Chicago-based North Shore Properties Group.
Tom Stegeman of Campus Realty, development manager for the project, said feasibility and viability were paramount in deciding uses for the site, and related to that is parking.
"We thought 90,000 square feet, which is less than what was submitted previously, is appropriate given some of the geometric constraints of the site," he said.
Bona said it's unfortunate what's proposed is going to stand for the next 50 years. She relayed facts to the developer from the latest census.
"The 2010 census for the city of Ann Arbor said that we went from having 45,000 per-day commuters to having 60,000 per day so there's an additional 15,000 people coming into the city and we're not providing any more housing," she said.
The shopping center project proposes 310 parking spaces and 30 covered bicycle parking spaces, which would be located near the entrances of each building.
City Planner Alexis DiLeo said primary vehicle access would be from Washtenaw, in addition to an entrance on Platt. New public sidewalks are included in the project.
DiLeo noted the Ann Arbor Transportation Authority has two routes that serve the site and a bus pullout on Washtenaw is proposed as part of the project.
In 2006, the City Council approved a site plan and development agreement for a retail center at the site. Car dealership buildings were subsequently demolished, but the project was never built. The site has been vacant for about three years now.
Known soil contamination exists near the center of the site as the result of the former auto dealership. The developer is proposing a brownfield plan that consists of removal of the contaminated soils through use of tax-increment financing.
A traffic impact study showed the project is likely to generate 306 trips during the weekday morning peak hour and 692 trips during the weekday evening peak hour. A new traffic signal is proposed to mitigate the impact of the proposed development.
Part of the reason for Tuesday's postponement is that the city is waiting for the Michigan Department of Transportation's review of the intersection.
In addition to two landmark trees proposed to be removed from the site, 36 non-landmark trees — including 23 invasive species — would be removed. Taking their place would be a total of 106 trees to be planted on the site, along with 63 shrubs.
The developer proposes a 26-foot-wide landscaped buffer along the east property line near the southeast corner of the site that abuts a residential area. The developer also has agreed to disconnect footing drains from the sanitary system prior to occupancy.
Commissioner Jean Carlberg raised concerns about pedestrian elements.
"In looking at the Washtenaw portion of this, I'm very concerned about how close the sidewalk is to the street," she said, adding traffic on Washtenaw moves at about 45 mph and the plans call for putting pedestrians right up next to the traffic "and that concerns me a lot."
Commissioner Erica Briggs said what's being proposed is definitely an improvement from what's already there, but she shared some of Carlberg's concerns. She said she was worried the configuration of buildings on the site might prevent future improvements.
"I know that it is not necessarily appropriate at this time to provide bike lanes on Washtenaw, but certainly in the future I think that would be our hope," she said. "And so considering this building's going to be there for some time to come, are we providing enough of an easement that ample sidewalk and bike lanes could be provided in the future?"
Stegeman said the project could break ground either later this year or next spring. After that, it'll take about a year to complete, he said.
"We're trying to make it feel like anything but your typical, suburban, linear, drive-by shopping center," he said. "It's something where you'll show up and there'll be a real sense of place — some really nice landscaping, not just a sea of parking."
Wendy Rampson, the city's planning manager, said the project could come back for approval as soon as two weeks from now. July also is a possibility.
Ryan J. Stanton covers government and politics for AnnArbor.com. Reach him at ryanstanton@annarbor.com or 734-623-2529. You also can follow him on Twitter or subscribe to AnnArbor.com's e-mail newsletters.