Police chief: Ann Arbor has inadequate police staffing to do proactive enforcement
Posted on Wed, Mar 13, 2013 : 5:58 a.m.
Police Chief John Seto will openly say Ann Arbor has inadequate police staffing resources to do proactive and consistent enforcement and community outreach.
"We are a reactive police department," he said. "I think we're very effective, as some of the statistics show with recent arrests, but there's not much flexibility in some of the proactive engagement."
The good news, Seto told members of the Ann Arbor City Council during a special budget work session Monday night, is the city still is meeting its goal of being among the safest 20 percent of communities in the country, based on major crimes reported to the FBI.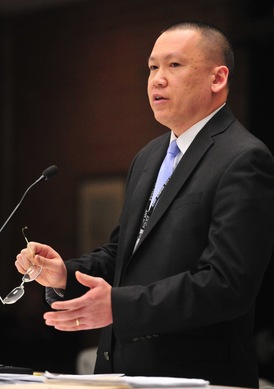 Ryan J. Stanton | AnnArbor.com
The FBI's annual crime statistics are grouped by population size, and Ann Arbor falls within the 100,000-250,000 category. Based on 2011 statistics, the last full year of data available, Ann Arbor ranks 26th among 206 communities in its population category.
Seto considers that a success, and he said it's the police department's job to maintain that with the financial resources provided by the City Council.
The police budget assumes $24.2 million in baseline expenses to start next fiscal year on July 1, and Seto is requesting an additional $263,312 for extra overtime and other items.
So far there are no proposals to increase the department's authorized staffing level of 119 sworn officers (it's at 117 right now with two vacancies), but Seto spoke at length about how the department could do a better job with some more personnel.
As possible strategies for ensuring community perception of safety is high, Seto suggested increasing visible foot patrols in the downtown and off-campus student areas, increasing police attendance at neighborhood meetings and special events, better informing the public about successful conclusions to criminal cases and maintaining up-to-date crime data online.
"I think that's all about visibility and allowing people to see the police, and also having accurate information out there," he said.
But without an increase of sworn police personnel, Seto cautioned, response times and effectiveness in reacting to crimes and investigations could be impacted as resources are redeployed to downtown foot patrols and other community engagement activities.
Additionally, Seto suggested increasing efficiencies in communicating with the public through neighborhood watch programs and social media, and seeking opportunities for collaboration with other law enforcement agencies to reduce crime.
He briefly mentioned creating a Crime Strategy Unit to reduce crime and inviting other law enforcement agencies to contribute personnel to the unit.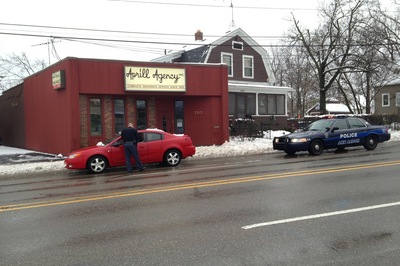 Ryan J. Stanton | AnnArbor.com
"We have learned that crime sees no boundaries, so any collaborative effort that we see within the county is very helpful to us," he said.
Seto said reductions in the AAPD's ranks over the years have affected not only sworn police officers, but also the civilian support staff in the department.
Council Member Stephen Kunselman, D-3rd Ward, cited a staff report showing the number of full-time employees in the police department — including sworn officers and civilian employees — dropped from 244 to 209 from 2001 to 2009, and now it's down to 146 this year.
"It seems like the last five years there was a precipitous drop in FTEs," he said, adding he doesn't have much faith the department can get back up to those previous levels anytime soon.
"We have a long ways to go to even just take us back to a proactive department," he said. "What I'm hearing is council has to find revenue."
The police department's FTE count dropped by 18 positions this past year only because the city outsourced police dispatch services to Washtenaw County.
The city is projecting $82.3 million in recurring revenues and $80.8 million in recurring expenditures in the general fund next year, leaving a nearly $1.48 million surplus to work with.
But that's before factoring in $698,000 in recurring funding requests from departments that would drop the general fund surplus down to $779,000.
Additionally, there are another $431,000 in one-time expenditures and nearly $1.3 million in capital improvement requests in the general fund that council will have to consider. If everything was funded, the city would operate at a $950,000 deficit in the coming year.
That leaves the council with some tough choices to make, and whether increasing public safety staffing is a high enough priority for council to set aside other wants remains to be seen.
To maintain the same level of services in the current reactive policing model, while also increasing proactive policing through community outreach activities, Seto said more staff is needed.
He said the number of additional hires would depend on the desired level of community engagement, but each additional officer would cost the city $78,619 in the next fiscal year starting July 1, and $86,412 in the year after that, plus a one-time cost of about $4,200.
Factoring in built-in pay increases, he said, the annual cost of each additional officer after five years would be $110,021, plus a one-time cost of $5,800.
If the city wants to make it a goal that officers spend 25 to 30 percent of their time doing proactive policing, Seto said, an electronic report of each officer's daily activities must be implemented, and guidelines for what officers will do with their proactive policing time must be established.
He said proactive policing must be balanced with the core functions of the police department, responding to calls for service and follow-up investigations of crime reports.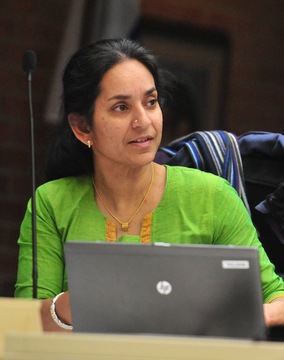 Ryan J. Stanton | AnnArbor.com
Proactive policing reduces available time for enforcement in other areas such as traffic or ordinance violations, Seto said, noting that could reduce revenues.
Council Member Sally Hart Petersen, D-2nd Ward, asked if council can expect to see numbers in the city administrator's recommended budget next month that align with the ideas Seto talked about Monday night. City Administrator Steve Powers' response: "Potentially."
The city's practice in the past has been to add recurring expenses, such as new full-time employees, only when there are recurring revenues to offset the costs.
Powers said it would be helpful if council could provide feedback particularly where the city's goal of fiscal discipline collides with the need for additional public safety resources.
"I guess my feedback on that point would be, if we don't have recurring revenues for it, we shouldn't be making recurring expenditures," said Council Member Christopher Taylor, D-3rd Ward.
Council Member Jane Lumm, an Independent who represents the 2nd Ward, encouraged her colleagues to remain open to reallocating existing resources to priority areas like public safety.
She said it's her expectation that the council's identified priorities, particularly public safety, will be reflected in the city administrator's budget recommendations next month.
Seto talked about the possibility of conducting a survey to determine the community perception of safety and using the survey results as a guide for future actions.
He said a so-called National Citizen Survey would cost about $15,000 to $20,000. The department last completed such a survey in 2008.
Council Member Chuck Warpehoski, D-5th Ward, noted the city's goal is not to hire more officers to get up to a defined number, but to have a safe community.
Mayor John Hieftje and Warpehoski both said the city should be careful about using community perceptions as a trigger for any policy decisions regarding public safety.
Seto told council members that Ann Arbor police officers, while mostly in a reactive mode, are fitting some proactive policing into their daily routines right now as time permits — for example, if they can find time to visit a city park, walk around Briarwood Mall, or walk around downtown.
But he said that's different from how the department operated in the past, when it had dedicated officers who could spend their entire shifts doing proactive patrols.
Council Member Margie Teall, D-4th Ward, said it's still her experience that when she contacts the police department about an issue in a neighborhood, it's addressed reactively, and then more intense proactive policing is done where it's really needed to resolve the issue.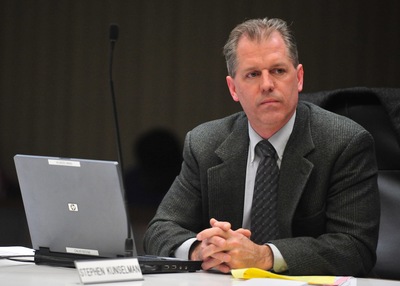 Ryan J. Stanton | AnnArbor.com
"Obviously, I think if we did more proactive policing everywhere that would be great, but I think it is in some sense driven by need," she said.
Kunselman said he considered the loss of more than 60 full-time employees in the police department over the last five years to be pretty significant.
"If we really want to do our core responsibilities very well, we need some more FTEs," he said, suggesting the police department has had to shift its limited resources from one issue to another, whether it's selective enforcement of the city's pedestrian safety ordinance or the taxicab code.
"What's going to be next?" he said. "I think we need to do these things consistently from Day 1, as opposed to picking out hot spots. Because we're going to see it's going to be like 'whack a mole,' and things are going to pop up one place and we're not going to be able to respond."
Kunselman added, "We still have a lot of things that are not getting done and somehow we've got to get there."
The City Council is expected to vote on a final budget at its May 20 meeting. Between now and then, the schedule includes another work session March 25 if needed, release of the city administrator's recommended budget April 15, and public hearings May 6.