Posted on
Fri, Aug 24, 2012 : 2:48 p.m.
Police find suspected 'K2' in raid on Bongz & Thongz in downtown Ann Arbor
By John Counts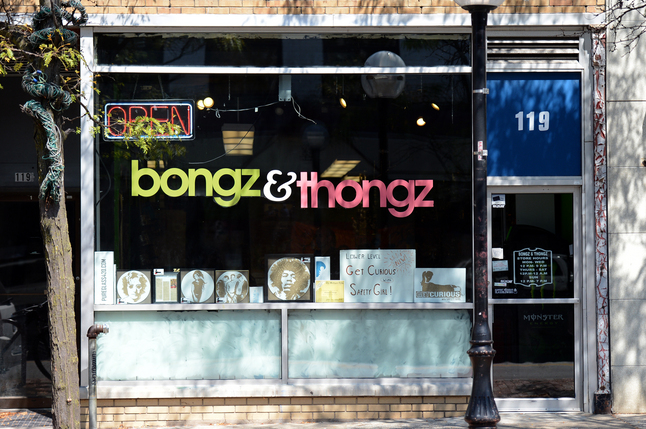 Melanie Maxwell | AnnArbor.com
Police raided an Ann Arbor head shop Friday afternoon and found substances believed to be K2 and other synthetic drugs, which the state made illegal in July.
Around 1 p.m., officers from the Livingston and Washtenaw Narcotics Enforcement Team (LAWNET) executed a search warrant at Bongz & Thongz, at 119 E. Liberty St.
"There's an investigation going on in reference to K2," said LAWNET head Lt. Jerry Cooley. "We found something. We're going to wait for the lab to verify what it is before we comment."
The store was shut down for about an hour while officers went through the inventory looking for synthetic drugs. They had reports of the shop selling K2 and had been looking into it since July 1 when the public health code was amended making synthetic cannabinoids a controlled substance, Cooley said.
Bongz & Thongz is just one store among several LAWNET was keeping tabs on since K2 became a controlled substance.
"We heard they took it out of the display cases, but were still selling it," Cooley said.
The store reopened after police left Friday. No tickets have been issued.
"Anything that happens from here will depend on what the lab determines what we found to be," Cooley said.
Cooley added that packets of suspected substances were found. Any charges would depend on the prosecutor's office.
AnnArbor.com left a message with one of the store's owners, Kilo Hassan, which was not returned as of 2:20 p.m. Friday.
Back in June, AnnArbor.com spoke with employees of Bongz & Thongz who said they were going to stop selling the substance.
John Counts covers cops and courts for AnnArbor.com. He can be reached at johncounts@annarbor.com or you can follow him on Twitter.