Posted on
Sat, Nov 3, 2012 : 5:57 a.m.
A look back at University of Michigan political activism empowered by the Port Huron Statement
By Kellie Woodhouse
University of Michigan hosted a three-day summit this week to celebrate the 50-year anniversary of the Port Huron Statement, a landmark political manifesto penned by Ann Arbor students in 1962.
The 75-page document, which in large part called for peace and rallied against a myriad of civil rights affronts, embodied the frustration of hundreds of thousands of young people throughout the nation. At the time, the voting age was 21 and large groups of young people felt disenfranchised and disenchanted with the political landscape that surrounded them.
The statement's principal author, Tom Hayden, began writing the creed while a student at U-M. Hayden was beaten and jailed while working with the Freedom Riders to register black voters. The experience struck a nerve in Hayden, whose words helped spark the New Left movement.
"The Port Huron Statement represented the dawn of an era, which began with the student sit-in movement and the Beat Generation, and didn't end until 1975, with the fall of Richard Nixon and Saigon. Students in Ann Arbor played a leading role in defining this era," Hayden wrote in a column published by the Michigan Daily last week, reflecting on the statement's legacy.
U-M's campus, which spawned the Peace Corps in 1960, was a hotbed of protests and rallies in the 1960s and 1970s. Partly encouraged by the 75-page statement, U-M students demonstrated against many perceived injustices, from on-campus military recruitment to the low level of minority enrollment on campus. In one case, a group of students went as far as locking employees out of buildings to get their message across.
Related Michigan Memories: University of Michigan students have long history of rallying.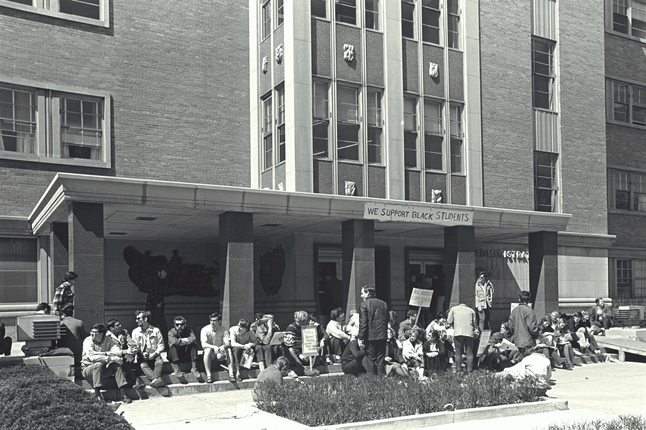 University of Michigan Bentley Historical Library
Students, pictured here on April 9, 1968, stage a sit-in at the U-M administration building. Three students were rallying in support of 150 black students, according to archives. In the late 1960s and early 1970s there was an effort by the Black Action Movement and supporters to bring more minority students to the campus.
According to U-M archives, students chained the doors of the building and prevented anyone from entering except Robben Fleming, the university president. The group listed its desires to Fleming, who promised to try to increase minority presence on campus. Later the Martin Luther King Scholarship and Professorship were created, but many students remained unsettled and BAM launched another protest and rally in 1970.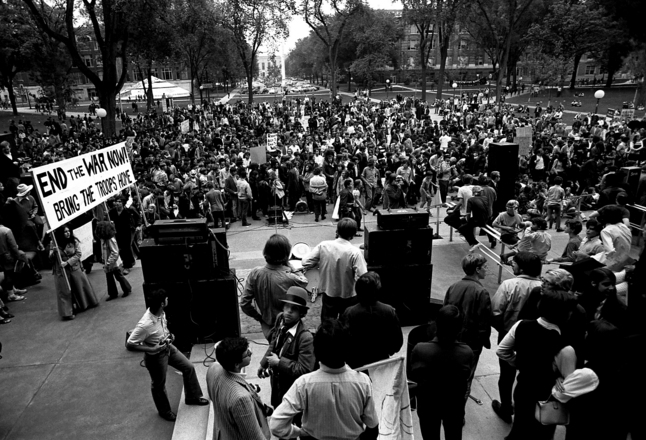 File photo
Hundreds of students demonstrate against the Vietnam War during a Sept 20, 1969, peace rally on the University of Michigan's Ann Arbor campus.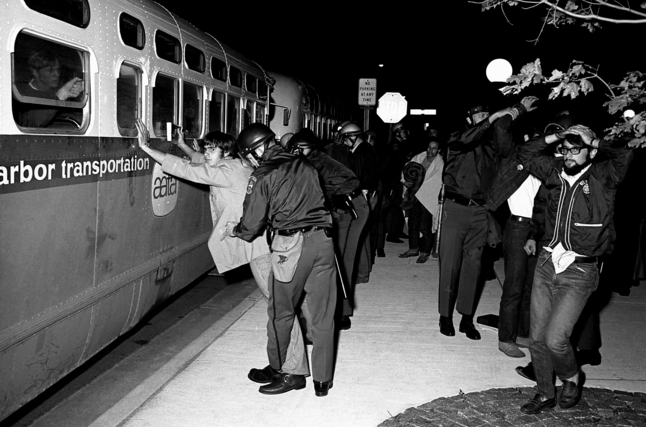 Picture above on Sept. 25, 1969, anti-Vietnam War activists were arrested for taking over a University of Michigan building. The students were searched before loaded into buses and taken to jail.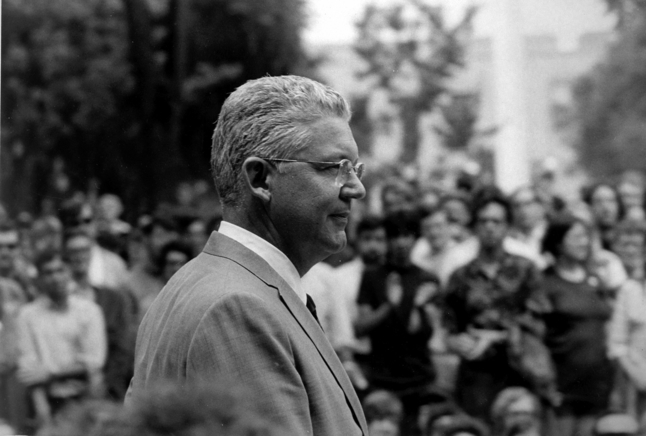 University of Michigan Bentley Historical Library
Robben Fleming led the university from 1968 to 1978, during an era of protests and political activity in Ann Arbor. Pictured here on June 18, 1969, Fleming surveyed a student demonstration.
According to Michigan Today, a group of self-identified hippies had assembled around South University Avenue the day before and held a party that later caused a riot between partiers and police. Tensions continued on June 18.
"The University of Michigan was not damaged during that period of unrest but rather made stronger, and I believe it was because of Robben's matchless personality," current U-M President Mary Sue Coleman said in 2010, shortly after Fleming's death.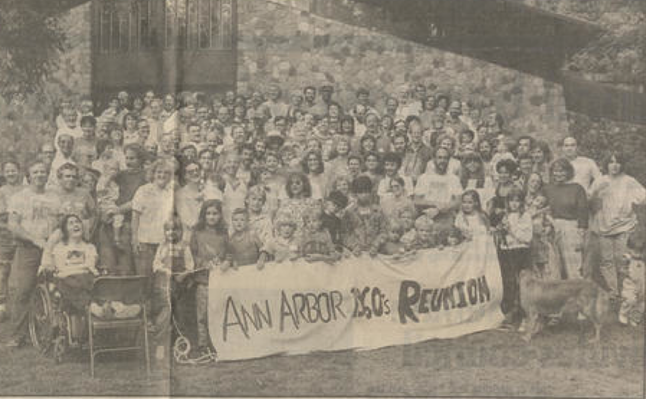 Ann Arbor News
In September 1987 more than 200 members of the New Left movement at U-M in the 1960s gathered again in Ann Arbor for a reunion.
"The people who formed a commitment 25 years ago have continued to live out that commitment," Barbara Haber, a U-M student from 1962 until 1967, told the Ann Arbor News at the time.
The reunion brought together key New Left leaders like Ann Arbor activist Alan Haber, a cofounder of Students of a Democratic Society at U-M, and Bill Ayers, who eventually became in involved in the radical and controversial Weather Underground group.
Ann Arbor News
Tom Hayden and Lana Pollack —two key leaders of the early New Left movement at U-M— are pictured above, at a fundraiser hosted by former U-M regent and current Center for Michigan executive Philip Power, 23 years after drafting the Port Huron Statement.
Hayden, a 1961 graduate of U-M, drafted the majority of the statement himself while a student in Ann Arbor.
"We wanted to write an agenda for our generation," Hayden told Michigan Today, which also stated that the Port Huron Statement sold 600,000 copies from 1962 to 1966.
Kellie Woodhouse covers higher education for AnnArbor.com. Reach her at kelliewoodhouse@annarbor.com or 734-623-4602 and follow her on twitter.