Posted on
Thu, Jun 28, 2012 : 3:39 p.m.
Power out for 6,000 DTE customers in Ann Arbor
By Cindy Heflin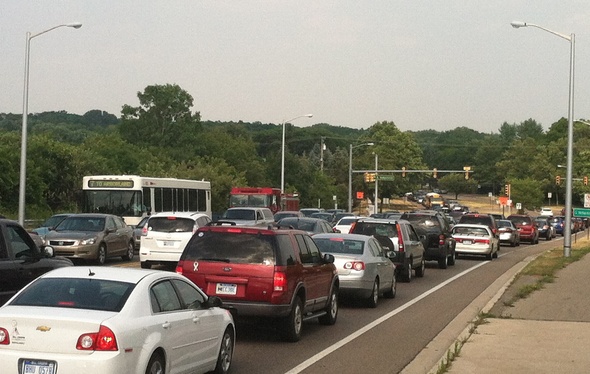 Lizzy Alfs | AnnArbor.com
Editor's note: This article has been updated several times and information about the status of Briarwood Mall has been corrected.
A fire at a DTE substation on South State Street knocked out power to about 6,000 customers in Ann Arbor Thursday afternoon, a DTE spokesman said.
The area without power included Briarwood Mall; however power was restored to the mall just before 5:30 p.m., and the DTE Energy power outage map indicated power had been mostly restored by 8 p.m.
DTE spokesman Alejandro Bodipo-Memba said the cause of the fire was not immediately known, and he did not have an estimated time that power would be restored.
Ann Arbor Fire Department photo
The outage, which occurred about 3:15 p.m., left a large area of the city with no air conditioning or fans on the
hottest day of the year so far
. The temperature was 100 degrees at 4:45 p.m., National Weather Service data indicated.
The DTE power outage map showed two large areas on the southwest side of the city without power at the height of the outage. One area stretched roughly from Scio Church Road almost to Interstate 94. The other ran from north of Stadium Boulevard roughly to Eisenhower Parkway.
Ann Arbor Fire Battalion Chief Robert Vogel said firefighters used five or six containers of carbon dioxide to extinguish the fire because water would have damaged the electrical equipment. He said after power was cut, it took firefighters about 15 minutes to extinguish the fire.
Ann Arbor Public Schools spokeswoman Liz Margolis said "quite a bit of smoke" was visible from the DTE substation up the hill from the Balas administration building at 2555 S. State St. She said there were four large explosions, and Balas lost power momentarily before staff could get the building's generator up and running. She said DTE Energy and the fire department were on the scene.
The outage snarled the afternoon commute for many, and caused delays on AATA bus routes. Traffic lights were reported out in in many locations throughout the area. Witnesses reported lengthy backups along South State Street and Eisenhower Parkway.
By the time power was restored at the mall, several stores had already closed as individual store managers made decisions to send staff home and lock their doors. But many reopened after the power came back. One store that made the best of the situation was Kay Jewelers, which remained open - and even made a sale in the dark during the power outage. That deal "proves you don't need computers for everything," said store manager Shawn St. Andre.
At the Town Cobbler shoe repair at Briarwood, Kyung Kim and her customers used a flashlight to find completed orders in the back room of the store. As a service business, she said, "we had to stay open." The outage Thursday afternoon wasn't widespread enough to spur the activation of the Washtenaw County Heatwave Community Response Plan, said Marc Breckenridge, director of emergency management for the Washtenaw County Sheriff's Office. Under the plan, the county would open cooling centers. Breckenridge said the heat advisory and power outage situation would be reassessed Friday at 1 p.m.
At the University of Michigan, Department of Public Safety spokeswoman Diane Brown said power was out at Wolverine Tower, an administrative office building on South State Street and in some parts of the south athletic campus. She said there was no significant impact since the workday was over.
Even after the power came back on at Briarwood, traffic around the mall remained a challenge for drivers - and people waiting for a ride. Rod Jefferson had an appointment earlier Thursday at a University of Michigan clinic, but sought refuge at Briarwood after waiting 1.5 hours for a ride home.
Residents who live in the neighborhood off Stadium Boulevard between South State and Packard streets were without power Thursday afternoon, but were optimistic it would be turned back on soon.
At around 5 p.m., Kate Blake, of Brooklyn Avenue, said her power had been out for about an hour and half — not long enough for the dense heat to affect the inside of her house yet.
"The air conditioning was on all day, so it's still cool," she said.
If the power remained out into the evening, however, Blake planned on going to stay with friends who still had electricity.
Nancy Leff, of Granger Avenue, said she would seek the cool refuge of her basement if power wasn't restored.
"I hope it comes back on," she said.
Her next door neighbor, Rollin Johnson, of Golden Avenue, was pragmatic about coming home from work to find the power out.
"I'm sort of concerned," he said. "But it happens. You work around it."
Sandy Gregerman, also of Golden Avenue, was walking up to Kroger on South Industrial Highway when she turned around to get cash from her house just in case the registers weren't working.
"I'm making a salad and not opening the refrigerator," she said about her plans for the evening.
AnnArbor.com reporters Been Freed, John Counts and Amy Biolchini contributed to this article.