Posted on
Tue, Mar 2, 2010 : 7:50 p.m.
Prosecutors expected to dismiss case against Matthew Freeman
By Lee Higgins
Washtenaw County prosecutors are expected to dismiss a criminal charge against a Pittsfield Township sex offender after a judge granted a motion today filed by the man's attorney.
Matthew Freeman, 23, is charged with a school safety zone residency violation that accuses him of living within 1,000 feet of Carpenter Elementary School.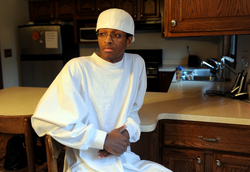 Investigators said it was illegal for him to live that close to a school because he was convicted of fourth-degree criminal sexual conduct involving force or coercion in 2003.
With few exceptions, registered sex offenders aren't permitted to live near schools.
In 2003, Freeman admitted in court he had sex with his girlfriend when he was 17 and she was 15. In Michigan, the legal age of consent is 16.
This afternoon, 22nd Circuit Judge Donald Shelton granted a "motion to correct the record" filed by Freeman's attorney, David Goldstein.
As a result, the record will be corrected to reflect Freeman was convicted of fourth-degree criminal sexual conduct (age of victim) - not fourth-degree criminal sexual conduct involving force or coercion.
Goldstein discovered errors were made by reviewing records, including a VHS tape of Freeman's July 29, 2003 plea hearing.
During that hearing, then Washtenaw County Assistant Prosecutor Lenore Ferber used an incorrect Michigan Prosecuting Attorneys Coordinating Council code for the statute to which Freeman would be pleading, records show.
Now that the conviction is accurate, Freeman is exempt from the school safety zone residency restriction that applies to many sex offenders. He still must register as a sex offender until Aug. 17, 2028. But prosecutors are expected to dismiss the recent charge no later than Freeman's next court appearance March 12 in front of 14A District Judge J. Cedric Simpson, Goldstein said.
"They have no legal ground to stand on," Goldstein said.
Prosecutors will not appeal Shelton's ruling, Chief Deputy Assistant Prosecutor Steve Hiller said today.
Freeman expressed relief this afternoon. He said he has feared going to jail since a state trooper visited his house in August and measured its distance from the school building with a laser. At the time, Freeman was living with his mother and five younger siblings on Dalton Avenue in Pittsfield Township. He was required to move while the case is pending.
"It's terrible," he said. "I don't like it. I had to move for nothing. It was stressful."
Freeman was originally assigned a public defender because he couldn't afford a private attorney. But Goldstein agreed to take the case and worked out a payment plan with Freeman.
Freeman said he's pleased Goldstein straightened it out. A school safety zone residency violation is a misdemeanor punishable by up to a year in jail.
"I'm grateful with the whole situation," Freeman said. "I'm just glad they finally got it right. I'm glad they got it fixed. If they didn't, I'd be going to jail."
Freeman's mother, Yolanda, said she's satisfied with the judge's decision - but isn't happy Freeman must continue to register as a sex offender.
"I'm glad it's not gonna be a problem with him living near a school or park," she said. "I wish they could take him completely off the registry. But I guess we can accept this."
Evelyn Scott, the mother of Freeman's ex-girlfriend, originally pressed charges in the case. She filed a complaint with Pittsfield Township police 12 days after Freeman's 17th birthday, requesting he be criminally charged. As a single working mother, she said it was the only way she could think of to end the relationship.
Scott said today she's also pleased with the decision, but still wants Freeman removed from the registry.
"They should just let it go," she said. "They should just leave him alone. My daughter was a willing participant. To continue to punish him for some childish mistakes is wrong."
Lee Higgins is a reporter at AnnArbor.com. He can be reached by phone at (734) 623-2527 and email at leehiggins@annarbor.com.