Posted on
Sun, Jul 15, 2012 : 5:59 a.m.
Protecting parks: Ann Arbor charter amendment would force public vote on Fuller Road Station
By Ryan J. Stanton
Should the Ann Arbor city charter be changed so building a multimillion-dollar train station on city parkland would require a vote of the people?
At least four members of the Ann Arbor City Council believe so, and they're hoping at least three others will agree with them Monday night.
Seven affirmative votes are needed from the 11-member council to put a charter amendment proposal on the November ballot for city voters to consider.
The resolution to put the question on the ballot is being co-sponsored by Council Members Jane Lumm, Sabra Briere and Mike Anglin. A fourth council member, Stephen Kunselman, has indicated he plans to support the proposal Monday night as well.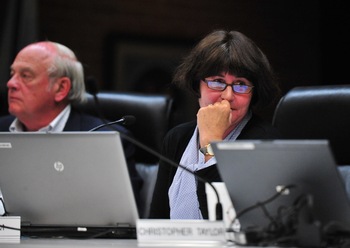 Ryan J. Stanton | AnnArbor.com
If it passes through council and is approved by voters later this year, any future proposals that call for longterm repurposing of city parks for non-park or non-recreational uses would require special voter approval. That's a step beyond what the charter says now — that only the permanent sale of parks require voter approval.
"We owe this to the community," Lumm said. "The citizens have ponied up over the years a lot of money to create this incredible resource, these park resources, and we need to demonstrate good faith that we're going to be good stewards and protect these resources."
Those supporting the amendment aren't hiding the fact that it's a way of making sure the proposed Fuller Road Station project would face a voter referendum and couldn't just be approved by Mayor John Hieftje and the ruling council majority.
"I think the citizens deserve a vote there," Lumm said. "And if it's such a good idea, it shouldn't be a problem, so we should have no hesitation to go to voters."
Though the city recently took a step back to further evaluate alternative sites for a new Amtrak station, Hieftje and other council members still appear determined to see a new train station built in front of the University of Michigan Hospital in Fuller Park.
And they don't think it needs a public vote.
They argue Fuller Road Station, which would include accommodations for buses, trains and bicycles, would be built within the existing footprint of what's been a surface parking lot leased to U-M since 1993. So even though it's technically city parkland, no green space is being lost, and there's technically no sale of parkland involved.
A number of residents and environmentalists, including the local Sierra Club, argue a long-term repurposing of city parkland — for a train station expected to stand for decades — circumvents a 2008 city charter amendment requiring voter approval to sell parks.
"If you lose a park for 60 years, I think that's a lifetime," Anglin said. "I think to restore faith to the public for the parks, this would be a good attempt."

Photo courtesy of city of Ann Arbor
Under state law, cities can sell property designated as parks in the city's master plan with voter approval. Michigan law authorizes cities to sell the same lands without voter approval if they're removed from the city's master plan, and that's happened elsewhere in Michigan.
Ann Arbor voters in November 2008 approved a city charter amendment to ensure voter approval would be required for the sale of any land within the city that was purchased, acquired or used for parkland, regardless of whether it's part of the city's master plan.
But as some have found out, that technically doesn't protect parks in cases where ownership of the land is retained by the city, while the fundamental ability to use the property for park or recreation purposes is diminished under a long-term contractual arrangement.
"This is really much more about the long-term use, for example, for commercial purposes that really equate to a sale," Lumm said. "The 2008 amendment spoke to the requirement that, in the event a property is being considered for sale, then voters get to weigh in. So this is to address those situations where the action is similar to a sale, for all intents and purposes."
In addition to Fuller Park, Lumm fears the Huron Hills Golf Course, technically a city park, is vulnerable without the further protections offered by the proposed charter amendment.
The city considered a proposal in 2010 to privatize management of the golf course and allow a company called Miles of Golf to build an 11,000-square-foot golf center and driving range on the property. The city ultimately decided against the idea, but it left some nervous.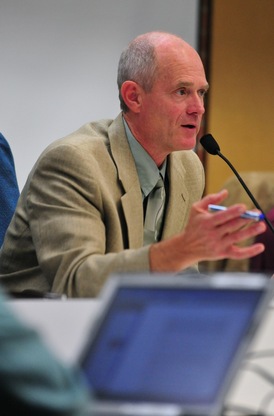 Ryan J. Stanton | AnnArbor.com
"There was a lot of community angst over that," Anglin said. "Let's settle that."
Lumm said the proposal on the table Monday is simple.
"What's being proposed is a charter amendment to tighten up the language to address the repurposing and re-designation of parkland for non-park uses," she said.
Lumm said city officials struggled with the language for the amendment since the city does have a lot of leases for city parkland, such as a 30-year lease for the Leslie Science Center.
"We have a lease with the rowers for use of public property," she added. "And all those parking leases we have with the U of M. So the city attorney's office has been very helpful and we certainly don't want to restrict those kinds of activities or contracts."
Hieftje declined to offer his opinion on the proposed charter amendment, but he said he'll be pushing for postponement of its consideration Monday night.
He thinks it should go through the city's Park Advisory Commission first and come back to council with feedback from the parks administration.
Hieftje said he shares a similar desire to protect parkland in Ann Arbor and that's why he sponsored the original charter amendment in 2008. But he said the portion of Fuller Park in question is a unique circumstance.
If it was going to go before voters, he said, that should have happened back in 1993 when it was turned into a paved parking lot and leased to U-M.
"I can't imagine the city would now go to that spot, rip up that pavement, and turn it into a field we would have to mow," he said. "Fuller Road has always seemed to me like a situation where the horse is already out of the barn, so that's why I think it's a special site."
Ryan J. Stanton covers government and politics for AnnArbor.com. Reach him at ryanstanton@annarbor.com or 734-623-2529. You also can follow him on Twitter or subscribe to AnnArbor.com's email newsletters.