Posted on
Thu, Nov 29, 2012 : 5:58 a.m.
Public Art Commission hopes to complete 4 new art projects in Ann Arbor within the next year
By Ryan J. Stanton
Ann Arbor voters might have shot down a proposal to tax themselves for an expanded pubic art program, but that isn't stopping several city art projects already under way.
Admittedly uncertain of its future, the citizen-led Public Art Commission that oversees the city's art program is pressing on and hopes to complete a handful of art installations in 2013.
Aaron Seagraves, the city's public art administrator, gave a report at Wednesday's Public Art Commission meeting on at least six projects in the works.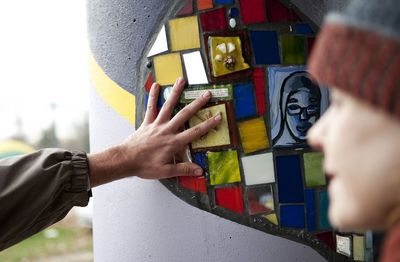 Daniel Brenner I AnnArbor.com
That includes art installations being planned in connection with the city's Justice Center, the Argo Cascades along the Huron River, the new East Stadium Boulevard bridges, a rain garden going in at First and Kingsley, a plaza on Forest Avenue and a roundabout at State and Ellsworth.
Seagraves said potentially four of those projects — with a collective price tag totaling nearly $700,000 — could be done within the next year.
A $150,000 hanging sculpture is slated for installation in the Justice Center lobby in either March or April, he said, and the $23,380 rain garden artwork could be done by July or August.
As for the more expensive artworks planned in conjunction with the Stadium bridges and Argo Cascades, Seagraves said, those could come to fruition by the end of 2013.
"I don't think public art in this city is a dead issue," Commission Chairwoman Marsha Chamberlin said at Wednesday's meeting. "We are doing a lot and there's a lot in the pipeline."
The commission recently dedicated a new mosaic-style mural at Allmendinger Park. Other art projects completed in the last few years include sculptures in West Park and in front of city hall.
Future of art program uncertain
Nearly 56 percent of Ann Arbor voters rejected the public art tax the city placed on the Nov. 6 ballot. The tax would have created a new public art fund and would have suspended the city's Percent For Art Program, which redirects 1 percent of city capital project dollars toward art.
Now that voters have spoken, the Ann Arbor City Council is reassessing its efforts around public art and is considering setting up a task force to study where to go from here.
Different council members have floated proposals ranging from complete elimination of the Percent For Art Program to suspending use of art funds while the city reevaluates the program.
Members of the Public Art Commission spent a large portion of Wednesday's meeting talking about how they can ramp up their public relations efforts and do a better job of communicating with the council and the public about the value of public art and the commission's broader vision.
Chamberlin floated the idea of forming an ad-hoc committee or holding a retreat to talk about those ideas in more detail, but other commissioners said more urgent action is needed with the City Council poised to make decisions about the fate of the public art program as soon as Monday.
John Kotarski, one of the citizen volunteers who make up the Public Art Commission, said he doesn't think the commission has adequate resources to administer a multimillion-dollar public art program, nor does he think it's doing a good enough job communicating its vision.
"I'm not so sure the vision of the Public Art Program in Ann Arbor is that clear to others, and that really is our task," said Kotarski, rattling off a list of questions the commission should address.
"What are we going to do with the schools? Do we imagine a partnership with the schools and how?" he said. "What are we going to be doing with private business?"
In terms of long-term strategy, Kotarski said the commission has spent the last year talking about a lot, but he's still not sure where it stands on doing a major "gateway" project or an "art park."
"People want results and they want to know when and what," he added. "And if we can't do that, we need to explain who can or what we need to do."
Courtesy image
Margaret Parker
, former chairwoman of the Public Art Commission, showed up to Wednesday's meeting and said she thinks there's a shortage of information in the community about how the city's public art program works. She offered to help with educational outreach.
"I could spend time at this point, especially in these two months while everything is kind of up in the air, trying to get out more information," she said.
Multiple commissioners noted more than 22,000 voters in Ann Arbor — representing about 44 percent of votes cast on the issue — were in favor of the proposed public art tax.
"And if we can change that number over the course of two or three years to make it bigger, that's part of what we as a commission are charged with doing is creating awareness and visibility for public art," Chamberlin said at one point during Wednesday's meeting.
At another point in the meeting, Chamberlin acknowledged the uncertainties around the future of the public art program.
"We don't know if we're going to exist as a commission and what kind of funding we're going to have," she said.
"We shouldn't be distracted by what's happening on City Council," Kotarski said. "We need to keep our eye on exactly what we've got and work efficiently and dutifully on what we can."
More public art on the way
The commission is seeking qualification statements by Dec. 5 for a $360,000 public art project at the site of the Stadium bridges. The stated goal of the project is to raise awareness of multi-modal transportation methods, encourage their safe use and further connections between neighborhoods.
A handful of locations have been identified where public art can go near the Stadium bridges, including a fence at Rose-White Park, another spot where White Street ends on the north side of Stadium Boulevard, the underpass and pedestrian staircases at South State Street, and both sides of the bridge itself, including abutments, sidewalks and railings.
The commission is asking artists for proposals by Jan. 10 for the art project at First and Kingsley. The rain garden is expected to be installed in the spring on a 0.15-acre corner lot that's in a floodplain. The city wants an artist to work with a landscape architect to integrate art into the design.
"It must contribute to the purpose of the rain garden, which is to prevent/minimize flooding in the area by increasing the potential for stormwater infiltration," the request for proposals states, asking artists who work with natural materials and have experience creating "lasting earthworks art" to apply.
The commission plans to hold a pre-proposal meeting Dec. 6 and hopes to conduct interviews in late January and then have an artist selected for the rain garden project in February.
Ryan J. Stanton | AnnArbor.com
As for the Argo Cascades, the commission voted 7-0 back in April to approve a budget of $150,000 for a public art project there, but that's been slow to move forward.
City Council Member Sabra Briere, D-1st Ward, attended Wednesday's meeting and spoke with AnnArbor.com afterward. She said council will be discussing the future of the city's public art program on Monday, but she's not sure how that's going to turn out.
"I do know that some feel very strongly that there should be no Percent For Art Program," she said.
Noting the city had a Public Art Commission before it had a Percent For Art Program, Briere said she doesn't think it should be a question whether the commission should continue to exist. But that still leaves the question: Should there be a Percent For Art Program?
"And the third question, of course, is if we want publicly funded public art, where do we get the money if it's not the Percent For Art Program?" she said.
Briere said many people can't seem to separate the Percent For Art Program from public art, but they're really two separate issues. She also said it seems there are many people who simply aren't convinced that public art isn't something that's wasteful and elitist.
"And yet, if you were to ask the members of the Public Art Commission, they'd say, no, this isn't wasteful, and this isn't elitist," she said. "It enhances public space, it brings a more robust economy in all these different ways, and we really want to involve the public."
Ryan J. Stanton covers government and politics for AnnArbor.com. Reach him at ryanstanton@annarbor.com or 734-623-2529. You also can follow him on Twitter or subscribe to AnnArbor.com's email newsletters.