Posted on
Sun, Dec 2, 2012 : 9 a.m.
Streetcars in Ann Arbor? Light rail? Public invited to give input at Connector drop-in sessions
By Ryan J. Stanton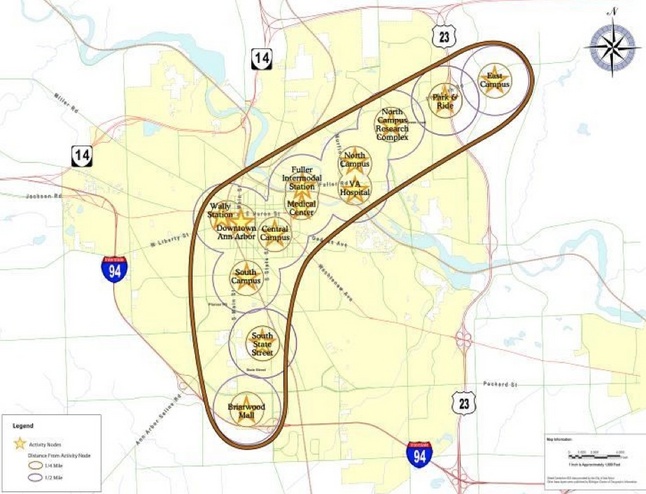 Image courtesy of URS Corp.
What will the future of transit look like in
Ann Arbor?
For a boomerang-shaped area extending from the northeastern corner of the city through the center of town to Briarwood Mall, some hope there'll be a new high-capacity system of some kind.
Streetcars? Bus rapid transit? Light rail?
Those are all options being studied as part of the so-called Ann Arbor Connector project, and Ann Arbor Transportation Authority officials want members of the public to provide their input during a series of special drop-in events being held in the Ann Arbor area in December.
The drop-in events are being held as part of a $1.5 million study that's taking a look at advanced transit options to connect major Ann Arbor destinations, including downtown, University of Michigan's north and central campuses, the university medical center and commercial areas.
During the drop-in events, members of the public are encouraged to stop by anytime and provide opinions on where they travel most frequently within the proposed area and which mode of proposed travel they prefer. A survey will be available for additional input.
Those who wish to attend one of the sessions don't need to stay the entire two hours. Rather, organizers say drop in anytime and the entire process will take under five minutes.
Here are the open hours:
Monday, Dec. 10
8-10 a.m., Blake Transit Center, 337 S. Fourth Ave.
1-3 p.m., Busch's, 2020 Green Road
6-8 p.m., Briarwood Mall, 100 Briarwood Circle
Tuesday, Dec. 11
8-10 a.m., Sweetwaters, 123 W. Washington St.
1-3 p.m., Sweetwaters, 3393 Plymouth Road
6-8 p.m., Briarwood Mall, 100 Briarwood Circle
Organizers said this is the first in a series of public input opportunities and there will be additional opportunities announced in the future.
The AATA is the lead agency on the project and is using a $1.2 million federal grant to complete the $1.5 million study. The AATA is putting up $90,000 in local matching dollars, U-M has committed $150,000, and the city and Downtown Development Authority each are paying $30,000. Those four entities have been partnering on the Connector project since 2009.
A previous feasibility study concluded that a high-capacity transit service in the Connector area is feasible and technologies including streetcars, bus rapid transit, light rail and elevated guideway system such as a monorail could be used.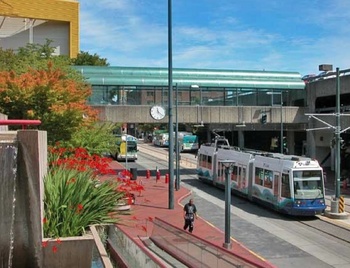 Image courtesy of URS Corp.
The project is now in the alternatives analysis stage where community input is needed to determine a locally preferred alternative that will specify the type of transit technology, service level, route alignment, station locations and cost estimates to implement the service.
The project's technical team will use the information gathered at the drop-in sessions to help determine locations for stations/stops and transit technology.
Streetcars running on standard gauge tracks and powered by overhead wires have made a renaissance in recent years in a number of cities across the country, a consultant told the city last year, pointing to examples in Portland, Little Rock, Seattle and Tacoma. In Portland, the streetcars operate in lanes shared with automobile traffic at a maximum speed of 30 mph.
To see examples of streetcars, light rail, bus rapid transit and elevated guideway systems in other cities, download the Connector feasibility report.
As the Connector study moves ahead, the AATA also is getting started on construction of a new Blake Transit Center downtown and the city continues planning a new Amtrak station.
Elsewhere in the region, the Southeast Michigan Council of Governments is holding a series of seven public meetings from Dec. 3-15 as part of a major initiative looking at mass transit options for the 27-mile Woodward Avenue corridor from the Detroit River to Pontiac.
SEMCOG is charged with managing a $2 million federal transportation grant that is funding the Woodward Avenue alternatives analysis — with a goal of identitying the most feasible rapid-transit alternative for a study area that includes Detroit, Highland Park, Ferndale, Pleasant Ridge, Huntington Woods, Berkley, Royal Oak, Birmingham, Bloomfield Township, Bloomfield Hills and Pontiac.
SEMCOG also is overseeing the Ann Arbor-to-Detroit commuter rail initiative, which could get started with demonstration trains between the two cities in 2013.
Ryan J. Stanton covers government and politics for AnnArbor.com. Reach him at ryanstanton@annarbor.com or 734-623-2529. You also can follow him on Twitter or subscribe to AnnArbor.com's email newsletters.