Posted on
Mon, Apr 23, 2012 : 3:22 p.m.
Sandi Smith says she won't seek re-election to Ann Arbor City Council
By Ryan J. Stanton
Sandi Smith announced today she will not seek re-election to the Ann Arbor City Council this year, leaving open the 1st Ward seat she's held since 2008.
Smith, a local real estate professional, cited a desire to put more of her time toward her company and philanthropic efforts.
She and her partner, Linda Lombardini, own and operate Trillium Real Estate, which they founded in 2001.
"At this point, our company is growing, the market is really brisk, and I feel like I can't devote enough time to both," she said. "In addition, I've accepted a leadership position at the Jim Toy Community Center and will be vice president of the board this year and president next year."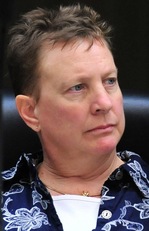 The
Jim Toy Community Center
is an Ann Arbor-based resource for lesbian, gay, bisexual and transgender residents.
Smith, who has been an ally of Mayor John Hieftje on many issues while on council, is the second council member in the last week to announce a decision not to seek re-election.
The first was Carsten Hohnke, another ally of the mayor who is stepping down after nearly four years serving the 5th Ward.
Hieftje lost another ally in November when Stephen Rapundalo was voted out of his 2nd Ward seat and replaced by Jane Lumm, an Independent with a Republican background.
With the latest losses, only five of the eight people who once comprised the so-called "council majority" or "council party" will remain on the 11-member body later this year.
Smith said she doesn't have anyone in mind to fill her shoes. She defeated Sumi Kailasapathy in the Democratic primary in 2010 with 55 percent of the vote.
Kailasapathy, a certified public accountant, pulled petitions on Monday, vowing to make another run for council this year.
"I did lose last time, but I don't think the issues have gotten any better, and I think there is a role for a CPA on council," she said.
The deadline to file to run in the August primary is May 15.
In addition to the open 1st and 5th Ward seats, Hieftje and three council members will be defending their seats this year. That includes Tony Derezinski in the 2nd Ward, Christopher Taylor in the 3rd Ward and Margie Teall in the 4th Ward.
No candidates have actually filed petitions yet. Running for mayor requires 250 signatures, while running for council requires 100 signatures.
Smith said she plans to continue serving on the Downtown Development Authority's board through the end of July when her term is up. She said it will be up to Hieftje whether to reappoint her after that, but she's interested in continuing to serve.
"I would love to be able to finish out the Connecting William Street project for sure," Smith said, referring to a master planning initiative that has the DDA — at the request of City Council — studying new uses for city-owned parking lots downtown, including the lot atop a new underground parking garage on Fifth Avenue and the former YMCA site.
Hieftje commented on the loss of Hohnke and Smith on council by saying he's just glad the city was able to get two terms out of them given their personal and professional demands.
Asked whether he thinks it'll change the dynamic on council, Hieftje said he's hopeful new council members will be elected that will share a similar vision for Ann Arbor.
"I'm happy to work with whoever the voters send to City Council," he said. "I think I'm interested in the same things hopefully most people who run for council would be."
Hieftje cited keeping the budget under control, improving quality of life and keeping the ball rolling on public transit as priorities he hopes future council members will share.
"I see most of the members of council united and moving in the same direction," he said. "I think City Council has been very budget-conscious."
Ryan J. Stanton covers government and politics for AnnArbor.com. Reach him at ryanstanton@annarbor.com or 734-623-2529. You also can follow him on Twitter or subscribe to AnnArbor.com's email newsletters.