Posted on
Tue, Jan 1, 2013 : 5:59 a.m.
Q&A with Washtenaw County Commissioner Yousef Rabhi on the budget, affordable housing and the RTA
By Amy Biolchini
As a 24-year-old entering his second term on the Washtenaw County Board of Commissioners, Yousef Rabhi, D-Ann Arbor, is a strong contender to be chosen as the chairman when the new session begins in 2013.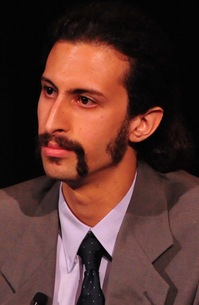 Entering the board for the first time in 2011, Rabhi brought a lot of big-picture ideas and energy to his role. Thrown in to the midst of budget deliberations with a year of experience under his belt, Rabhi had to help make tough cuts. In the next budget cycle, the county again will be facing a shortfall of just less than $10 million.
Now, Rabhi says he feels he has a stronger understanding of governmental and political processes and knows how to better channel some of his idealism into policy and change.
AnnArbor.com sat down with Rabhi recently to get his perspective on what issues will be biggest in 2013 for Washtenaw County.
AnnArbor.com: What kind of collaborations do you feel are important for the county to tackle in 2013?
Ones to Watch 2013
"One of the things we need to strengthen is our partnership around animal control. Right now … there's been a lot of dialogue around animal control and our contract with the Humane Society (of Huron Valley) and how to best work through that sort of stuff. But I think that our partnerships with local governments - not just the city of Ann Arbor but Ypsilanti Township, Ypsilanti city, that those can be potential growth areas. We need to make sure that everybody is at the table and fully participating in the system."
Besides a goal of further collaboration, what else would you like to see happen in your second term?
"The main thing is looking at the budget: We're looking at another structural deficit this year. It's less than it was the last cycle but we're looking at another one. It's making the sort of … institutional changes that we need to make to move this county into a position where we won't have a structural deficit moving forward.
"That depends on a lot of different factors … But also the goal is to work all of that in so we can look forward to a new budget cycle after this one where we're not looking at having to make these sorts of tough cuts.
"Another one of my priorities is human services, and making sure that we are not balancing the budget on the backs of those who are the most in need in our county: Those that don't have food, those who don't have shelter, those who are cold and those people need to be taken care of.
"The last thing, is something that's very near and dear to my heart, is the environmental front … If we're really going to get serious on how we're leaders, we need to develop like (Ann Arbor) has, an energy action plan. We need to develop a target for the county."
During the budget process last year, was there a place that you thought cuts shouldn't have been made? Is there a place where you think cuts can be made in the next deliberation process?
"In the last budget cycle, we made some very, very difficult cuts. I'm not happy about all the cuts that we made; some of them were necessary for us to just balance the budget, pure and simple because I've done it without making those cuts. We're basically running a pretty minimalist government when you look at what the county has done in the past and what the county is doing now.
"During the last round of budget negotiations, something that was very successful to balance the budget was the staff at the county and the unions at the county coming forward. They made some very, very tough concessions to help us balance that budget. It's important for the Board of Commissioners and everybody involved to acknowledge that the staff really came to the table and helped us balance the budget.
"So we're not just trying to squirrel money away, we're working with our employees so that they feel like in tough times, they're willing to make concessions and in good times, we're willing to compensate them adequately for the work that they do."
Would you expect the county staff and unions to be as open to concessions in the next budget cycle?
"I think it's going to be difficult. I think that the staff understands the situation that we're in. We're not trying to steal money from them … we're just trying to balance the budget. We don't want to do it on the backs of the employees, but when the employees can come to the table and work with administration and work with the county to really build a budget that works for everybody, I think that we all move together as a county in the right direction.
"Don't for a second think that I want the entire budget to be balanced on the union contracts. There's a lot of other things we need to be doing."
Will the fiscal cliff the federal government is grappling with affect the budget process for Washtenaw County?
"When it comes to federal dollars, you're often talking about specific programs, where if the government cuts back on them, it'll impact that program. There are some very important programs that the government funds in our community - and if those programs go away, then it's going to make an impact on our community.
"As the federal government cuts back, and with the fiscal cliff, some of the automatic cuts, best case scenario, we're looking at a 10 percent decrease in the money that we're bringing in through the (Washtenaw) Urban County (program). And that is going to have a noticeable impact on those programs, and those are people that we can no longer help. At the end of the day, that's what the federal government is playing with right now. They're playing with real people. It's not just numbers on a piece of paper. These are real people that could be in their homes or could be homeless.
"Affordable housing and homelessness are one of the top issues of 2013."
With regards to the Southeast Michigan Regional Transit Authority: In fall 2012 the board passed a resolution stating the county should be able to vote itself in to the authority, but Washtenaw County was written in to the legislation that was passed by Gov. Rick Snyder this December. What will the new board do in 2013?
"Because we're already written into the legislation and legislation's already been signed and passed, I don't really see the county taking it up again. There's a lot of varying mindsets on the board, and I don't want to speak for the whole board; but I think there's a sense that this has already been taken care of; we don't need to continue to mettle with this.
"It doesn't pay in my mind to continue to poke at this. We're in the legislation, and at the end of the day we have to work with these other communities. Let's acknowledge that we're going to have to work with these other communities, and let's start working with these other communities, instead of continuing to stomp our feet and wave our hands.
"OK, we want to protect the interests of the (Ann Arbor Transportation Authority) - let's do that. But we're not going to do that by making a scene over here in Washtenaw County. We're going to do that by coming to the table with our regional partners and making sure that they understand the importance of AATA, and I can tell you that from the discussions that I've had that people look to AATA as an example of how transit works.
"That's saying a lot, because we don't have traditionally good transit in Michigan. They look to AATA and say, 'That's a system that works' and I don't think we should take that for granted."
Do you think conversations need to happen with regards to amending the law creating the RTA that was passed in December?
"If AATA feels that it needs to further protect itself, in having discussions about how it can re-write the legislation to do that, I don't think there's any harm in having those discussions; but Washtenaw, in my mind, should be a part of the region."
How important is the RTA to the future of Washtenaw County in Southeast Michigan?
"I personally think that it's very important. Transit's one of those issues, that, you know we've never done a good job of in Southeast Michigan. We've done a good job in Washtenaw County. So now, the attitude seems to be evolving that this whole region is suffering to some extent. Ann Arbor is doing fine, but when you look at Ypsilanti and Ypsilanti Township, there's hardship.
"Connectivity goes beyond just getting around Ann Arbor. It goes beyond the young folks, to people who want to do it for environmental reasons … and then there's the folks who just can't afford to drive. At the end of the day, it's a social justice issue too.
"We have a lot of history with failures in making sure there's social justice in Southeast Michigan. We've come a long way from that, but there's still a lot that we need to do, and this is part of that. I think it's key."
Will the RTA somehow solve some of the connectivity issues that the countywide transit authority proposed by AATA had attempted to address, or will the countywide transit issue come back?
"It'll come up again. What the RTA is proposing is to link the region, but not necessarily to link the individual municipalities in the region. We need to make sure that in Washtenaw County, we maintain our position as a transit provider. In order to do that, in order to move our county in the right direction, we need to provide transit services to those in need. There are people who need transit services - elderly, disabled, people who can't afford to buy a car - they don't just live in Ann Arbor, they live all over the county."
Although you don't represent Ypsilanti or Ypsilanti Township, in terms of collaborating with other commissioners and working for the betterment of the county as a whole, what needs to happen there to see a turnaround and progress made in many of the conditions that people grow up with?
"There are a lot of issues on the east side of the county that needs to be addressed. By and large, that needs to remain one of the focal points of our efforts to make sure underserved populations have the service that they need.
"Really stabilizing the housing market out there is important. One of the main priorities I have -- there's been a lot of talk about land banks. To an extent, we've missed the period of the most hardship, where land bank would have been the most needed, but there's still folks suffering out there, there's still an opportunity for a land bank to be successful.
"I'm an advocate for creating a county land bank and providing that resource to help stabilize the housing market on the east side.
"I think the crown jewel of government investment that can help to stimulate private investment is what we're hoping to accomplish with the Ypsilanti recreation center: Building a county facility in downtown Ypsilanti near the water street area can really attract economic activity to that area, which is now, a huge drain to city government.
"If we can stimulate investment on the Water Street site, we can take away from the burden that the city has to cover and free up some of that money so they can invest in basic services for their residents. The worst thing that can happen if people feel they're paying a lot of money and not receiving a lot of service. That's what's happening in Detroit and to some extent happening in Ypsilanti.
"The east side of the county is a priority. It's the idea of a rising tide raises all ships: If we take a silent approach and only think about our own community, we're not accomplishing anything.
"If Ypsilanti succeeds, Ann Arbor succeeds. And that's the mentality that we need to hone in on to move our county forward. To rise the tide so that we can all have strong economic prosperity through Washtenaw County."
Amy Biolchini covers Washtenaw County, health and environmental issues for AnnArbor.com. Reach her at (734) 623-2552, amybiolchini@annarbor.com or on Twitter.