Posted on
Tue, Feb 12, 2013 : 5:58 a.m.
Record number of applicants hope for low numbers in Tuesday's Community High School lottery
By Danielle Arndt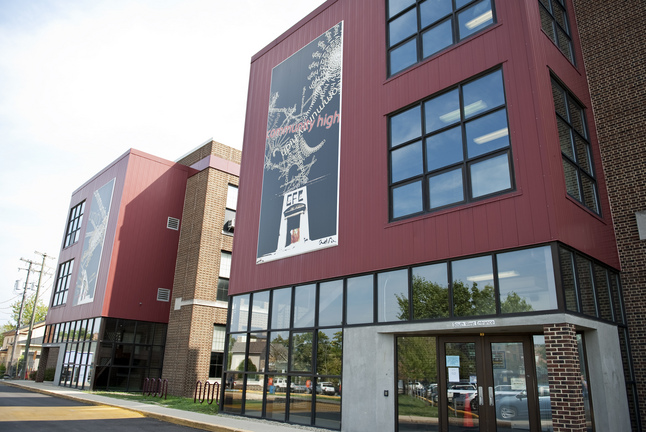 Daniel Brenner | AnnArbor.com
Previous coverage:
Beginning at 3 p.m. Tuesday, 454 eighth-grade students and their families will approach the back doors of Community High School with great anticipation.
There will be no need to enter the coveted school. Students' fates will be posted on the doors in the form of two numbers — their student I.D. number and, most importantly, a randomly assigned lottery number.
A student's chance of being admitted into Ann Arbor's Community High School decreases the further from 114 and the closer to 454 his or her lottery number is, said Community High counselor John Boshoven. There are some student who win the lottery but don't end up enrolling at Community, school officials said, allowing for numbers greater than 114 to have the opportunity to enroll in their place before fall.
Every year, more incoming ninth-graders than the previous year apply to fill one of 114 seats. Applications to Community for the 2013-14 academic year reached a new high at 454, Boshoven said.
Last year, CHS received 440 applications. In 2011-12, 408 students applied. The number of applicants in 2010-11 and 2009-10 were 330 and 369, respectively.
"We keep turning more and more away… I hate it," Boshoven said. "It's great to have so much interest in our program and so many people so invested in us, but it's hard when people don't get in that (our school) would be a good fit for."
The lottery drawing is double blind, Boshoven explained.
"It's kind of an archaic process the way we do it," he said of the lottery. "It's very Community High, very personal."
The actual drawing takes place in a small conference room. There usually are about 10 people in the room, including counselors, administrators, Parent Teacher Student Organization representatives and the student newspaper, to ensure the lottery is done fairly and accurately.
Pieces of paper with the names of CHS hopefuls on them are placed into a bowl on the table. Another bowl contains the numbers 1 through 454, Boshoven said. He added one volunteer draws a name, another draws a number; the two pieces of paper are stapled together and handed off to three secretaries, who each write down the student's name and corresponding lottery number in a notepad.
"It's called 'double blind' because the numbers are blind and the names are blind. Any name could get pulled at any time and get any number assigned to it," Boshoven said.
After all the names and numbers have been pulled from their respective bowls, the names and lottery numbers are typed up and triple-checked. All of the students in the lottery and their lottery numbers are posted on the back door of the high school at 3 p.m. the day of the lottery drawing.
However, students' names are not posted. Each student is assigned a student I.D. number that they use throughout their career with Ann Arbor Public Schools. Students look for their I.D. numbers to find out what their lottery numbers are.
No. 1 through No. 114 have first dibs on a spot.
"We try to avoid hysteria at the school," Boshoven said. "We want it to be anonymous for those involved. Getting in or not getting in can be an emotional thing. … We tell families to come together to check the lists and encourage the parents to bring their students so the student has the extra support."
He said CHS staff also are around in the afternoon and typically pass out information on various "next steps" for if a student got i to Community High and next steps for if he or she did not — "There are still opportunities to take a class or two with us," Boshoven said.
For the first time, Ann Arbor Huron and Pioneer high schools accepted open-enrollment applications for freshmen students within the district wishing to transfer and attend a school other than their residence-determined high school.
Both Huron and Pioneer have 25 open spots. Skyline also has its annual 100 spots open to in-district transfer students.
The total numbers of applications received for Huron, Pioneer and Skyline were not available Monday.
The deadline to apply for an in-district transfer to Huron and Pioneer was Thursday. Friday was the deadline for Community and Skyline applications.
District spokeswoman Liz Margolis said Monday the total number of applications received at each school would not be released to the public until the Board of Education had received the information. She could not provide a time estimate for when that would be.
Huron High School is hosting a Curriculum Night for incoming ninth-graders from 6-8 p.m. Tuesday in the school's Meyers Auditorium.
Pioneer's incoming freshmen orientation also is Tuesday, from 6:30-8:30 p.m. in the school's auditorium.
Ninth-graders offered a spot at Community have until March 1 to commit to attending the school.
Danielle Arndt covers K-12 education for AnnArbor.com. Follow her on Twitter @DanielleArndt or email her at daniellearndt@annarbor.com.