Posted on
Wed, Jan 23, 2013 : 10:23 a.m.
Report: Michigan's research universities generate $15.5B economic impact, 74K jobs and $375M in tax revenue
By Kellie Woodhouse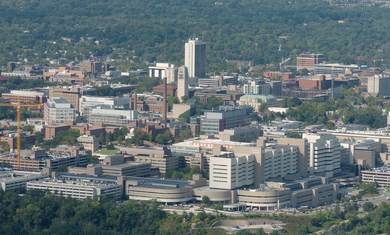 Michigan's three largest public universities spent more than $2 billion on research in 2011 and generated an estimated $15.5 billion economic impact to the state, according to a 2012 economic report released Wednesday.
University of Michigan, Michigan State University and Wayne State University —the three schools that are a part of the state's University Research Corridor— awarded roughly 31,680 degrees in 2011 and generated an estimated $375 million in tax revenue for the state.
For the sixth year, the URC commissioned an Economic Impact Report measuring its success and benchmarking itself against peer research corridors, including well-known hubs like North Carolina's Research Triangle Park, California's Innovation Hubs and Massachusetts' Route 128 Corridor.
The East Lansing-based Anderson Economic Group prepared the report, which showed that the corridor's research and development spending has grown by 43 percent since 2007, rising from $1.369 billion to just above $2 billion this year.
The report also found that URC is one of the largest research corridors in the nation. The 31,680 degrees it conferred in 2011 outpaced the number of graduates produced by competing corridors. According to the report, the URC also granted the second-highest number of high-demand degrees overall.
Eighteen start-up companies sprouted from URC in 2011. Since 2002, the corridor has cultivated a total of 149 start-ups.
The report also estimated that in 2011 the URC was responsible for more than 74,000 direct and indirect jobs statewide, including jobs throughout Michigan, Indiana and Ohio.
Overall, the corridor directly employed more than 52,200 people in 2011 —paying $4.6 billion in salaries— and spent $3.4 billion on non-payroll operational expenses. Of the corridor's employees, 11,400 are faculty and 40,800 are staff.
A total of nearly 138,000 degree-seeking students are enrolled in the three universities. URC students make up roughly 23 percent of the overall college students in Michigan.
Alumni of the three schools that chose to remain in Michigan after graduation earn an total of $29.2 billion, according to the report. As of the summer, there were slightly less than 590,000 URC alumni living in the state.
Kellie Woodhouse covers higher education for AnnArbor.com. Reach her at kelliewoodhouse@annarbor.com or 734-623-4602 and follow her on twitter.