Posted on
Tue, Oct 23, 2012 : 5:58 a.m.
Report: Ypsilanti schools improves graduation rates through alternative high school programs
By Danielle Arndt
Ypsilanti Public Schools saved nearly 21 percent of its graduating seniors from becoming a dropout statistic last year, according to a new report.
About 20.75 percent of Ypsilanti's 376 seniors in the class of 2011 did not graduate on time, but are on track to finish in five years via one of Ypsilanti's many alternative secondary education programs.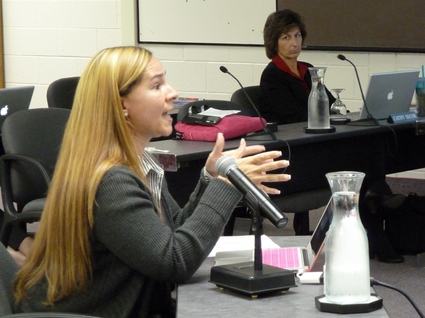 Danielle Arndt | AnnArbor.com
"That's something I am very proud of and that all of Ypsilanti should be very proud of," Assistant Superintendent
Jennifer Martin
said Monday during a graduation presentation at the
Board of Education
meeting.
The nearly 21 percent of "off-track/continuing" students, as the state calls them, in 2011 compares to 4.58 percent in 2010 and 1.36 percent in 2009, the first year the Center for Educational Performance and Information began tracking these five-year cohorts.
Ypsilanti school board members asked for a report analyzing the district's graduation rates after learning the district was disputing its 2012 rates, as reported by the state of Michigan in August.
Martin explained the district receives preliminary graduation/dropout rates from the Michigan Department of Education as part of its annual school report card. Districts then have a period of time to appeal the numbers.
She said Ypsilanti Public Schools has refuted the numbers each year for the past three years and has always won.
The discrepancies for YPS are in the many alternative programs the district's high schoolers may participate in: Washtenaw International High School (WiHi), Widening Advancement for Youth (WAY), Early College Alliance (ECA), dual enrollment, Forest School and New Tech at Ardis. Some of these, WAY and ECA in particular, were not designed to be four-year high school experiences, Martin said.
The district and Ypsilanti High School's graduation rates continue to decline, but it is the dropout rates that Martin said the district must keep an eye on, as more and more students enroll in alternative secondary programs.
From 2007 to 2011, the district's graduation rates, which include both the high school and other programs, fell from 66.78 percent to 57.45 percent. At the same time, its dropout rates improved from 26.71 percent to 15.43 percent.
Ypsilanti High School's graduation rate remained relatively steady, only varying a few percentage points, while its dropout rate went from a high of 23.13 percent in 2008 to 12.5 percent in 2011.
Currently, with how the Michigan Department of Education reports graduation/dropout rates, any student intentionally on a five-year track counts against the district as a dropout, unless the district can prove otherwise, Martin said — which is why the district goes through the appeal process.
Additionally, all students begin counting toward a district's graduation rate in their freshmen year. If a student leaves one district to attend a new district or a charter or private school, he or she is not considered part of the new school until he or she has been there for two years.
So a student who left Ypsilanti to attend Lincoln Consolidated Schools after his sophomore year, for example, would be considered a dropout for Ypsilanti, regardless of whether the student graduates on time from Lincoln, Martin explained.
Verifying a student's status with the district can often be difficult, Martin said.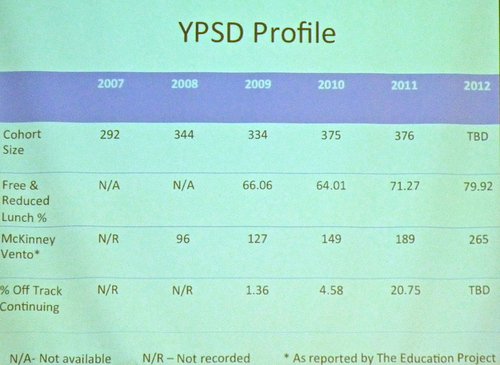 Ypsilanti Public Schools is known to have a very transient population and has seen a steady
decline in enrollment
in recent years. From fall 2011 to fall 2012, YPS
lost
297 students.
However, the district is attracting and retaining students in its graduating classes, Martin said. Monday's report showed in 2007, the district's senior cohort totaled 292 students. Last year's class had 376, an increased of 84 students.
"Not only are we graduating more students by having more students continuing off-track but we are doing it at time when students are facing more challenging times at home," Martin said, adding the district is succeeding at this by providing supports and "wrap around services" to students and their families outside of school.
The report showed from fall 2009 to fall 2012, the percentage of students receiving free or reduced-price lunch increased from 66.06 percent to 79.92 percent. Additionally, the number of homeless students grew nearly 48 percent, from 127 students in 2009 to 265 in 2011.
2011 also was when Ypsilanti had its most robust selection of offerings for secondary education. Martin said these programs align with the district's goal of developing personalized learning plans with differentiated instruction for each student.
Other highlights of the report included improving the dropout rates among economically disadvantages students from 31.86 percent in 2007 to 9.5 percent in 2011. The district also is making great strides with students with disabilities, Martin said, improving both their graduation and dropout rate.
"Unfortunately, we only hear about the negative so often," Martin said. "But our No. 1 objective is students and student achievement. And I get that the budget overshadows everything … but this is information we need to share with students that are contemplating giving up…
"I feel like there is a big misconception about our district in the public. … But we have a lot to be celebrated because we are saving children and helping them to be successful on the educational path that best suits them."
Danielle Arndt covers K-12 education for AnnArbor.com. Follow her on Twitter @DanielleArndt or email her at daniellearndt@annarbor.com.