Rick Snyder and Virg Bernero both say they have a plan to reinvent Michigan
Posted on Mon, Nov 1, 2010 : 6:03 a.m.
If there's anyone who doesn't know by now that Republican gubernatorial candidate Rick Snyder wants to reinvent Michigan, apparently they didn't get the memo.
The Ann Arbor businessman and self-professed "tough nerd" has spent millions of dollars getting that message out to Michigan voters this year, filling airwaves with news of his 10-point plan centered on creating jobs and turning around the state's economy.
But Virg Bernero, Snyder's Democratic opponent in Tuesday's election, says he also has a plan to reinvent Michigan, and it's focused on jobs and the economy, too.
"That's the one thing I agree with him on. We do need to reinvent Michigan," Bernero told AnnArbor.com in a recent interview. "My point is just that he wouldn't know the first thing about how to do it. He hasn't done it. He knows nothing about government."
The fact that Bernero, Lansing's mayor and a former state lawmaker, heads into Election Day significantly trailing in the polls is a sure sign his own message hasn't connected with voters in the same way that Snyder's has.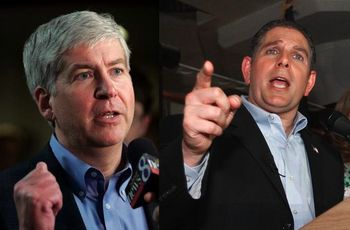 That may be due, in part, to having significantly less money to spend. Or it may be the reality of an anti-incumbent environment that has Michigan voters
eager to chart a new course
away from the
policies of the last eight years
under Democratic Gov.
Jennifer Granholm
.
But it also may be a reflection of how Bernero has chosen to spend his time on the campaign trail — and whether the message he's delivering is one voters want to hear.
While Snyder has stuck to a mostly positive script, Bernero has gone on the attack, repeatedly characterizing Snyder as a heartless CEO who has profited while shipping jobs overseas.
"You can't do two things at once," said Bill Nowling, a spokesman for Snyder's campaign. "You either can talk about your plan or attack your opponent, but it's hard to do both at the same time. He's been on a pretty much negative attack since the day after the primary, and I just think that voters tuned out to that. I think we're at a saturation point where voters have stopped listening to candidates who do nothing but run the other candidate down."
Bernero, who talks boisterously about corrupt Wall Street tycoons and Snyder in the same breath, appears to have no regrets about using his time to criticize Snyder's record.
"He's putting his business credentials out there and saying, 'Vote for a businessman. It's time for a businessman for governor,'" he said. "That means that we have an obligation to scrutinize his business tactics. HandyLab — I'm sure you've really dug into that: Shut down, yet he made millions. Now he says, 'Well, I can't control that.' The same thing with Gateway."
Bernero has blamed Snyder for the demise of computer maker Gateway, where Snyder was an executive from 1991 to 1997 and a board member until 2007.
Gateway grew from fewer than 1,000 employees to more than 10,000 while Snyder was an executive, but the company later began to outsource jobs. Gateway moved a substantial portion of its operations to Mexico and countries in eastern Europe and Asia, including China. The number of Gateway employees sunk from more than 20,000 in 2000 to fewer than 2,000 by 2005, and the company eventually sold to Taiwan-based Acer Inc. in 2007.
"I'm not going to penalize somebody because they have operations (overseas). That's not my thing," Bernero said. "But I do think that Rick Snyder warrants special scrutiny because he wants to be governor. He wants to lead Michigan and lead a recovery here. So the question is how will his business practices create jobs here? We know how they've created money in his pocket and money for the few at the top in the corporate board room."
Bernero spent Saturday morning in Ann Arbor, rallying supporters at the Washtenaw County Democratic Party headquarters on North Main Street. The Lansing mayor's campaign has made several stops in Ann Arbor recently as he competes for votes on Snyder's home turf.
"We're not ceding anything here," Bernero said. "This is a good solid Democratic turf. I feel good about it. There's a good operation up and running. We've spent a good amount of time here … so I expect to do well in Ann Arbor and in Washtenaw County."
Stuart Dowty, chairman of the Washtenaw County Democratic Party, said he thinks media coverage of the gubernatorial race has leaned in Snyder's favor.
"I think the media decided shortly after the primary that Rick was their boy," Dowty said. "And I have seen very little examination of what Snyder's plan would mean in terms of tax consequences, in terms of jobs, and the consequences of doing away with the Michigan Business Tax and replacing it with a flat corporate income tax."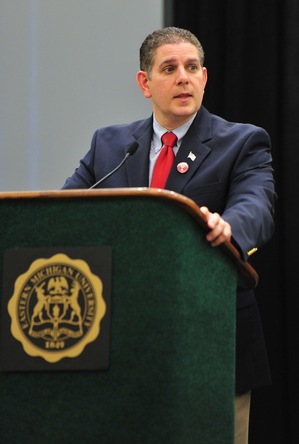 Ryan J. Stanton | AnnArbor.com
Snyder's plan to
eliminate the Michigan Business Tax
and replace it with a 6 percent corporate income tax would reduce the tax burden on businesses by $1.5 billion. Bernero's plan to eliminate the MBT surcharge would equal a reduction of about $500 million. Additionally, Bernero says he would work with the business community to restructure the MBT.
As Michigan Radio pointed out last week, future state budget holes will be much bigger than either candidate is talking about. And it's still unclear how the candidates will find the money to make up for the business tax cuts they propose.
Both candidates promise to look for efficiencies in state government and say workers will have to face pay and benefit cuts. Bernero told AnnArbor.com he would consult employees on the front lines. Meanwhile, Snyder proposes applying "value for money" budgeting.
"Let's move from a government that's been historically based on spending money on lots of activities without any real results or outcome measures to actually get a budget that's tied into showing real results and being efficient," said Snyder, who started his career as an accountant. "I was a tax partner at Coopers & Lybrand, so in terms of understanding tax policy, I've got a significantly greater background than almost probably anybody in the Legislature today."
Bernero said Snyder's economic plan is short on details, though. He claims his own plan offers more specifics, like his proposal to create a state bank that would partner with community banks and credit unions to make loans to businesses. Bernero also proposes a program called Make It In Michigan For Free, which essentially would offer zero taxes for up to 12 years for companies wishing to set up advanced manufacturing facilities in distressed urban areas in Michigan.
"This is a specific idea, a bold idea, arguably risky," Bernero said. "But see, this is the kind of guy I am. I do real things. I offer a real plan with substantive proposals."
Bernero and Snyder differ on using tax incentives, such as the state's film tax credits, to lure business to Michigan. Bernero believes in using "every tool in the toolbox," while Snyder says a significant reduction in taxes would eliminate the need for huge incentives.
"You're essentially buying someone into the state to make up for the fact that you have a broken tax and regulatory system," Snyder said. "Again, there may still be some strategic need for incentives, but not at that scale. If you fix the underlying tax and regulatory environment, they should be able to dramatically be scaled back."
Bernero, who earned the title of "America's angriest mayor" while fighting for federal bridge loans for the U.S. auto industry, said his plan puts hope in manufacturing. He said he thinks there's "a magic about manufacturing" and Snyder doesn't seem to get that.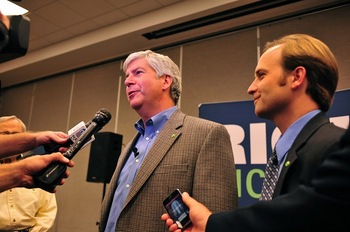 Ryan J. Stanton | AnnArbor.com
"This business about 'I'm looking in the rearview, I'm the past, he's the future' — bull(crap)," Bernero said. "I'm talking about advanced manufacturing, and I'm doing it. I'm negotiating with GM for a major new expansion. Our two GM plants are as advanced as any plants in the world. The point is, I'm not willing to give up. I want to see new technology applied to an old field like manufacturing so that we remain current and vital in it. And we're doing it."
Since Bernero spoke with AnnArbor.com, General Motors has announced plans to invest $190 million in its Lansing Grand River assembly plant, creating 600 new jobs. The city offered GM about $9.8 million in tax breaks to entice the company to make the investment, paving the way for Cadillac's new ATS compact sedan to be built at the plant.
Snyder said claims he's "written off" manufacturing are untrue.
"That's from people from the other side that are, again, making up untrue allegations and bad things," he said. "The most ironic part of that, when you look at it, is the Michigan Manufacturers Association has endorsed me. So if there's any group that I would use as a bellwether to say who's the biggest supporter of manufacturing, I think that would probably be the highest and best place to look."
Mark Boonstra, chairman of the Washtenaw County Republican Committee, said it's obvious Snyder has the better economic plan.
"Michigan is in a big hole. We've been in it for eight years," said the Ann Arbor attorney. "It's time for something new. It's time for somebody with some business sense and some common sense, and Rick Snyder brings that, and he's our one chance."
Dowty offers a different take, saying Snyder's plan leaves working-class people behind.
"Snyder's economic plan is good for people like Snyder: the top 1 percent of the population," he said. "Bernero's plan has a different perspective, and it's for the average person and trying to protect what's left of the middle class here in the state. I wish there were more time to examine and really reveal what Snyder's policies would mean for the people of Michigan."