Posted on
Sun, Jan 15, 2012 : 5:59 a.m.
Rick Snyder: Michigan can beat economic forecasts in 2012
By Nathan Bomey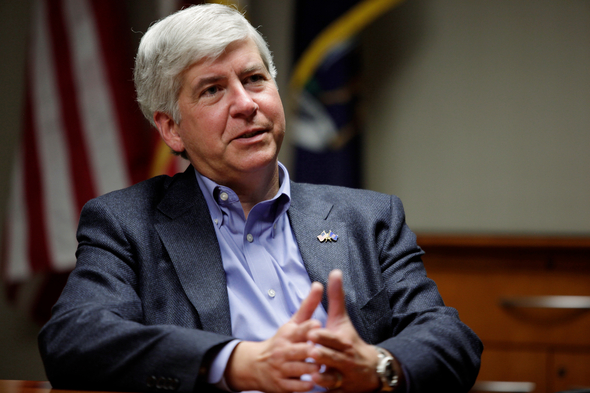 Chris Asadian | AnnArbor.com
(Earlier story: MLK Day march to Rick Snyder's Ann Arbor area home planned in protest of emergency manager law)
One legacy of Gov. Rick Snyder's life as an accountant in the 1980s is an affinity for "dashboards."
The Republican, a former Ann Arbor venture capitalist, rarely lets a speech go by without discussing quality metrics, dashboards and assessments gauging progress.
Snyder's State of State address on Wednesday is one big progress report — the kind of dashboard Snyder believes is necessary for the state to chart its economic and political progress.
In January 2011, Snyder used the State of the State address to proclaim that "job one is jobs," setting the stage for a budget battle and a push for tax reform that ended Michigan's chronic budget deficits but angered many and sent his approval ratings plummeting.
His push for emergency manager legislation — billed as a way to help distressed cities repair their finances — has proved divisive. On Monday, protesters plan to march to Snyder's house in Superior Township to rally against the law.
After the drive for frugality, Snyder turned to other issues, including one of his personal passions — devising economic development strategies to train unemployed workers for 21st Century jobs.
Since he took office, Michigan's unemployment rate has fallen below 10 percent for the first time in three years — partly due to new jobs and partly due to people leaving the workforce.
University of Michigan economists project that Michigan will add 68,700 jobs in 2012 in 2013, fueling a "sustained recovery" at a "subdued pace."
Looming as a threat to the recovery, though, is uncertainty regarding the federal government's debt ceiling and the European debt crisis, Snyder told reporters Tuesday at the Detroit auto show.
"If both of those were to be resolved in some constructive fashion, I think we'd see our economy grow even faster," he said. "My goal, as governor, is to say, how do we beat the forecasts? I think there's an opportunity to do even better than forecasts if we continue the policies that we're doing and we see continued consumer participation in the marketplace."
In an interview with AnnArbor.com's Nathan Bomey, Snyder discussed Michigan's job market, the prospect of funding changes for public universities and schools, his decision to sign legislation outlawing same-sex benefits for government employees and whether Detroit should be allowed to file for bankruptcy. Excerpts: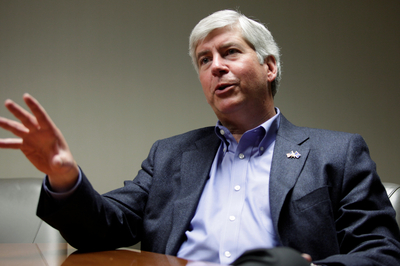 Chris Asadian | AnnArbor.com
AnnArbor.com: What kind of message do you hope to send at the State of the State?
Rick Snyder: It's about giving a report card, saying this is what transpired over 2011 and here's the dashboard — and giving an update about the agenda for 2012.
AnnArbor.com: You've mentioned this a few times — that Michigan has approximately 70,000 unfilled job openings (according to job listings at MiTalent.org). Are you satisfied with the quality of those openings?
Snyder: Yeah, if you look at that list … there are some really nice jobs. Actually one I was proud of — and you know my background — accountants were on the top 10 list. There was a need for several thousand more accountants, and those are good jobs.
If you looked at the top 10, without doing a lot of analysis, you'd say more than half of them, these are good spots.
AnnArbor.com: You've talked a lot and your predecessor talked a lot about how we have the best talent pool in the country. Yet we still have all these job openings. So what's the disconnect?
Snyder: Well there was no connection between supply and demand. It was a basic economic flaw. That's where I like the marketplace concept. This MiTalent.org is a portal to make that connection.
I learned this from actually the Ann Arbor SPARK days, talking to Michigan Works. We had SPARK doing economic development with companies and we had Michigan Works doing workforce development, and it was all about training and skills.
No one was doing the equation of … you need to match supply and demand. This is not rocket science. It is economics.
AnnArbor.com: In your talent message in November, you said you're not satisfied with the way Michigan Works is operating right now.
Snyder: Yeah.
AnnArbor.com: Where does it need to be?
Snyder: It needs to be helping make that further connection. It's not enough to simply say, 'Here is a program to give you a set of skills and may the force be with you.'
Actually the analysis should go the other way. Let's look at supply and demand and help you identify a career where there are real opportunities and then how do we help you acquires skill to be successful in that?
That's the simplistic way to look at this. Too often we would simply just say, 'What interests you?' Or, 'What do we have open and available — and here are skills,' rather than saying, 'Here's a solution. Now, how do we get you positioned to be successful on that solution?'
AnnArbor.com: You took a lot of heat, particularly in the Ann Arbor community, for signing the bill that forbids governmental units from offering benefits to domestic partners. Did you grit your teeth when you signed it? Why did you sign it?
Snyder: It goes back to the Civil Service Commission really starting an economic argument during the budget crisis. Basically they added benefits for state employees and it was not a financially prudent measure when we had a billion-dollar deficit.
So that whole dialogue and discussion started back in those days about the public sector in terms of other employees and the need to be cost efficient in these difficult times.
That was the genesis of that whole issue.
AnnArbor.com: Are you concerned at all that it could hurt cities' ability to recruit talent?
Snyder: As a practical matter, it would really be more in the university context that would be the area of greatest concern — and also they're autonomous, so they're supposed to be able to make their own decision.
AnnArbor.com: You've hinted that this year universities and schools might get a little more funding, but it would be strings attached. What kind of strings?
Snyder: Well, it's called metrics, measures and showing results. Clearly if you look at it, that was something that was missing from the entire public sector: accountability, transparency and showing that you're actually delivering results. It's not about spending money. It's about real results for real people — value for money.
AnnArbor.com: Are they spending too much money on programs that are delivering graduates who don't have any practical skills?
Snyder: I'm not going to speculate on that, but I would say our goal is to make sure they're graduating people before you even get to that. We have far too many people who start a college education that stop that process or don't complete that process.
The real question is: Shouldn't we be doing more to figure out what that issue is and how to get people successful? The universities, to their credit, know that's an issue and have been working on it.
So I don't want to sound like they've been ignorant of that issue, but that's been a more recent development that they've been very proactive about understanding the consequences of that and how they can help solve it. Eastern, to their credit, has been very good.
AnnArbor.com: What's the case against allowing Detroit to go bankrupt? Obviously we know the state's credit rating could be downgraded, but beyond that?
Snyder: Well, one of the challenges with Chapter 9 bankruptcy is there's very little track record. It's not like the corporate world, where it's happened often enough and there's a whole litany of legal precedent, professional precedent.
Chapter 9 has not been utilized enough to actually say with certainty here are the steps, the stages, here's how it would operate.
So in many respects, you're really turning over to a federal judge who doesn't necessarily have the background and precedent to say this is how the process would work. So it might work great, it might not work great.
But again you've got a lot more uncertainty in that whole process.
AnnArbor.com: Not the same as GM and Chrysler.
Snyder: No.
Contact AnnArbor.com's Nathan Bomey at (734) 623-2587 or nathanbomey@annarbor.com. You can also follow him on Twitter or subscribe to AnnArbor.com's newsletters.