Posted on
Sat, Dec 31, 2011 : 5:56 a.m.
Top stories in Saline in 2011: police chief to retire, Celtic Festival turns profit
By Lisa Allmendinger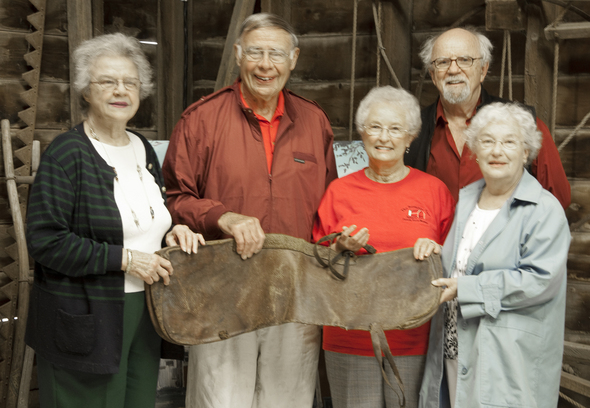 Courtesy photo | For AnnArbor.com
As 2011 draws to a close, here's a recap of some of the big stories that took place in
Saline
.
The police department saw major changes this year, first with the retirement of longtime Deputy Chief Jack Ceo, followed by the announced retirement of well-respected Police Chief Paul Bunten.
After spending 26 years with the Ann Arbor Police Department, where Ceo ended his career there as deputy chief, he was hired by Saline in the same capacity on Jan. 31, 1999.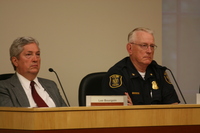 Lisa Allmendinger | AnnArbor.com
Bunten announced his retirement this fall after about 47 total years of police work, first in Ann Arbor and then in Saline, saying he's ready to move on to the next stage of his life. He began his years in law enforcement in January 1965 and spent the last 18 years in Saline.
Early in the year, Saline police investigated three separate reports of "sexting" by Saline Middle School students who shared sexually explicit photos of themselves with others via cellphone or other handheld technology.
City police were also involved in charging a woman under the state's new "Super Drunk Law" in July.
And of course, there were some lighthearted police stories, among them, in March an unnamed police officer, drove a wayward chicken to Rentschler Farm, after it was found running loose in the downtown. Then in August, police investigated at least 10 stolen cases of Red Bull from a city grocery store.
Lisa Allmendinger | AnnArbor.com
In government news, the city held the line on its millage for a sixth straight year and downtown merchants worked toward a Michigan "Main Street" designation as a way to keep its downtown vibrant and continue to make Saline "a great place to live, work and play."
Five people filed petitions to run for three open seats on the Saline City Council - Glenn Law, Linda TerHarr, Jim Peters, Jim Roth and John J. Heller.
But, before the November election, Law was forced to resign his seat when a new job took him out of the area. This was the second resignation from City Council in 2011, and followed Pat Ivey, who resigned his council seat when he accepted a job out of state.
After the voters had spoken in November, TerHarr, Peters and Roth will take the oath of office in 2012 as the newly elected members of the City Council.
There were some controversial decisions made by the City Council this year as well. Hailed by some residents as a good move and criticized by others as a bad one, the city proclaimed June as Lesbian, Gay, Bisexual and Transgender Pride (LGBT) Month by a unanimous recent vote in the hopes it would foster "a more inclusive environment," in Saline.
The City Council also considered outsourcing its police dispatch services to Pittsfield Township, an unpopular move with a number of residents, but the police union contract took that cost-cutting measure off the table. In early 2011, two longtime City Council members Alicia Ping and Pat Little were honored by their elected peers for their combined 28 years of experience when they chose not to run for reelection in November 2010.
Ping served the city for 11 years, most recently from 2006-2010, while Little served on the City Council for 17 years, six years as the mayor from 1991-1996.
In this year's top education stories, voters in the Saline school district turned down a ballot request to extend the length of the current bond and add $28 million in new debt for buses, infrastructure, technology and security upgrades. The ballot question was rejected 2,782 votes to 2,629 votes.
This fall, four candidates filed for two seats on the Board of Education - Patti Tanner and three David's: David Friese, David Holden and David Zimmer. Voters chose two newcomers, Holden and Zimmer, to fill the four-year seats.
David Medley, the vice president of the board, chose not to run and Friese, who was first elected to the school board in 2007, lost his seat.
Courtesy photo Saline Area Chamber of Commerce | For AnnArbor.com
This month, the Foundation for Saline Area Schools announced its plans to hire a
new full-time executive director
after a successful fundraising effort that raised about $65,000 for Project Lead the Way, a program providing resources for science, technology, engineering and mathematics for seventh-graders. The foundation provides funding to support academic projects, enrichment programs, and other activities aimed at enhancing the quality of education in the Saline school district.
For a city that prides itself in creating fun community events that are enjoyed by people from around the region, this year's new Saline Winterfest event brought the city a special state-wide recognition along with an 18-inch carved wooden trophy.
Fifty Saline participants made 486 four-foot snowmen in two hours, and claimed the title of Snowman Building Champions of the Free World, defeating teams from St. Clair and Zeeland.
Its summer signature event, the Saline Celtic Festival was blessed with good weather and turned a profit in its 16th year for Chairman Bob Rash, while the 76th Annual Saline Community Fair, took a new direction and moved up its popular activities to the week before Labor Day instead of its traditional time after school has begun.
And, during a time when government departments are being asked to collaborate on projects, members of Saline's Department of Parks and Recreation and Department of Public Works put their heads together and came up with an award-winning idea - a fun pumpkin launcher that also won a state award.
Lisa Allmendinger is a regional reporter for AnnArbor.com. She can be reached at lisaallmendinger@annarbor.com. For more Saline stories, visit our Saline page.