New Saline police chief field narrowed to five applicants
Posted on Fri, May 11, 2012 : 4:30 p.m.
Five candidates have been chosen to be interviewed for Saline's next top cop.
City Manager Todd Campbell announced today that a committee tasked with narrowing the field of police chief candidates had chosen:
Retired Deputy and Interim Police Chief Gregg A. Brighton of Dearborn

Retired Police Chief Larry R. Hrinik of Davison Township

Deputy Police Chief Robert J. Kerr of Canton Township

Retired Deputy Police Chief Michael Lindman of Garden City, who is currently serving as Saline Interim Police Chief

Police Capt. Gerard S. Schlerinck of Troy
The search follows the retirement of longtime Chief Paul Bunten, who wrapped up his career in Saline in January.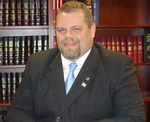 Photo from the City of Saline website
The field of five will be narrowed to two or three finalists, who will be interviewed by the entire City Council later this month before a final decision is made.
As part of the selection process, the city hired a consultant, Career Directions from Ann Arbor, to assist in the search and appointed a hiring committee to review applications. Input from staff and police department members was included in the criteria of what qualities were important for the city's new chief.
In addition, a town hall meeting was held to get resident input.
Mayor Gretchen Driskell, City Council Member David Rhoads, City Council Member Brian Marl, City of Chelsea Police Chief Ed Toth and Campbell are serving on the hiring committee.
Candidates submitted a letter and resume, completed a supplementary questionnaire concerning six critical competency areas identified by community stakeholders, and were interviewed by the consultant who is a professional expert in police selection and development.
"The hiring committee has been very impressed with the high quality of applicants that submitted their credentials for the Saline Police Chief position," Campbell said in a news release.
For more Saline stories, visit our Saline page.