Posted on
Sun, Jul 21, 2013 : 8 a.m.
Saturday attendance at Ann Arbor Art Fair helps compensate for hot week
By Lisa Carolin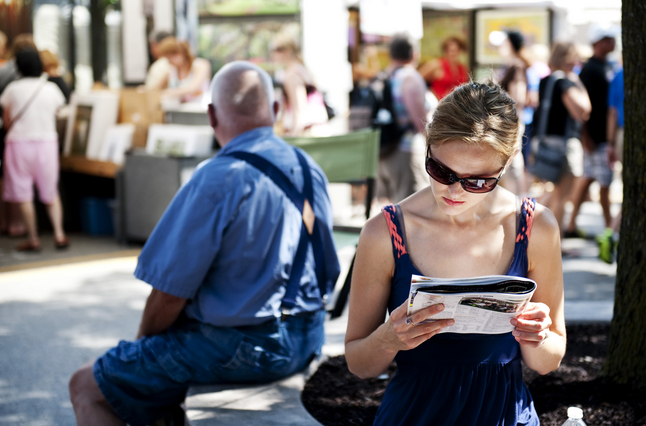 Daniel Brenner | AnnArbor.com
Hot, hot temperatures inevitably will be what many vendors and patrons remember most about the 2013 Ann Arbor Art Fair.
Temperatures in the 90s persisted through Friday and made it a physical challenge to do everything from walking up and down the street to manning a booth. Fortunately, Saturday's cooler temperatures and decreased humidity boosted attendance on the final day.
"It's so crowded. It's unbelievable" said Debra "Max" Clayton, executive director of the Summer Art Fair. "The rain last night cleared out some of the humidity, and a lot of people planned their trip to the art fair based on the weather report. This art fair will not go down in the record book for sales. People haven't been staying as long because of the heat, but the people who come when it's hot are serious shoppers."
"It's like this every day where I live," visitor Dennis Ratz from Fort Myers, Fla., said Saturday. He said he wasn't particularly bothered by the heat and humidity. "I like the variety at this art fair and especially enjoy the different kinds of 3-D paintings."
Shayna Slowinski from Ann Arbor was undeterred by the week's hot temperatures. She said, "I love the big, colorful windows and the scarf booths the best."
However, vendors had the challenge of spending long hours enduring the stagnant heat and were hopeful that Saturday's slightly cooler temperatures would mean bigger crowds.
"We (were) all thinking positively today that more people will be here," said Tom Schillaci, owner of Photography by Schillaci "It seems like the number of people at the art fair was lower this year because of the heat."
Diane Sicheneder, owner of Sicheneder Artworks, said every year she's been at the Ann Arbor Art Fair, it's been hot.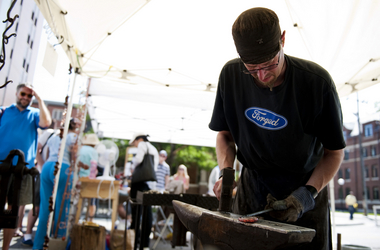 Daniel Brenner I AnnArbor.com
"Wednesday was OK, Thursday was great, and Friday was really slow for business," she said. "People get lethargic when it's hot."
State Street Area Art Fair Director Kathy Krick agreed that Friday was a slow day at the art fair, and unfortunately, the day many of artists depend on.
"Sales today may make up for it," said Krick. "I've heard from a painter, a sculptor and a jeweler that this has been their most successful art fair in terms of sales."
Maggie Ladd, director of the South University Art Fair, said their were some niches that were doing well. "I've heard from jewelers who have done a good business this year as well as several artists and a furniture maker who have done well."
Water was definitely among the best selling items this year.
"The (air-conditioned) trolleys have been very popular too," said Krick.
Maureen Riley, executive director of the Ann Arbor Street Art Fair said she has a feeling it will turn out to be a good year.
"Crowds have been down but sales have been pretty good," said Riley. "We have such loyal collectors and buyers in Ann Arbor that a little hot weather doesn't deter their art buying mission."
Lisa Carolin is a freelance reporter for AnnArbor.com. Contact the news desk at 743-623-2530.