Posted on
Sat, Sep 8, 2012 : 2:29 p.m.
Scenes from University of Michigan football tailgate parties
By Ben Freed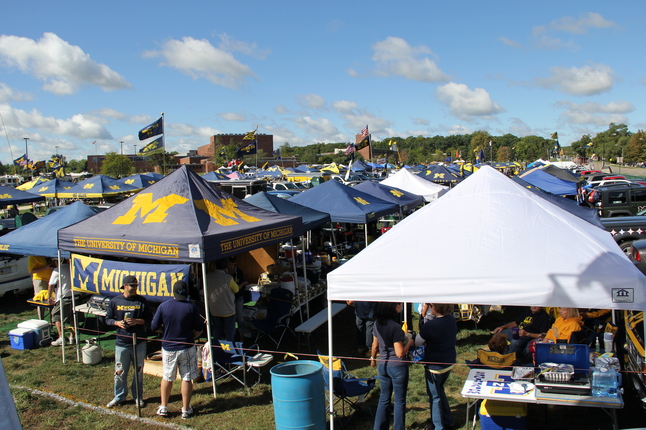 Ben Freed | AnnArbor.com
It's that time of the year again. Football season in Ann Arbor means big games at the Big House, but there is also a whole lot of partying that happens before the game even begins. Here are some unique scenes of revelers who brought their A-game to the pre-game.
Ready to play: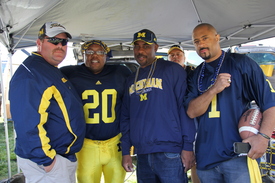 Ben Freed | AnnArbor.com
Michigan
might not have the same "12th Man" tradition as
Texas A&M
, but
Rory Calhoun
has come to every home game for the past 10 years in full pads, ready to jump on the field. Calhoun never played college football, but he dons a full Michigan uniform complete with pads and a helmet when he tailgates on the
Pioneer High School
field every home game.
Calhoun, who lives in Detroit, said he enjoys coming out to the game for the friends, the fun, and the "good family atmosphere" at his preferred tailgate spot.
He's been in the same location for a number of years, and has made friends with many of those tailgating around him, including Solomon Woodson, father of U-M's Heisman Trophy winner and Green Bay Packer's cornerback Charles Woodson.
Sweet Wheels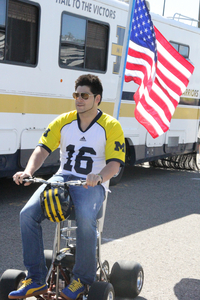 Ben Freed | AnnArbor.com
The Bennington family likes to have something new to spice up their tailgate every year. This year's addition is a custom U-M motorized barstool that zips up and down the rows of RVs in the Pioneer parking lot.
Rick Bennington has had season tickets for 20 years and comes to every home game at the Big House. He bought the "vehicle" on Ebay and has modified it with the help of his sons to include a small Michigan helmet, a bottle holder, and a large American flag.
"There's three things you have to remember when you're driving it," he told the next rider. "There's no suspension, easy on the turns, and remember to watch out for cars!"
The visiting fans
Maureen Lindsay didn't follow college football at all four years ago. Now that her son Brian Lindsay is a starting safety for the Air Force Academy, she goes to as many games as she can.
Lindsay, her two daughters, and a crew of neighbors and friends, made the trip from Chicago to watch Brian play on what might be the biggest stage of his football career.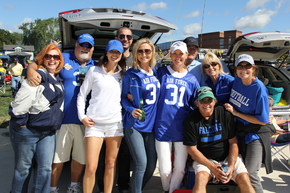 Ben Freed | AnnArbor.com
The Air Force tailgate was modest, and Lindsay admitted she felt a little overwhelmed.
"Everyone out here has these big set-ups and they're all cooking their own food," she said. "We just ordered from Jimmie John's."
But she added that the Michigan fans surrounding them had been extremely welcoming and friendly.
"They've been nice and we've gotten so many people saying 'thank you for your service' or 'thank you for your son's service.'
"The funny thing is, he doesn't even start his active duty until next May," she said.
Ben Freed | AnnArbor.com
The Mark Conlin Army
Ira Mark and Bob Conlin played on the same baseball team when they were 12 years old.
"We started partying then and we haven't stopped since," Mark said.
The 'M.C. Army' has been tailgating at the Ann Arbor Golf and Outing Club for over 20 years. The group spans three generations of families and friends and numbers anywhere from 20 to 150 people per game.
"We're here every game, and whoever shows up is our Army," Mark said.
Tim Harrison is a member of the "army" and tailgates with the group before every game because "Ira won't let" him go anywhere else.
These days his wife, son, daughter-in-law, and grandchildren join him at the festivities. He started attending Michigan games in 1946 when he was a Cub Scout working as an usher in the stadium.
Ben Freed covers business for AnnArbor.com. Reach him at 734-623-2528 or email him at benfreed@annarbor.com. Follow him on twitter @BFreedinA2