Posted on
Sun, Apr 22, 2012 : 5:57 a.m.
Ann Arbor schools budget: the numbers behind proposals to cut $17.8 million
By Danielle Arndt
Related coverage: Closing Roberto Clemente, eliminating teachers, busing on the table to fix $17.8M Ann Arbor schools shortfall
After six months of discussion about a projected budget deficit of $14 million, then $16 million, now $17.8 million for the Ann Arbor Public Schools, parents and board members have been given a taste of how those numbers could play out in cuts and reductions.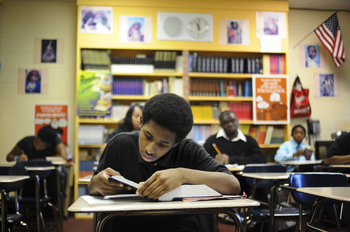 AnnArbor.com file photo
A proposal to close the
Roberto Clemente Student Development Center
has sparked the most discussion.
Deputy Superintendent of Operations Robert Allen estimated closing Roberto Clemente and moving its students to Ann Arbor Technological High School, the district's other alternative secondary education program, would save AAPS about $400,000 in operational costs and $108,000 in transportation costs, for a total of $508,000.
Currently, both A2 Tech and Clemente are operating at 50 percent capacity or less, according to recent data released by the district. A2 Tech is 46.3 percent full.
In the fall of 2011, Clemente enrolled 100 students, while A2 Tech had 138 students — making it impossible for Clemente, based on the numbers, to absorb A2 Tech's population.
The same but different
While it seems logical to combine the two half-full schools with similar goals and student populations, which are overwhelmingly African American (58.3 percent), some distinct differences in the programs lead to unanswered questions.
For example, what will happen to the eighth-graders at Roberto Clemente, considering A2 Tech is a 9-12 building? Will the programs merge, or remain separate under one roof? And what about Clemente's teachers and the well-established success of Principal Ben Edmondson?
At last week's school board meeting, Allen said the projected $400,000 savings included building costs as well as teacher and administrator salaries. However, it is not clear at this time how many staff positions could be cut.
According to the district's web site, there are 20 staff members at Roberto Clemente and 38 at A2 Tech.
Clemente is a "choice" school, whereas A2 Tech's students are directed to the school via a principal at one of the comprehensive high schools.
Both programs cater to underachieving and economically disadvantaged students, but they do so in very different ways.
The motto at Ann Arbor Tech is "Credentials Matter." The mission on the school's web site talks about "a targeted effort to bring the culture of college" into the lives of its students with the help of staff and an onsite graduation coach.
Despite the coach, A2 Tech consistently has the lowest graduation rate and the highest student dropout rate in the district. Clemente, on the other hand, has the highest graduation rate.

Clemente's mission and philosophy, as stated on its web site, is a commitment to "nurturing the human spirit" and to providing "a positive atmosphere for growth — intellectually, emotionally, socially and physically."
Trustees Simone Lightfoot and Susan Baskett cautioned the Board of Education last week to carefully consider the impact that closing Roberto Clemente would have on Ann Arbor's at-risk student population.
At A2 Tech, 57 percent of its current population qualifies for free or reduced-price lunch. At Roberto Clemente, that number is greater, 72 percent, according to the Center for Educational Performance and Information. Both percentages far exceed the district average of 23.28 percent.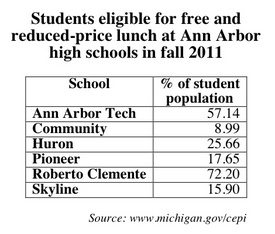 "I would like to encourage the board and administration to speak with the kids about these cuts," said Lightfoot of the proposals to eliminate high school transportation and to close Roberto Clemente. "My concern is these are some of the most economically disadvantaged students in our district. I want to make sure we have a sense of who these kids are that are being impacted and how.
"These are the students that are in the gap and that have challenges. I'm concerned, because I thought these were the students we said we wanted to help."
Evaluating equity
Overall, the Board of Education displayed an openness to the budget reduction plans Allen laid before them last Wednesday.
The least aggressive option would involve slashing the district's expenditures by $7.364 million and using $4.436 from Ann Arbor's $19.7 million fund balance.
Six million in estimated revenue from Schools of Choice, Medicaid reimbursement and Gov. Rick Snyder's Best Practices and proposed funds to offset teacher retirement costs also would contribute to reducing the deficit.
The district's total operating budget for the current academic year is $183.5 million.
"I'm OK with what has been proposed," said Trustee Irene Patalan.
"With one exception, I don't think there is anything there that would cause me to not sleep at night," added Secretary Andy Thomas.
He said the one exception for him would be eliminating an additional 32 teaching positions, one per building. AAPS was supposed to cut the equivalent of 62 teachers in 2011, but ended up cutting 50.
"I think we need to look at why we couldn't get the other FTEs last year," said Vice President Christine Stead. "Because in my gut I think if you could have done it, you would have done it. But I can't imagine there is a whole lot of wiggle room left."
Although Ann Arbor has cut teaching positions the past couple of years, the district has been fortunate enough to do it through attrition and retirements rather than layoffs, Allen said.
As of Wednesday, 31 teachers — just one fewer than Allen proposed cutting — have submitted retirement notices, stating they will not return in the fall.
District spokeswoman Liz Margolis said currently, AAPS offers an incentive program from February until April for teachers who submit their notices early. They could pocket an extra $750 to $1,500 depending on the timeline, Margolis said.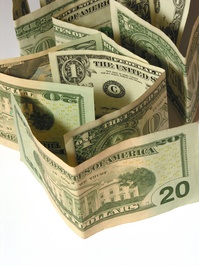 Photo illustration
However, the early incentive program also is on the chopping block. It would represent a savings of $40,000, Allen said, explaining the program has experienced varying degrees of success and, regardless, the district still receives retirement notifications all the way up until the start of the school year.
Thomas said because the district has heard from families continuously about class sizes and their impact on children's learning, he would like AAPS to hire replacements for some — if not all — of its retirees this year. Last year, AAPS only spent $810,000 of its fund equity. But the staff reductions increased class sizes district-wide by two or three pupils per class, administrators said in October.
Thomas rallied in support being more aggressive with the district's fund balance than the plans called for. But Stead and Patalan were in opposition.
"This is not our rainiest day," Stead said. "I don't see the political will in our House (of Representatives), in the Senate or in our governor to make any changes. ... I think we can only expect school funding in the state to get worse."
Patalan was just as cautious.
"I do worry about fund equity and I do worry about dipping into it more," Patalan said. "What really makes our security blanket no longer secure at all is an important piece for me."
She remembers when, in the day before Proposal A restructured school funding, if parents wanted more money to reduce class sizes, they could just "vote yes" and pass a bond.
"That was before restrictions," she said. "We gave our kids anything that we could.
"But we can all do that little piece right now," she continued, referring to the upcoming technology millage proposal. "We (could) keep the money where the teachers are because (the voters) are willing to give the money to technology."
Ann Arbor Public Schools is asking residents to consider a $45.8-million bond for technology improvements in the May 8 election. If passed, the proposal would levy an additional .45 mills (or 45 cents per $1,000 of taxable value) from taxpayers beginning in July 2012.
The preliminary budget presentation Allen gave Wednesday was based on the technology bond passing, he said. If the bond does not pass, an additional $3 to $4 million will need to be squeezed out of somewhere for a few key infrastructure upgrades.
Lightfoot and Baskett said they were pleased the administration was looking at possibly cutting middle school athletic directors. They said analyzing the high school athletic director positions as well might be a way to find more money.
Finding discretion
Another fund that may hold some solutions is the district-wide discretionary budget, which Allen said Wednesday is about $5 million.
"This actually really concerns me," said President Deb Mexicotte. "And here I always thought we didn't have any really big chunks in our budget. But that's a big chunk … and for discretionary funds.
"I'm sure its all being used very, very well. But even if we could get $3 million out of there, that's 32 teachers."
Allen said each building is allocated some money from the discretionary budget, and some is used for conferences, travel and office supplies. Another large portion of the discretionary budget is for hourly or temporary employees, he said.
He told the board he would look into it more to determine what else comes out of the discretionary fund and whether more money could feasibly be cut from it.
His preliminary budget presentation called for reducing the fund by $250,000.
Staff reporter Danielle Arndt covers K-12 education for AnnArbor.com. Follow her on Twitter @DanielleArndt or email her at daniellearndt@annarbor.com.