Posted on
Sat, Sep 7, 2013 : 11:59 p.m.
Second Under the Lights game provides memorable moments for record number of fans
By Ben Freed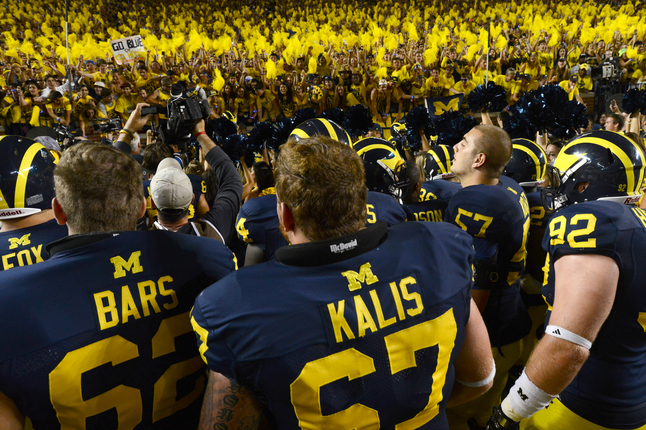 Patrick Record | AnnArbor.com
The
University of Michigan
pulled out all the stops for the second "Under the Lights" game against
Notre Dame
.
The 115,109 fans at the stadium, a new stadium record, were treated to a number of jet flyovers, multiple celebrity appearances and a stunning halftime show. Rumor has it there was also a football game squeezed in there somewhere.
Things did not start out quite as smoothly as planned for certain sections of the crowd, though. Many students complained of long waits in line to reach their seats as ushers focused on making sure that the general admission seating areas filled property.
Wait times were as long as half an hour outside some sections, with extremely long lines still snaking out from entrances less than 30 minutes before kickoff.
"We've been waiting here for way too long," one student shouted as he tried to force his way into section 28. "This is just ridiculous."
The stadium ushers, who volunteer to work on game days were not thrilled with the new system.
"This is the biggest fiasco we've ever had here," one usher said who requested to remain anonymous in order to continue working at games in the future.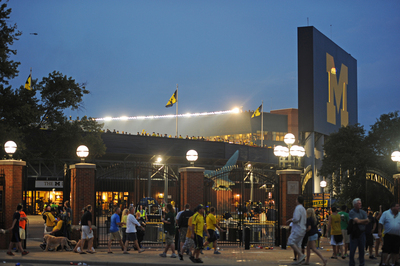 Brianne Bowen | AnnArbor.com
"I'm surprised there weren't any casualties from the heat we were packing the kids so tight in there."
Once seated, the students voiced their displeasure, booing athletic director Dave Brandon loudly when he was announced as part of the pre-game ceremony honoring Michigan's first Heisman Trophy winner Tom Harmon.
The ceremony, highlighted by the presence of Tom Harmon's son and television actor Mark Harmon, bestowed Harmon's No. 98 jersey on quarterback Devin Gardner.
Gardner joined a number of other Michigan players wearing numbers honoring great players from the program's past. Wide receiver Jeremy Gallon wears Desmond Howard's No. 21 jersey, linebacker Desmond Morgan wears Gerald Ford's No. 48, tight end Devin Funchess wears Ron Kramer's No. 87 and Courtney Avery wears No. 11 honoring brothers Francis, Albert and Alvin Wistert.
Once the game kicked off, the atmosphere was electric as the record-setting crowd made sure their presence was felt throughout the game. Chants of "Go Blue" were constant, but chants of "Lets Go Irish" could also be heard in the stadium, and even from the press box, well into the fourth quarter.
Ben Freed | AnnArbor.com
Early in the first quarter,
Miami Dolphins
owner and major University of Michigan donor
Stephen Ross
was honored for his
recent $200 million gift to the business school and athletic department
with the unfurling of a flag that stretched across an entire section of the stadium.
At halftime, the lights went out in the Big House. Thankfully it was on purpose.
For the second week in a row, fans were treated to an innovative halftime show from the Michigan Marching Band and new director John Pasquale. The show involved lasers, lights, light-up bracelets distributed to fans, a giant disco ball and music originally performed by Beyonce Knowles.
Those who weren't lucky enough to get tickets, truly missed out on a spectacular show.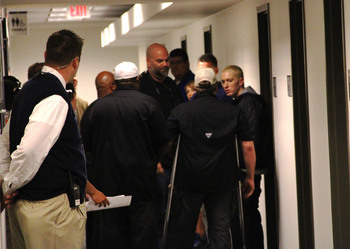 Ben Freed | AnnArbor.com
So much was going on that even
Eminem
was overshadowed by the show on the field. The rapper from Detroit made a brief appearance in the stadium during halftime, sneaking into the press box to chat with ABC announcers
Brent Musburger
and
Kirk Herbstreit
about his new album. The interview was played in-part — and without audio — on the big screens at the stadium.
Other Michigan celebrities who showed up to be honored included basketball player Cazzie Russel, the entire Michigan Basketball team that went to last year's final four — including NBA players Trey Burke and Tim Hardaway Jr. — and wide recievers Desmond Howard and Anthony Carter.
With fans perhaps learning their lesson from two years ago, the stadium remained packed deep into the fourth quarter as Notre Dame time and again kept the game close when it looked like Michigan might pull away.
Feelings were running strongly in the lower rows of sections 14 and 15 where away fans traditionally sit, but Notre Dame supporters said that overall their trip to Ann Arbor had been a pleasant one.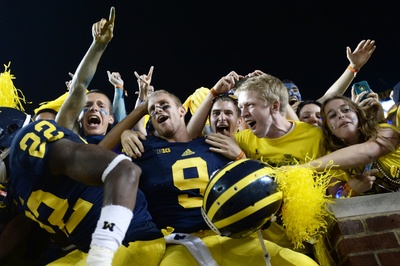 Melanie Maxwell | AnnArbor.com
"Aside from the pass interference calls? Yeah, we've been treated alright,"
Cody Smith
, a Notre Dame fan who made the trip from South Bend, said.
The on-field drama of 2011 would have been difficult to top, but the second night game in Michigan Stadium history did not disappoint.
And though they booed loudly at Brandon for the new general admission seating policy, the happiest fans were no doubt those who waited 22 hours for the coveted front row seats. The loyal waiting by those sleep-deprived fans earned them the embrace of the victorious Wolverines.
Under the lights.
Ben Freed covers business for AnnArbor.com. You can sign up here to receive Business Review updates every week. Get in touch with Ben at 734-623-2528 or email him at benfreed@annarbor.com. Follow him on twitter @BFreedinA2