Posted on
Wed, Sep 4, 2013 : 6:20 a.m.
Stephen M. Ross gives University of Michigan record $200M
By Kellie Woodhouse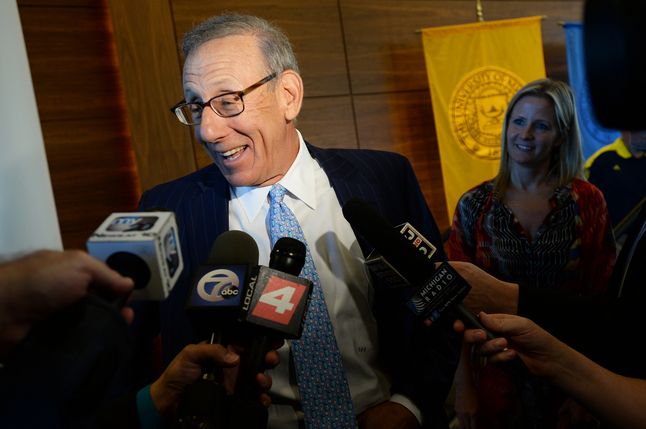 Melanie Maxwell | AnnArbor.com
The name Stephen M. Ross is already familiar to many University of Michigan students and alumni.
The school's business college was named after the New York City real estate giant when he gave $100 million toward a new state-of-the art home for the school in 2004.
On Wednesday, Ross moved into another historic place at the university: U-M announced that he'll give a $200 million donation to fund upgrades to the business school's older buildings and renovations to buildings on the athletic campus.
Ross' lifetime donation to U-M is $313 million, making him the most generous donor in U-M history. The $200 million gift is also the largest in university history.
"Stephen Ross' vision has always been about the ability of facilities to transform the human experience," said U-M President Mary Sue Coleman of the donation.
His most recent donation will be split evenly between the athletic campus and the business school. The athletic campus will be named the Stephen M. Ross Athletic Campus in the donor's honor.
Ross called U-M's combination of excellence in academics and athletics unique.
"When you fuse those together you end up with a school spirt that probably doesn't exist at any other college in this country," he said Wednesday during an event announcing the donation.
The donation will count toward U-M's upcoming fundraising campaign, which Ross will chair, U-M announced Wednesday.
Over the past year U-M has secured a flurry of large donations in preparation for the campaign, including a $110 million gift from California billionaire and vice-chairman of Berkshire Hathaway Charles Munger to build a new residence hall for graduate students.
Helen Zell, wife of billionaire real estate tycoon Sam Zell, donated $50 million in March to the College of Literature, Science, and the Arts toward a creative writing program. Also in March a foundation formed by the now-deceased Samuel and Jean Frankel gave $25 million to the U-M Cardiovascular Center to finance clinical research and patient support. In September 2012 U-M's art school was renamed the Penny W. Stamps School of Art and Design in honor of Penny and E. Roe Stamps, who donated $32.5 million to the school.
Ross, a 73-year-old Detroit native, earned a bachelor's degree from U-M's business school in 1962. His first gift was the first nine-figure donation to the university and one of four in the school's history, with his second gift being the fourth.
His $100 million gift supported the construction of a new, modern building for U-M's growing business program. About $50 million of the donation was distributed over the course of 10 years, with the remainder of the money as a bequest of Ross' estate.
Ross also gave a $5 million lead gift to create the Stephen M. Ross Academic Center, which provides study space on the athletic campus, and $5 million for the stadium expansion project.
According to Forbes, Ross has a $4.4 billion net worth. Ross is chairman and founder of Related Companies, which is best known for the development of Time Warner Center in New York and the 26-acre Hudson Yards development currently underway on Manhattan's west side. Ross also owns the Miami Dolphins.
With the gift, Ross also becomes the third-largest donor to a business school in the United States, according to U-M. The Ross School of Business plans to use the donation to fund:
New spaces for students to study, collaborate and connect with each other, faculty and potential employers.
A state-of-the-art career services space, including an enhanced recruiting center .
A space to bring together faculty, students and corporate partners to create practice-oriented research on topics of key importance to local and global firms.
Classrooms infused with advanced technology and innovative design to support in-person and virtual collaboration and connectivity on a global scale.
Scholarships for Ross students.
The athletic campus will use its share to:
Bolster its academic success programs.
Build and develop state-of-the-art facilities.
Create new spaces that help student-athletes develop skills for success after athletics.
Kellie Woodhouse covers higher education for AnnArbor.com. Reach her at kelliewoodhouse@annarbor.com or 734-623-4602 and follow her on twitter.