Posted on
Tue, Mar 12, 2013 : 5:58 a.m.
Sequestration: Cuts to control tower staff at Ann Arbor, Willow Run airports still uncertain
By Amy Biolchini
Staff at both Ann Arbor Municipal and Willow Run airports are still uncertain as to whether federally funded control tower employees will be affected by $85 billion in automatic federal budget cuts -- known as sequestration -- that are slated to take effect as early as April.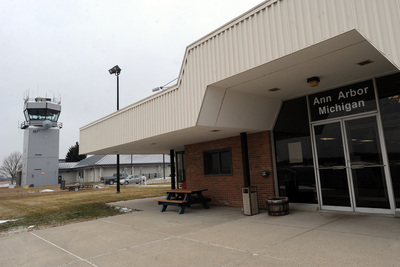 Melanie Maxwell | AnnArbor.com
Both airports are on the
Federal Aviation Administration's list
to be affected by cuts should a $637 million reduction in the FAA's budget be enacted.
The entire 11-member control tower staff at the Ann Arbor airport in Pittsfield Township is on FAA's list to be cut, while the Willow Run Airport could be losing nighttime controllers from its tower staff of 16 people.
The efficiency and, in turn, capacity of an airport is increased when there's someone in the tower controlling traffic, said Scott Wintner, department manager for communications for the Wayne County Airport Authority.
"Having someone in the tower makes the airport run more efficiently than when we rely on aircraft to talk directly to each other," he said.
Airport Manager Matt Kulhanek said the Ann Arbor control tower manager has not received a communication from the FAA yet that the tower will be closing.
"There's uncertainty because there's no hard information out there," Kulhanek said. "I don't anticipate it would have a measurable impact on air traffic in Ann Arbor."
The tower at the airport is staffed seven days a week from 8 a.m. to 8 p.m. Should the staff be eliminated, the tower will close -- but operations would not cease, Kulhanek said.
"It's hard to say how it would affect activity levels," Kulhanek said. "There are busy times of day in the summer when (not having a control tower) could slow activity down."
The control tower ensures operations at an airport flow smoother because they can provide an "advanced level of coordination" between the activity on the ground and in the air, Kulhanek said.
FAA regulations state "There is no substitute for alertness while in the vicinity of an airport," and advice that when a control tower is unmanned, pilots should communicate via a common radio frequency specific to each airport called the Common Traffic Advisory Frequency (CTAF).
Pilots have been trained on the protocols of using the CTAF system and know which planes have the right-of-way in certain situations, Kulhanek said.
"Pilots monitor and utilize it when they're in the pattern when they're getting ready to land and take off," Kulhanek said. "It's not unfamiliar to pilots. It's how they operate at airports that don't have towers."
In 2012, the 64,000 takeoffs and landings happened at the Ann Arbor airport, according to figures the FAA control tower staff collects. There were 77,316 takeoffs and landings at the Willow Run Airport in 2012.
The traffic at the Ann Arbor airport mainly consists of small corporate jets and flight school activity, whereas larger cargo planes are a majority of the traffic at the Willow Run Airport in Ypsilanti.
The Willow Run Airport, which is owned and operated by the Wayne County Airport Authority, is preparing to have the hours of their round-the-clock control tower reduced.
The FAA has put the Willow Run Airport on the list of facilities to have the control tower close for a night shift.
"We certainly expect we'll be losing overnight controllers in the tower at Willow Run Airport," Wintner said.
The exact specifications of how long the night shift would last and when it would begin have not been communicated, Wintner said.
The earliest changes may come to Willow Run will likely be mid-April, Wintner said.
An airport without a manned control tower isn't shut down.
"Given the amount of traffic during the overnight hours (at Willow Run), I doubt it would be detrimental," Wintner said. "It won't be an issue until, when and if, Willow Run were to become busy (at night)."
The control tower at Willow Run is responsible for directing aircraft during the final approach and descent to the airport, Wintner said. Before planes communicate with the control tower, they're in contract with Terminal Radar Approach Control operators that work from the FAA's control facility in the Detroit Metro Airport. Those operators manage the air space and the sequence of planes, Wintner said.
Cargo planes typically fly at night. Should freight cargo activity increase at the Willow Run Airport, there would likely be a need for nighttime control tower staff, Wintner said - at which point in time the airport could ask the FAA for additional staff. Wintner said the elimination of a 24-hour control tower at Willow Run could be detrimental to the region's plans to expand economic activity using the airport as an asset. "It's a perception thing that could hinder our development efforts," Wintner said.
Amy Biolchini covers Washtenaw County, health and environmental issues for AnnArbor.com. Reach her at (734) 623-2552, amybiolchini@annarbor.com or on Twitter.