Posted on
Wed, Jul 20, 2011 : 2:15 p.m.
Snyder recall campaign hits streets of Ann Arbor for Art Fair with goal of collecting thousands of signatures
By Ryan J. Stanton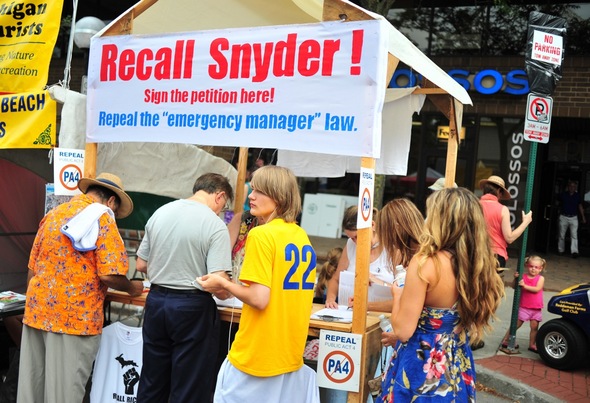 Ryan J. Stanton | AnnArbor.com
(This story has been updated with comments from Jan BenDor, Washtenaw County captain for the Snyder recall campaign, and County Clerk Larry Kestenbaum.)
The campaign to recall Michigan Gov. Rick Snyder hit the crowded streets of Ann Arbor today for the first day of Art Fair, with an estimated 150 volunteers collecting signatures.
Brit Satchwell, president of the Ann Arbor Education Association and one of the organizers of the effort, said the goal is to collect 4,000 to 5,000 signatures over four days — and that shouldn't be hard considering 500,000 people are expected to attend the festival.
"Hitting big events is huge," Satchwell said. "So big events like the Art Fair are just giant for us. If we can get the 4,000 to 5,000 signatures in four days, that's a huge step forward for democracy in this state. And we're hitting other events as well."
A steady stream of people visited the "Recall Snyder" booth set up on Liberty Street between Fifth Avenue and Division Street today. The booth will be there through Saturday.
Volunteers also are collecting signatures at several other stationary signing locations, including shuttle locations, Pioneer High School and the University of Michigan Diag.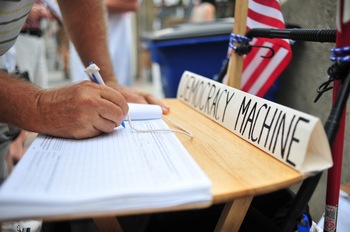 Ryan J. Stanton | AnnArbor.com
Many others are walking the streets wearing "Recall Gov. Snyder" T-shirts. They've come from other parts of Michigan to help Washtenaw County petitioners pull off the signature drive.
Many who signed the petitions today cited concerns over cuts to education in Michigan. Many retirees also expressed strong dislike for the raising of taxes on their pensions.
That was the case for Eliseo Luna, a retiree who lives on the southwest side of Detroit. He spoke with AnnArbor.com after signing the recall petition.
"I signed it because he promised a lot to the people and, like Obama, he lied and we want him out," Luna said. "I'm getting my pension and he's threatening to take money away from me that I earned. We all worked for (our pensions) and we don't need this kind of abuse."
More on the fair
Additional Ann Arbor Art Fair stories:
Sam Berka
, a retired county and state government employee from Sanilac County, also signed the recall petition today, but not because he's opposed to Republican policies.
"He's not conservative enough," Berka said of Snyder, adding he's not happy with the new pension tax and he's thinking of switching his residency to Florida because of it.
"He went in my back pocket," Berka said. "That's the reason I signed the petition. Right now I'm paying no tax and I'm going to pay a couple thousand bucks."
The statewide recall effort — as well as a separate petition drive to repeal Michigan's emergency manager law — is picking up momentum, Satchwell said. Volunteers are collecting signatures for both petitions during the Art Fair.
Satchwell said it's hard to do a count on signatures collected so far, but he's heard anecdotally that the recall is "over halfway there."
The group needs to collect more than 800,000 valid signatures by Aug. 5 to put the question of recalling Snyder to voters in November. Knowing that a good number of signatures likely will be ruled invalid, the group is shooting for 1.1 million to be safe.
By law, the signatures have to be collected within a 90-day window.
"That's a big number and the window's coming up," Satchwell said. "If they don't get the million they can keep going, but the petitions they got at the beginning start falling off."
Satchwell said putting the repeal of the emergency manager law to a vote of the people will take 162,000 signatures and the group is shooting for 250,000. He said that should be no problem since the group is working toward a November 2012 vote on that issue.
"That's a slam dunk," he said. "We'll have that done at the end of the this month or the middle of August, no problem."
More volunteers will be collecting signatures at the Manchester Chicken Broil on Thursday, where about 12,000 people are expected to flock for chicken dinners.
Sara Wurfel, a spokeswoman for the governor, commented on the recall effort hitting the Art Fair, saying "Ann Arbor wouldn't be Ann Arbor without some kind of effort like this." She said Snyder stands behind his decisions to reform state government.
"With our high unemployment rate, budget deficit and the only state in the union to lose population in the last decade, the governor knew full well the path ahead wasn't going to be easy or popular," she said. "He remains fully committed to making the tough decisions that ensure Michigan turns the corner and sees brighter, stronger days for all."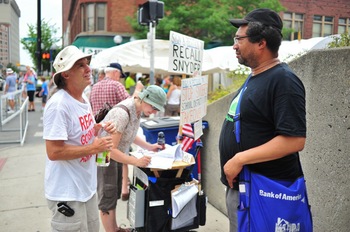 Ryan J. Stanton | AnnArbor.com
Michael Rains
of Ann Arbor was out collecting signatures today with a mobile cart he calls the "Democracy Machine." He said he's taken it all across the state and has collected more than 2,000 signatures for both the recall effort and the emergency manager repeal petition.
"It's a full-service democracy cart," he said. "It serves the entire state of Michigan … faster than fast food. People who are upset about the corporate takeover of Michigan government, whatever they need, I'm there for them. And wherever I go, it's been nonstop lines."
Susan Washabaugh, a teacher at Ann Arbor's Pioneer High School, was another of the many volunteers walking the streets and collecting signatures today.
"I'm upset over the cuts to education. It's directly impacting my students," she said, adding she's also concerned that teachers' salaries and pensions are being reduced.
"I think the stress on the middle class by what he's doing is huge and you're going to see more people defaulting on their mortgages and not able to make ends meet," she said.
The Washtenaw County Republican Party has a booth set up not far from the Snyder recall booth. David Parker, the party's deputy treasurer, was manning it today.
"I think the recall is just sour grapes and it's really a long shot," he said, adding Snyder's policies already are creating private sector jobs in Michigan.
"I think he's doing a good job overall," he said. "We're going to try to hopefully spur him to do some more. He's a moderate. That bothers liberals, but that also bothers conservatives."
Parker dismissed concerns raised by others that Snyder's policies cut too deep and hurt middle-class families in Michigan.
"We need rich people," he said. "We need jobs, and people with money are the ones that have jobs, that can set up a business. You can't have the government pay for everything."
Jan BenDor, Washtenaw County captain for the Snyder recall campaign, said if the push to get 1.1 million signatures by Aug. 5 is unsuccessful, she's confident enough signatures still could be collected in the following weeks to put the issue on the ballot in February instead.
Once a recall petition is certified in Michigan, supporters have 180 days to turn in the required number of signatures. But no signature can be more than 90 days old at the date the petitions are turned in, so the 90-day window is a moving target. The Snyder recall petition was approved April 29 by the Washtenaw County Election Commission.
"The biggest challenge right now is the verification center, because they're getting truckloads of petitions," BenDor said. "And you not only have to look at the face validity of the petition and the signatures, but then you have to do spot checking of the registration of the voters, so they've got a huge operation going on right now in Standish."
So what happens if the recall is successful?
Lt. Gov. Brian Calley, a self-proclaimed conservative Republican, would step in as governor until a new election for governor could be held. As of 2005, elections in Michigan can be held on four dates — in February, May, August and November.
"What a recall does is it essentially calls another election, and either the incumbent is re-elected to the position or someone else is," said County Clerk Larry Kestenbaum.
However, Kestenbaum said he thinks waiting until the next scheduled election, which is the law now, goes against the spirit of the original recall statute.
"The combination of these two policies is a little awkward. Ideally you want the election to happen right away if possible," he said. "I would go back to the original notion of achieving that huge signature requirement is enough to justify having a special election."
Ryan J. Stanton covers government and politics for AnnArbor.com. Reach him at ryanstanton@annarbor.com or 734-623-2529. You also can follow him on Twitter or subscribe to AnnArbor.com's e-mail newsletters.