Posted on
Thu, Oct 28, 2010 : 6:02 a.m.
Tea party Republicans rally around Rob Steele's message of cutting big government spending
By Ryan J. Stanton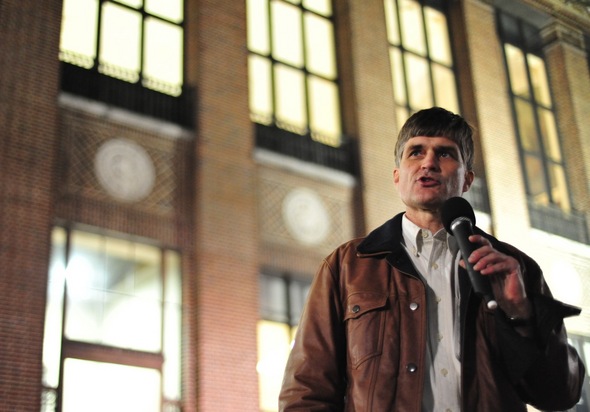 Ryan J. Stanton | AnnArbor.com
The conservative Republican crowd that gathered on the University of Michigan Diag Wednesday night cheered loudly in support of cutting government spending, repealing national health care reforms and putting up further barriers between Mexico and the U.S.
"How many want to close the border almost yesterday?" said radio host Thayrone X, drawing applause. "Until we close that border, there is nothing else to talk about."
The "Take Back Congress" rally sponsored by the U-M College Republicans was organized to give Republican congressional candidate Rob Steele a boost heading into Tuesday's election. Steele, a Superior Township cardiologist, is taking on U.S. Rep. John Dingell, D-Dearborn, an 84-year-old veteran politician who has been in office since 1955.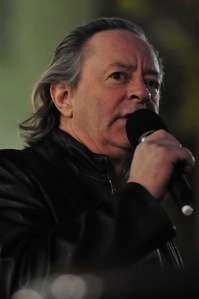 "If there's one thing I'm not, I'm not a politician," Steele told the crowd of more than 200. "It's time that we now, instead of sending a career politician back to Washington, D.C., we send a member of the community, a citizen, to go there and clean up the mess."
Wednesday's lineup included an invocation by Dr. Dawn Lancaster, who said a prayer for "selfish career politicians."
Thayrone X, a tea party activist, criticized what he called "weak sister Republicans" for reaching across the aisle and trying to work with Democrats. He said that's why Michigan and the U.S. has "been led to the gates of hell."
"You know, we can hedge against that and start going back the other way by voting for anything with an R after its name," he told an agreeing crowd.
Tea party activist Wendy Day said Washington won't change unless the people in Congress change, and that starts with getting rid of Dingell.
Day, who helped organize the first tea party rallies in Michigan last year, said one of the main reasons she's supporting Steele is his pledge to repeal the health care reform law, which she characterized as "overreaching into our personal liberties."
In an apparent reference to Dingell's age and tenure, Day said she likes Steele because he doesn't think he's entitled to serve in Congress until he "ends up coming home in a casket."
Oakland County Sheriff Mike Bouchard, who ran for governor in the Republican primary, joined Day and others in cracking jokes about Dingell's age.
"Not many things make me feel really young, but the current congressman was there before I was born," Bouchard said, rattling off a list of things younger than Dingell.
"The year he was elected, the hard drive was invented," he said, drawing laughs. "Two years after he was elected, the hula hoop was invented. Twenty-four years after he was elected, the Sony Walkman was invented. They just retired that as an antique.
"What else needs to be retired?" he asked the crowd. "Fifty-five years is plenty. If you can't get it done in 55 years, time to go home."
Bouchard said the Democrats in Washington and Lansing are focused on taking away the freedoms of everyday Americans.
"They now tell you, as an adult, you have to wear a seatbelt in your own car," he said. "How far does government go to protect you from you? That's not government's job."
He also criticized the state's smoking ban.
"They passed a law that said you can't smoke on private property," he said. "They can't smoke a cigarette in a VFW in Michigan. That's wrong. I don't like smoke, but I don't want government coming in and taking your private property rights away."
Bouchard concluded: "These are the issues that need to be addressed."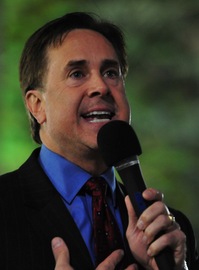 The Michigan Department of Community Health claims smoking increases annual health care costs in Michigan by $3.4 billion, including $1.1 billion in additional Medicaid costs.
"It is so good to be here with people who believe in less taxes, less government, and liberty," said secretary of state candidate Ruth Johnson, one of several prominent Republicans who made an appearance Wednesday night.
Robert Schostak, finance chairman of the Michigan Republican Party, said the message across the country on Election Night is going to be how Michigan delivered, and it starts with Steele.
"It's time to take our county back and take our state back," agreed state Senate Majority Leader Mike Bishop, R-Rochester. "After 55 years of miserable leadership, it's time for a change."
Steele was described Wednesday night as a candidate who not only is reaching the hearts of voters, but also is literally reaching into their chests and feeling their hearts on a regular basis. Steele said he earned both his undergraduate and medical degrees from U-M by age 23 and has spent the last 29 years working as a physician.
"What we need in Washington, D.C., are people who interface in the community and live under the rules that are passed by Congress, instead of being a career politician who pretty much does whatever they want," Steele said, calling Dingell out of touch with the needs of the 15th District, which stretches from Dearborn through Ann Arbor and south to the Ohio line.
"Right now we have a Congress that thinks the financial plan is to max out the credit cards of the people that aren't born yet," he said. "I would call that the theft of opportunity for generations to come, and that's what we need to stop. We need to stop the out-of-control spending and let the future generations determine their own future."
Steele agreed Dingell has been one of the most powerful men in Congress, but he said "it's just a shame that he didn't use that for the citizens" of the 15th District and Michigan.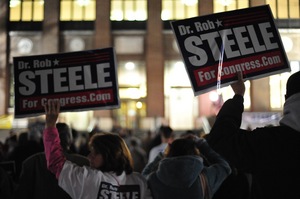 Ryan J. Stanton | AnnArbor.com
"From 1981 until 1994 when he was chair of the most powerful committee in Congress — Energy and Commerce — according to the United States Census Bureau, the state of Michigan over those 13-14 years ranked 46th out of 50 in return on money sent to Washington," Steele said. "And the problem with that, of course, is that money got sent off to all these other states, and now our kids are leaving this state at record rates."
In the last three weeks, Dingell has announced nearly $170 million in federal grant funding for projects that will directly benefit Ann Arbor, including reconstruction of the East Stadium Boulevard bridges and high-speed rail from Dearborn to Kalamazoo.
Steele criticized Dingell's efforts on health care reform, saying the United States already has the best health care anywhere.
"We do have a problem with costs," he acknowledged. "But if you have a hangnail, you don't cut off the finger. If you've got five hangnails, you don't cut off the hand. Unfortunately, with the health care bill, what they've done is cut off the entire arm. And we need to go ahead and repeal that — have targeted fixes for the problems that we have."
Steele said despite attacks by the Dingell campaign that he wants to privatize Medicare and Social Security, that's simply not true.
"That's who I've spent my entire life taking care of," he said of his patients who are on Social Security and Medicare. "It's just incredible. Absolute fabrications. And I'll tell you, we do have a problem with Social Security. There's absolutely no question about it. The problem that we have with Social Security is that career politicians like John Dingell took all the money out of the trust fund and spent it for their reelection bid by handing out favors."
Dingell welcomed former President Bill Clinton to Ann Arbor earlier this week in an attempt to get out to the vote for his campaign. Steele, in return, picked up the endorsement of former Alaska governor Sarah Palin, though critics are calling that the "kiss of death."
Ryan J. Stanton covers government and politics for AnnArbor.com. Reach him at ryanstanton@annarbor.com or 734-623-2529.