Posted on
Sun, Dec 16, 2012 : 10:34 a.m.
Terri Blackmore stepping down as WATS executive director after 33 years on the job
By Ryan J. Stanton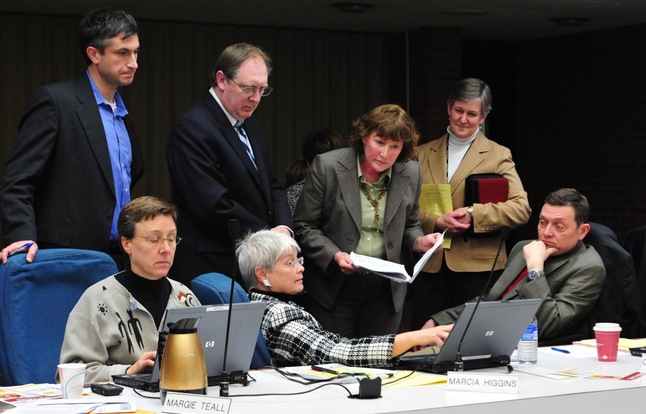 Ryan J. Stanton | AnnArbor.com
After 33 years on the job, including the last 12 as executive director,
Terri Blackmore
is leaving the
Washtenaw Area Transportation Study
for a new job in Fort Collins, Colo.
Blackmore, who lives in Ann Arbor, has been a major figure in transportation planning in Washtenaw County for decades and local officials say she'll be sorely missed.
"Terri has been an exceptional leader guiding Washtenaw County's transportation planning process," said Eli Cooper, the city of Ann Arbor's transportation program manager.
"Her efforts have led to the development of a number of plans and policies that have kept all forms of mobility in focus and moving forward. She has personally facilitated keeping the community, elected officials, technical staff and citizens fully involved in the WATS planning program."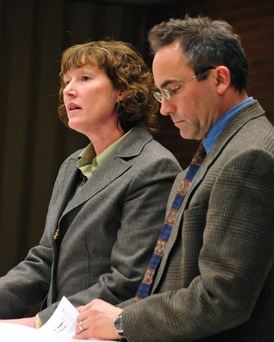 Ryan J. Stanton | AnnArbor.com
Blackmore said her reasons for leaving are twofold. On a personal level, her daughter, son-in-law and grandson are moving to Los Alamos, New Mexico, and she'll be only a seven- or eight-hour drive away where she's moving. On a professional level, she's jumping to a bigger job.
Starting Jan. 14, Blackmore will be executive director of the North Front Range Metropolitan Planning Organization, an association of 15 member governments covering 675 square miles and populated by about 400,000 northern Colorado residents. Its mission is to provide information, analyses, plans and a forum for public input to improve that region's transportation system.
That's similar to the work Blackmore has done at WATS, which is made up of member governments throughout Washtenaw County and is responsible for the county's transportation planning.
"I've been here a very long time," Blackmore said, adding she's excited about a new challenge. "I'll be doing the same job I do here only on a bigger scale — larger planning area, more staff."
A creature of federal law, WATS guides the spending of state and federal transportation funds that come into Washtenaw County. The agency annually establishes project priorities for consideration by the Michigan Department of Transportation when programming transportation funds.
In addition, WATS monitors the current condition of the county's transportation system, including roads, bicycle and pedestrian paths, bridges, and public transit.
The news of Blackmore's resignation was shared this past week with the WATS Policy Committee, which acts as the agency's governing board. Chairman Jim Carson, also a longtime Dexter Village council member, had only positive things to say about Blackmore.
"She's an extraordinary person and it's going to be a very difficult task to replace her," he said. "I'm happy for her and I'm sad for Washtenaw County."
Carson said the agency will appoint an interim director and that probably will be done in-house, and then a search committee will be formed made up of Policy Committee members.
"And I think because Terri has been with us for 33 years, and she essentially wrote the job, what the search committee probably will do is they will write a current job description and then decide how far out they will reach for candidates," he said. "There definitely will be a process."
Blackmore makes about $120,000 a year right now. Carson said it hasn't been decided how much the next director's salary will be, but it likely will be less than that.
"We have an excellent system and it's because of Terri, and I don't know what it would be like without her," Carson added. "It's a good system and it's really a model for other regions."
The WATS Policy Committee meets next Dec. 18.
When she started on the job 33 years ago, Blackmore was the second employee at WATS, which was established five years prior to her arrival. She got her start as an administrative research coordinator, essentially a transportation planner who reported to the agency's director.
Blackmore was responsible for ramping up the agency's outreach efforts, creating its first newsletter and overseeing its first in-house transportation plan in the 1980s.
"I've had a lot of fun here," Blackmore said. "I think it was just time for my planning experience to be utilized in an way that this area wasn't ready for."
Through her role at WATS, Blackmore has been an advocate for several transportation initiatives, both motorized and nonmotorized, including a countywide expansion of transit services, regional commuter rail linking Ann Arbor and Detroit, and a regional transit authority for Southeast Michigan.
Blackmore said it's only coincidence she's leaving right after the Ann Arbor Transportation Authority's countywide transit expansion failed to garner support from most municipalities in the county, and as local officials now are urging the state to exclude Washtenaw County from the RTA.
"Though it saddened me, it had nothing to do with it," Blackmore said.
In technical terms, Blackmore's new organization is an MPO, or a metropolitan planning organization, whereas WATS is a TMA or a transportation management area. As a TMA, WATS falls under the umbrella of the Southeast Michigan Council of Governments, the region's MPO.
Carson said Washtenaw County's federal transportation dollars filter through MDOT before they're passed down to SEMCOG and then down to WATS and then down to local agencies. He said Washtenaw County's share of federal transportation dollars averages around $6 million a year, but that spiked under the federal stimulus program a few years ago.
Blackmore said she has worked with some excellent colleagues and the agency has provided her many opportunities to grow and develop. She said she leaves knowing WATS has an excellent staff that will continue to guide and improve transportation planning in Washtenaw County.
Her last day of employment will be Feb. 15, but she will be out of the office on vacation starting in early January. She said she'll remain available as a resource during that time.
Blackmore, who oversees a staff of four full-time transportation planners, said she's proud of the plans they've been able to put together, including a Complete Streets Plan for Washtenaw County, an 80-page document that provides a framework for ensuring travel by all users and all modes are in taken into account when planning, designing and constructing transportation corridors.
She also oversaw development of three long-range transportation plans for Washtenaw County throughout the years, and she expanded the agency's reach in the county to provide assistance to rural communities that don't always have transportation planners of their own.
She leaves confident knowing she helped the area think differently about transportation, including looking at public transit and providing the amenities transit needs to be successful. She also worked with the county and SEMCOG to make sure transportation improvements don't harm water quality.
WATS is about 80 percent federally funded and 20 percent funded by local government. WATS also has taken on a contract with Toyota the past two years to do research that involves studying crash sites and building a database that will be used to try to improve crash prevention technology.
Ryan J. Stanton covers government and politics for AnnArbor.com. Reach him at ryanstanton@annarbor.com or 734-623-2529. You also can follow him on Twitter or subscribe to AnnArbor.com's email newsletters.