Posted on
Sat, Dec 3, 2011 : 6:41 p.m.
Article pokes fun at uproar over crosswalk ordinance in 'brainy' Ann Arbor
By Cindy Heflin
The uproar over Ann Arbor's pedestrian safety ordinance caught the attention of The Atlantic this week. An article by Micheline Maynard in the Cities section of The Atlantic's website pokes a little fun at the city.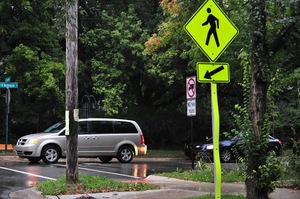 Ryan J. Stanton | AnnArbor.com
"Ann Arbor, Mich. is the smartest city in the country …," Maynard writes. "But all it takes is an ordinance governing cars and pedestrians to get all those brainy people in a tizzy."
The ordinance, passed in July 2010 and requiring drivers to stop for pedestrians approaching a crosswalk, wasn't enforced for more than a year, but once the city announced plans to begin writing tickets for violations, motorists cried foul and reports started coming in of rear-end crashes caused by drivers screeching to a halt for crossing pedestrians.
The City Council is now in the process of revising the ordinance. Changes given initial approval in November are expected to come back for final approval this month.