Posted on
Mon, Oct 15, 2012 : 8:16 p.m.
Ann Arbor superintendent: Football brawl violated friendship, healthy rivalry between high schools
By Danielle Arndt
Ann Arbor Public Schools Superintendent Patricia Green released a statement Monday night calling Friday's fight between Huron and Pioneer high schools "upsetting and regretful."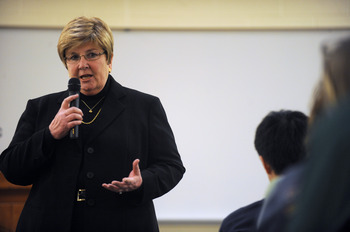 District officials have stated they are investigating the brawl that started among coaches and some students following Pioneer's win. One student was
injured
.
Both Pioneer head coach Paul Test and Huron head coach Cory Gildersleeve were suspended by the Michigan High School Athletic Association Monday afternoon. District spokeswoman Liz Margolis said the district could choose to take further disciplinary action against the coaches and those decisions would be made within the next 24 hours. But that information, if action is taken, will not be released to the public because of district policy, she told AnnArbor.com.
Green said Friday's brawl "violated" the pride the Ann Arbor community felt in the "long history of friendship and healthy rivalry" between the two high schools.
Read the complete text of Green's message below.
Dear AAPS Families and Staff and the Ann Arbor Community,
The incident that occurred at the end of the Huron vs. Pioneer football game last Friday night was both upsetting and regretful. The pride this community has in the long history of friendship and healthy rivalry between our high schools was violated. The Huron and Pioneer communities have felt the ramifications of the actions started by a few adults and followed by some students.
A full investigation is in process and the Athletic Directors, Principals at the schools and the Administration continue to look into the incident and upon completion of the investigation, appropriate action will be taken.
Concurrently, the Michigan High School Athletic Association (MHSAA), and the Ann Arbor Police Department are also conducting investigations.
Many of the student-athletes on the field Friday night choose not to follow the lead set by the adults and remained out of the altercation. They demonstrated maturity and leadership.
As we continue to investigate the incident, we ask your patience as we work together to re-build the community spirit, collegiality and sportsmanship between these two schools.
Sincerely,
Dr. Patricia P. Green Superintendent
Danielle Arndt covers K-12 education for AnnArbor.com. Follow her on Twitter @DanielleArndt or email her at daniellearndt@annarbor.com.