Posted on
Thu, Jan 10, 2013 : 2:59 p.m.
University of Michigan regents to forgo public meeting for California trip
By Kellie Woodhouse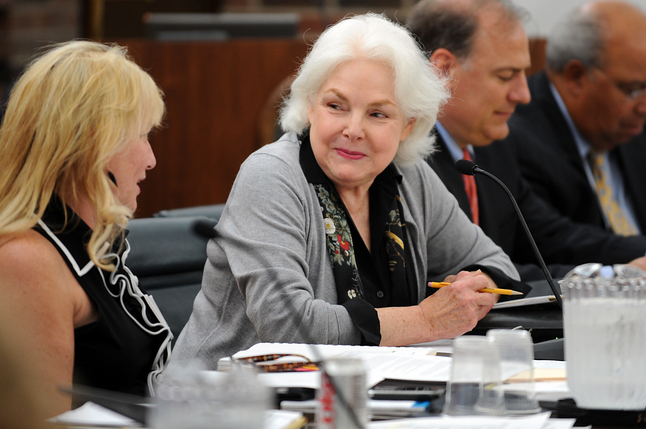 Melanie Maxwell I AnnArbor.com file photo
The
University of Michigan
's governing board will meet privately in California this month, forgoing its once-a-month meeting that's open to the public.
The "strategic planning session," as the two-day meeting is being called by the university, will take place Jan. 17th and 18th in Los Angeles at the Hyatt Regency Century Plaza hotel.
The eight-member board will attend the session, along with university president Mary Sue Coleman, Provost Philip Hanlon, Secretary Sally Jo Churchill, top development officer Jerry May and one additional staff member.
The cost —including hotel stays, meals and airfare and meeting rooms— is estimated at between $30,000 and $50,000, according to the university secretary's office. Rick Fitzgerald, university spokesperson, said the trip would funded with "unrestricted donor funds."
Since 2010, the board of regents has traveled to Grand Rapids, Detroit, Flint and Dearborn for public meetings.
The board typically gathers for public meetings 11 times a year, once a month except for in August.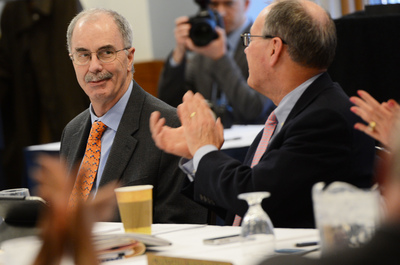 This is the first year in recent history (online records go back to 2005) that the regents will not conduct the full 11 public meetings. There will be 10 public meetings this year, according to a U-M schedule.
The board will discuss the "future of higher education" and connect with California alumni during the two-day session, according to regent Denise Ilitch, former char of the board. The board will also orient its two newest members, Mark Bernstein and Shauna Ryder Diggs, who were elected to the board in November and begin their eight-year terms this month.
Fitzgerald said there is no public agenda for the two-day session and declined to make an informal agenda available for AnnArbor.com. He also declined to offer a more detailed breakdown of the trip's cost, saying that wouldn't be obtainable until after the session.
When asked why the session was held in lieu of a public meeting, instead of holding both, Fitzgerald cited "a scheduling issue."
"It falls in the week when these people's schedules were already set aside for a board of regents meeting," he said. "They decided to take that time that was already in their schedules and handle that differently."
During the two-day session, the board will meet with Robert Birgeneau, chancellor of University of California's Berkeley campus, John Hennessy, president of Stanford University, Robert Berdahl, former leader of UC-Berkeley and other colleges, and Dan Russell, a Google research scientist.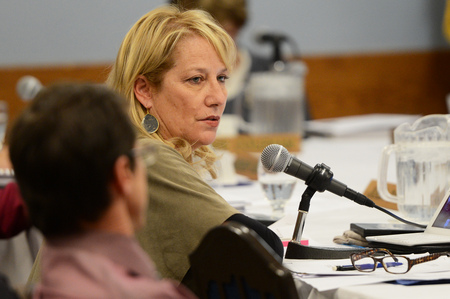 Melanie Maxwell | AnnArbor.com file photo
"As the board looks at the major issues facing the future of higher education ... we can benefit a great deal by talking with others who are wrestling with similar issues," Ilitch said when she announced the session during a public meeting in October.
The board is also expected to meet with donors and alumni from California.
According to Jerry May, the school's lead fundraiser, U-M's next fundraising campaign, expected to launch in fall 2013, will target donors from the west coast. The regents' trip is an opportunity to further cultivate relationships with potential donors prior to the campaign launch.
"One of the largest bases of donor support for the University of Michigan is Southern California," Ilitch said. "In fact, California has the second largest out-of-state donor base."
There are also roughly 41,000 alumni living in California, the biggest concentration of Wolverines in any state except for Michigan.
"The university has become increasingly dependent upon the generosity and support of donors to maintain our excellence" since the dwindling of state support, Ilitch said. "We as a board and as an institution need to cultivate these vitally important relationships."
Correction: This article has been corrected to state that meetings held in Grand Rapids and Detroit were public meetings and that Denise Ilitch is a former chairwoman of the board. There was no meeting held in Troy.
Kellie Woodhouse covers higher education for AnnArbor.com. Reach her at kelliewoodhouse@annarbor.com or 734-623-4602 and follow her on twitter.