Posted on
Thu, Nov 29, 2012 : 1:53 p.m.
University of Michigan Provost Philip Hanlon to become Dartmouth College's next president
By Kellie Woodhouse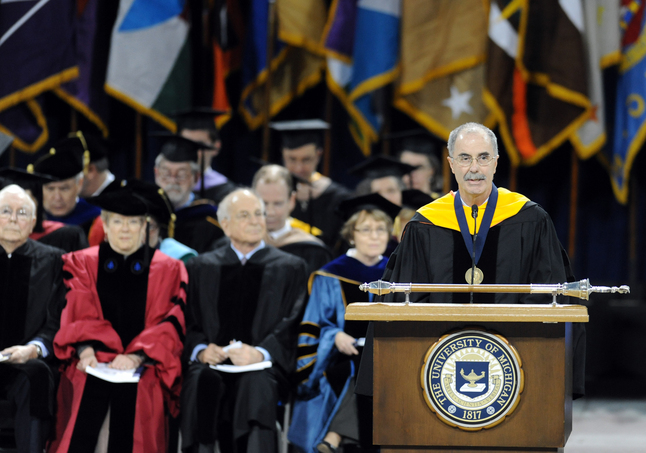 University of Michigan
Provost
Philip Hanlon
is leaving
Ann Arbor
to become president of
Dartmouth College
.
Hanlon, a 26-year veteran of the U-M, has served as the school's chief academic officer since 2010 and has been a member of the faculty at the university since 1986, teaching mathematics and, most recently, a course on the university budget.
The 57-year-old Hanlon is a 1977 graduate of Dartmouth, a private Ivy League research university in Hanover, N.H.
Dartmouth's former president Jim Yong Kim left the school to lead the World Bank earlier this year. The university announced Hanlon's new role Thursday.
Hanlon will officially join Dartmouth on July 1, 2013. He will be the school's 18th president.
"When you're provost at a place like Michigan you get approached by a lot of different searches and this is the only one that I've been interested in," Hanlon said in an interview. "It has very strong undergraduate teaching, which is a passion of mine."
He continued: "It's very bittersweet... I'm sad to be leaving the University of Michigan, but I am really excited about the new opportunity I have ahead of me."
As Provost, Hanlon is one of three executive vice presidents of the university and is in charge of the school's academic enterprise. He is credited with increasing financial transparency at the university —including teaching a mini-course on the school's budget this semester— and working to increase financial aid. He earns a $485,040 salary.
Prior to becoming provost, Hanlon served as a vice provost for academic and budgetary affairs and associate dean for planning and finance at the College of Literature Science and Arts.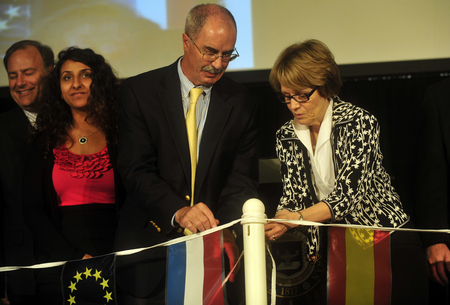 Melanie Maxwell I AnnArbor.com
"As Michigan's provost, he has steered the institution through some of its most fiscally challenging years, all the while advancing our academic excellence and impact. As a teacher, his passion for undergraduate education is palpable," U-M president Mary Sue Coleman said in a statement. "As Dartmouth's next president, his vision, experience and deep integrity will elevate its already exceptional standing in higher education."
Added Martha Pollack, a U-M vice provost: "He has an uncanny ability to bring people together and lead them toward shared goals."
In some ways, the institution Hanlon will lead is very different than the one at which he spent the bulk of his career. Whereas U-M has a student body that exceeds 43,400, Dartmouth is the Ivy League's smallest school, with an undergraduate and graduate enrollment of 6,141. U-M is a public school that gets more than $270 million from the state and obtained nearly $750 million in federal research dollars in fiscal 2010, Dartmouth is a private institution that received slightly more than $118 million in federal research funds that year.
In other ways, the schools are similar. Both have good academic reputations, selective admissions and multibillion dollar endowments. Dartmouth is ranked by U.S. News and World report as the No. 10 university in the nation. Michigan is ranked No. 29.
"At a time of momentous global change, Phil's understanding of how higher education must evolve to adapt to the world and improve it puts Dartmouth in an outstanding position to continue to lead," said Kim, the former Dartmouth president, in a statement.
AnnArbor.com
Hanlon's departure coincides with the decampment of top leaders from the law school, dentistry school, university library and College of Literature, Science and Arts, U-M's largest college. It also comes precedes the likely departure of university president Mary Sue Coleman, whose contract expires in 2014.
Hanlon is not the first provost in recent history to leave his post to lead another institution. His predecessor Teresa Sullivan left her provost position to become president of University of Virginia. Nancy Cantor, U-M provost from 1997 until 2001, left Ann Arbor to become chancellor of University of Illinois at Urbana-Champaign and later became chancellor of Syracuse University. Bernard Machen, provost in the 1990s, left the university to become president of the University of Utah and he is now the leader of the University of Florida.
Others, like James Duderstadt in the late 1980s, transitioned from the provost role to U-M's presidency. Hanlon isn't the first to leave a U-M administrative post for Dartmouth. Lee Bollinger left his deanship at the law school in 1994 to become Dartmouth's provost, but returned in 1996 to become U-M president. He then left in 2001 to assume the reins of Columbia University, where he still leads today.
"His call to a presidency is the logical next step in his career," Terrence J. McDonald, U-M's outgoing LSA dean, said of Hanlon in a statement.
Hanlon received his Ph.D. from the California Institute of Technology and taught at Massachusetts Institute of Technology and CIT before coming to Michigan.
Coleman will likely announce an interim provost in the coming months.
Kellie Woodhouse covers higher education for AnnArbor.com. Reach her at kelliewoodhouse@annarbor.com or 734-623-4602 and follow her on twitter.