Posted on
Sat, Dec 31, 2011 : 5:57 a.m.
Top 11: Most-read stories on AnnArbor.com in 2011
By Paula Gardner
As 2011 draws to a close, we've compiled a list of the most-read stories on AnnArbor.com during the year.
The list is based solely on page view totals of the more than 12,000 news, sports and business articles we published this year, as recorded in our third-party tracking system.
Many of the stories reflect the University of Michigan football team's coaching transition. Other major news events are on the list, as is one crime update brief (we were surprised, too).
Not on the list — but still in the top 50 — is the news that police were considering a serial rapist scenario in downtown Ann Arbor. Those crimes remain unsolved. Of city government coverage, a story on city council starting changes to the pedestrian safety ordinance was tops in page views.
Also high on the list but not cracking the Top 11 were three animal-related stories: the black bear sighting near Dexter, the Gallinipper mosquito outbreak and the felony charge authorized for the man who ran over a group of ducklings.
Here are the most-read stories:
1. Michigan football team responds to MSU QB Kirk Cousins' criticism of Wolverines' BCS bid (Dec. 5)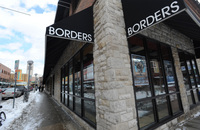 Melanie Maxwell | AnnArbor.com
2.
Borders plans to liquidate, ending 40-year-old bookstore chain
(July 18)
3. The top 5 candidates to be the next Michigan football coach (Jan. 6)
4. Michigan losing recruiting lead over Ohio State after torrid run by Urban Meyer (Dec. 20)
5. EMU Police Chief Greg O'Dell mourned after his death at age 54 (Dec. 23)
6. Billboard mocking Ohio State's Jim Tressel appears along Michigan interstate (May 2)
7. 31 students suspended from Pioneer High School after senior prank (May 13)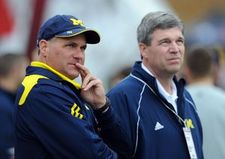 8.
Michigan football coach Rich Rodriguez expects to meet with athletic director Dave Brandon this afternoon
(Jan. 4)
9. Topic of how Rich Rodriguez treated former players remains a sensitive one for former members of Michigan football team (Feb. 6)
10. Top 5 observations about Brady Hoke and the Michigan football team's recruiting class (Feb. 3)
11. Case delayed against Ypsilanti Township woman accused of shooting husband and then claiming he was an intruder (April 17)