Posted on
Fri, Oct 19, 2012 : 5:57 a.m.
A resident Spartan's top 4 tips for MSU fans coming to Ann Arbor
By Kyle Feldscher
Joseph Tobianski | AnnArbor.com
Related story: Party patrol: Police, U-M students, bars prepare for MSU rivalry weekend
For the next few days, families will be divided, friends will deny knowing each other and Ann Arbor will be injected with so much adrenaline you'd think Zingerman's was offering half-priced sandwiches.
That's right, it's the weekend of the Michigan State University-University of Michigan football game. This game has been underlined in blue or green ink on most people's calendars since the beginning of the season, with many expecting it to be the game that decides the Legends Division in the Big Ten.
Well, thanks to a tipped pass in the rain at Spartan Stadium last Saturday, that's likely no longer the case. The Spartans dropped their homecoming game against Iowa in double overtime in typical MSU fashion — giving away a lead in the final minutes and then a heartbreaking, gut-wrenching mistake at a big moment. No, I'm not bitter, I promise.
Even though a little bit of the shine has been taken off the on-field matchup, the weekend itself still promises to be the stuff of lore. With the schools separated by an hour's drive on Interstate 96 and US-23 (or Interstate 94 and US-127, if you're like me and know how to avoid traffic), officials are expecting as many as 20,000 ticketless fans to come into Ann Arbor this weekend, not to mention the 110,000-plus who will crowd the Big House.
Last year, you might remember, I wrote a similar piece giving my five pieces of advice for Michigan fans heading up to East Lansing for the game (State won, in case you don't remember. It was pretty sweet. It was the fourth time they'd beat Michigan in a row. Just in case you forgot.). This year, I'm going to direct my advice to a different crowd: my Spartan brethren.
In honor of MSU's four straight victories over the Wolverines, here are my top four pieces of advice for Michigan State fans coming into Ann Arbor this weekend.
1. Check your attitude at the freeway exit.
I get it, I get it. This is sacrilege. If there's one thing us Spartans love, it's getting one (or four) over on Michigan fans. And, let's face it, after four straight victories (did I mention those yet?) following years of heartbreak, we've been allowed to take a shot (or four) at our Wolverine buddies.
However, it's important to remember we're going to be visitors in town this weekend. I live here and I'm going to be considered a visitor in town this weekend. When you're visiting someone else's home, it's not usually a good idea to get all up in their face and talk about how great our team has done against their team in the past.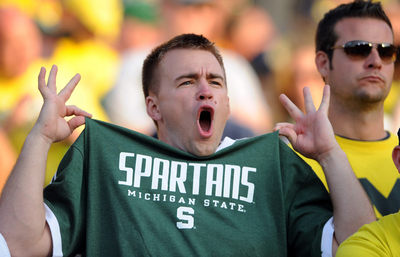 AnnArbor.com file photo
Diane Brown
, spokeswoman for the
University of Michigan Department of Public Safety
, said the close relationships between fans of each school leads to a lot of passion. Too much drinking can lead to too much fervor, which inevitably leads to problems.
"Anytime you have that passion coming forth, it tends to have heightened interest and heightened atmosphere," Brown said. "We just hope people will be respectful of one another."
On a more personal note, there's another reason for MSU fans to be a little calmer this weekend (outside of recent performances on the gridiron).
The last time Wolverines fans were looking forward to playing the Spartans this much was back in 2010. On that day, Ann Arbor was not in a good mood. I've never seen fans so hostile or unwelcoming to a group of opposing fans.
Inevitably, some people dressed in garish yellow will yell at you, my Spartan friends. Just keep walking. Maybe smile. But, don't throw up four fingers or yell out "September Heisman!" or "Arm punt!" Let the boys on the field settle this. If you need more assistance, seek out police, who will be out in force.
2. Get into town early. Like, really, really early.
Maybe you've never been to Ann Arbor before on a football Saturday. Maybe you're used to the relatively rural area around East Lansing that keeps traffic jams contained to the town area. Maybe you're just one of those people who doesn't want to tailgate and feels like showing up right around game time.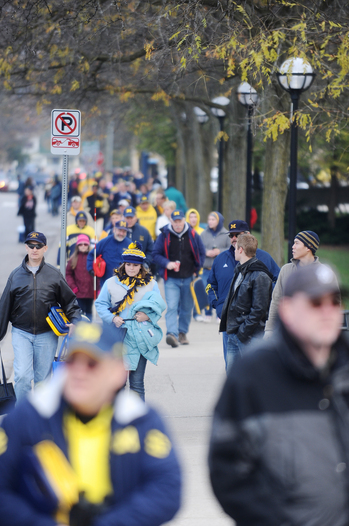 Melanie Maxwell I AnnArbor.com
Well, guess what: Ann Arbor traffic on football Saturdays is akin to the seventh circle of Hell. With a 3:30 p.m. start for Saturday's game, there's one way to avoid sitting in traffic for a truly unreasonable amount of time and that's to get to town early in the morning.
Brown said people coming in should give themselves more time so they don't miss any pregame festivities or kickoff.
"We always encourage people to arrive early such that they can ensure they get to a parking area, they get in through the gates and get to their seats to see pregame festivities and kickoff," she said. "Those from out of town who aren't familiar with the construction issues that exist around the stadium should give themselves even more time."
Even though it's autumn, there's still a truly annoying amount of construction going on around Ann Arbor. There is roadwork on M-14 in Washtenaw County, US-23 in Livingston County and I-94 in Jackson County and even though most of the lanes are open on these roads as construction wraps up, there are still a lot of slowdowns taking place.
For those unfamiliar with Ann Arbor, Stadium Boulevard remains closed in front of the Big House due to construction on the Stadium Bridges. Luckily, the University of Michigan Department of Public Safety has set up a handy dandy website to deal with this issue. I highly recommend checking it out to see what the best way to enter the city will be from wherever you may be coming from.
3. Tailgate on the University of Michigan Golf Course.
Melanie Maxwell | AnnArbor.com
I've tailgated in many different places. Columbus, South Bend, State College, Mount Pleasant, Detroit, Indianapolis, many others. However, the
U-M Golf Course
remains (begrudgingly, I will admit) one of my favorite places to be before a game.
Not only is the course very close to Michigan Stadium, but it's also a rare spot where there is both exceptional beauty and exceptional tailgating. The views of Ann Arbor from the high points are top class and wandering around the fairways and greens of the course with a cold drink in hand can't be beat in Ann Arbor.
Charlie Green, clubhouse manager at the course, said about 1,000 cars are expected to be parked on the course Saturday. The gates open at 7 a.m. and Green said he expects cars to be lined up to get in way before that.
"Sometimes we have to open sooner because people are lined up and the police will ask us to open," Green said.
The atmosphere on the course is usually family-friendly and Green said there's never been any trouble between Spartans and Wolverines. Usually, it's those troublesome Buckeyes who are — not surprisingly — involved in any roughhousing with Wolverine fans.
The cost to park on the golf course is $40 and there are entrances off South Main Street and South State Street.
One thing to keep an eye on regarding this particular spot is the weather forecast. Rain fell on Ann Arbor Thursday and may come down as well on Friday. Green said it's up to the green superintendent at the course to make the call on whether the course will be open for tailgating — if it gets too wet, officials can't take the risk of having 4,000 wheels driving all over it.
"Sometimes we make the call the night before, sometimes it's that morning," he said. "It just depends on the timing of everything."
4. If you don't have tickets, watch the game at The Arena — a Spartan-owned bar.
Yes, that's right, Ann Arbor's best sports bar is owned by two Spartans, Mike Flore and Gordon Loll, both from the class of 1985, according to the Michigan State Alumni Club of Washtenaw County's website. Being that The Arena is owned by Spartans and the official meeting place of Washtenaw's alumni club, it's the perfect place for green-and-white-clad fans to watch Saturday's game.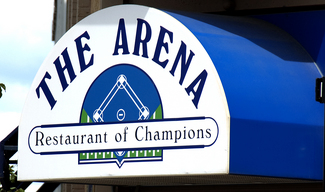 arena
When I was in Ann Arbor for the 2010 game, I watched it at The Arena, 203 E. Washington St., and can testify to the intense, yet friendly, atmosphere. There was more green than blue and the Michigan State University Fight Song drowned out The Victors on more than one occasion.
But, with a capacity of 130, manager Vinny Badalamenti is recommending anyone who wants to watch the game be there early.
"We've been around for 11 years now and people coming into town know we're here," he said.
The bar will open at 11 a.m. Saturday and Badalamenti recommended getting into the bar by noon to guarantee a table.
Support your Spartan brothers and watch the game at their establishment.
Some other, final pieces of advice:
-After the game, go to Ashley's on State Street for a (hopefully celebratory) beer and some great food. Ashley's, near State and William Street, is a favorite spot of mine here in the city.
-Take a walk through The Diag. There's no college campus more beautiful than the older portions of Michigan State University, but The Diag is quite nice.
-Seriously, if you're coming from MSU, take US-127 south to I-94 east. It's just so much easier. I can't emphasize this enough.
I can't tell you how excited I am to finally see some friendly colors on a packed Saturday in Ann Arbor. I know I don't have to tell Spartans this, but be loud, be proud and represent your university in the best way you can.
Go Green.
Kyle Feldscher covers cops and courts for AnnArbor.com. He can be reached at kylefeldscher@annarbor.com or you can follow him on Twitter.