Posted on
Thu, Dec 15, 2011 : 2:45 p.m.
Top 5: Numbers that Ann Arbor school leaders needed to consider before giving raises to administrators
By Paula Gardner
Taxpayers in the Ann Arbor Public Schools awoke Thursday morning to learn that the Board of Education - while on the verge of ending a meeting - instead decided to vote at about 2 a.m. to give two administrators raises.
It was a close vote of 4-3, but it passed - and with that, two administrators in a district that faces cutting about $30 million in expenses from its next two budgets now have an annual base pay of $140,000 each.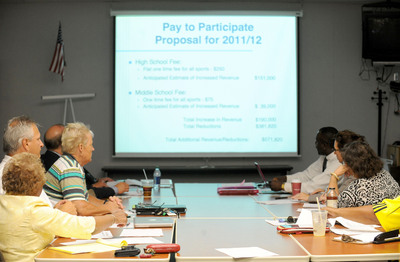 Angela J. Cesere | AnnArbor.com
There seem to be two reasons: The first is that the board and Superintendent Patricia Green value the work of Robert Allen and Dave Comsa.
And the second is that Green made a hire during the summer of a new deputy superintendent of instruction at a base pay of $140,000. Fair, it seems, is fair.
That hire wasn't approved by the board, but it did come before trustees Wednesday night months later as Green said she now realizes that's part of what the board expects.
It appears that the new hire - the replacement for a retirement - makes more than her predecessor and now two longtime employees need to catch up to this "resetting" of the base pay for these cabinet-level positions.
Resetting pay rates in the district isn't new - but we're most used to hearing about it at the lower ends of the pay scale, like when custodians took a pay cut.
But raises at the Balas Administration Building come at a time when the state is pressuring districts to trim costs, be fiscally accountable and set sustainable budgets. At a time when district employees are absorbing cuts in wages, benefits and working conditions. And when parents are hoping that the $30 million in cuts won't affect the classrooms.
Shared pain, shared gain?
The AAPS leadership just added $24,902 to the administration budget while the rest of us are grappling with what cuts would be most fair across the district, even if they hurt some of us.
They may be thinking the amount of the raises is not that much. But I'd like to offer other numbers for comparison. Here are my Top 5 numbers that the school board should have thought about when considering how two administrative raises will affect the district:
1. $14 million: That's the projected budget cut the district needs to make this year, according to what parents were told at community forums. That number is about 8 percent of its $185 million budget. Questions that parents were asked to focus on at those meetings: "What could we do differently to save money?" I'm doubtful that "pay administrators more" was among the answers.
2. $247,700: Patricia Green was hired in April to run the district at a base salary of $245,000 (plus $2,700 for the medical benefits that she's waived). She replaced Todd Roberts, who earned $175,000. Another resetting of the pay scale.
3. 80: That's the "glass is half-full" number, or the gain in students this year over last year. The "half empty" number is 50, or the shortfall of how many the district had budgeted to gain, meaning it won't receive $465,000 from the state that it had anticipated.
4. $1.59: That's how much the top of the per-hour pay scale dropped for school bus drivers when Ann Arbor signed onto the consolidated bus system run by the Washtenaw Intermediate School District. Now the most a bus driver can make is $16.50 an hour, and starting pay is $13 per hour. The drivers lost their jobs at the same time, and had to reapply for them.
5. 1/2: That's the number of principals that four of the district's elementary schools would have had if a plan to "principal share" had passed in the spring. The district said it could have saved $100,000 by turning to half-time leadership in the buildings that make or break a parent's commitment to the district.
There are other numbers that catch my attention, too: 46 (as in cents, reflecting how much the district's top custodians lost in hourly pay) or $400 (how much more custodians now pay for health insurance).
Or 88: The number of district employees who were paid more than $100,000 in 2010. It's a number that represented 4 percent of the district's employees at the time. I've requested the updated number from the district (it's not yet on the AAPS website under the "transparency reporting" requirement, but I'm told it will be on Friday). The percentage of six-figure employees will likely now be higher, given the numbers of employees they've shed over the past two years (like bus drivers).
Then there's 30: the average secondary class size this year at our high schools. District officials said in October that class averages across the district are two to three students higher than last year.
And a few more: 5.4 - as in $5.4 million, representing the teacher concessions made in June 2010. And four: the number of unpaid furlough days taken by teachers.
There are more numbers that we could consider when weighing what these raises tell us about the district's direction. Even the time on the clock of the vote raises concerns: Is it really right to take this kind of vote after midnight?
The numbers we need to focus on right now are 16,589 - the number of kids in Ann Arbor Public Schools classrooms, each of whom deserves to have the adults running the district to make the best possible decisions for it.
And the number 1, representing the superintendent who's making these choices and setting the tone for the district. She's given us some indication of her expectations.
"It's important to bring the community together to discuss what it is it values and what it is we need to continue to focus on," Green told parents at a recent forum on what the district should be cutting from its budget.
That's true. I also think she'd appreciate hearing what Ann Arbor parents think of today's raises and the messages they send.
Paula Gardner is News Director of AnnArbor.com. She has a child who attends Pittsfield Elementary and a child at Scarlett Middle School, and her husband works part-time at Pittsfield. She can be reached by email or followed on Twitter.