Posted on
Sun, Jul 15, 2012 : 6:58 a.m.
Driving during Ann Arbor's 53rd Art Fair: How to get where you want to go
By Amy Biolchini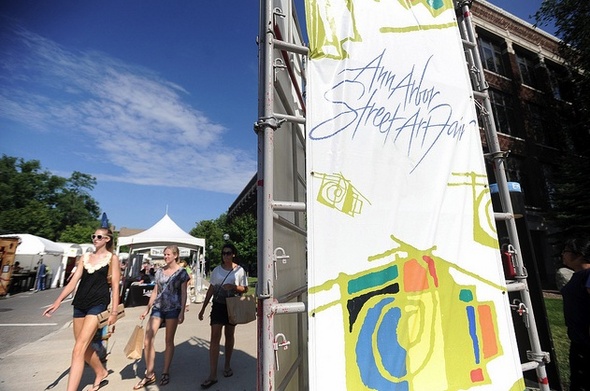 The
Art Fair
returns to downtown
Ann Arbor
July 18 to 21, bringing an onslaught of hundreds of thousands of visitors and their vehicles.
Businesses have been planning their strategies carefully in advance of the event, which can draw almost half a million people to 27 city blocks in Ann Arbor.
Travel in and around the city will be anything but business as usual, as the streets will be reclaimed by pedestrians and tents full of artwork for the 53rd year.
Parking will be at an all-time premium. Between parking structures, city lots and metered lots, there are about 5,130 parking spaces downtown - not including street parking.
This year's Art Fair comes with several changes to the downtown parking scene.
Many are curious to see the impact of the just-built opened Library Lane underground parking structure, which has added 711 parking spots.
Even though Ann Arbor Downtown Development Authority officials celebrated a grand opening Thursday, the garage has yet to accept its first paying customer.
Among other constraints, final elevator inspections have yet to be completed, said Susan Pollay, executive director of the DDA.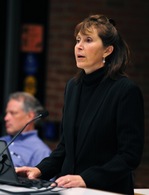 Ryan J. Stanton | Ann Arbor.com
Should the garage clear all its inspections, the first day the garage could open would be the first day of the Art Fair on July 18, Pollay said.
The opening of the Library Lane garage will likely not change the parking pinch downtown, Pollay said.
"I don't think we'll be shifting behavior from one part to the next," Pollay said, noting that many Art Fair visitors are set in their parking and traveling habits.
For the first time this year, Republic Parking is offering a "Park N Party" option where people can reserve parking spaces. About 150 spaces were reserved two weeks in advance, Pollay said.
For townies
As the Art Fair is comprised of four fairs in one, there are four clusters of street closures all within the crux of downtown.
The main thoroughfares of South Main Street, East Liberty, South State Street and South University all have significant closures, though parking garages and lots are still accessible.
Those with permanent passes to the automated garages will still be able to use them, but parking garages will be filled on a first-come, first-serve basis. Rates are set at $12 per day.
Ann Arbor Transportation Authority bus routes will also be affected by the street closures, as several stops will not be accessible. Routes 2, 3, 4, 5, 6, 7, 8, 15, 16, 17 and 36, as well as the ExpressRides from Canton and Chelsea will be detoured with at least one bus stop missed.
GetDowntown has compiled a list of options for business commuters to Ann Arbor during the Art Fair, and the DDA has a complete, real-time list of availability in downtown parking structures online.
For visitors
With a finite number of parking spaces in the city, alternative means of transportation to get downtown may alleviate some Art Fair headaches.
To view a map of the entire Art Fair, click here: 2012 Map.pdf
AATA is once again offering its Art Fair Park and Ride Shuttle, where visitors can park for free at Pioneer High School or at Briarwood Mall and ride the bus in to town for a $3 round-trip ticket.
Once downtown, the shuttle will stop at Main and East William streets, as well as South University near State Street.
A different round-trip shuttle will take passengers from Maple Village at 155 North Maple Rd. to the Trinity Westside Art Fair, making stops at Washington and Main streets and Washington and State streets. The shuttle will run from 9 a.m. to 10 p.m. July 18-20 and from 9 a.m. to 7 p.m. July 21. Round-trip tickets are $3.
The Art Fair Trolley will run around the perimeter of all of the fairs downtown. All-day tickets are $1.
The Michigan Flyer is offering round-trip fare from East Lansing to downtown Ann Arbor for the Art Fair at half price during July 18 to 21. The bus will drop riders off at the Blake Transit Center on Fourth Street.
For those who decide to drive, the recent re-opening of State Street at Stadium Boulevard will be welcome as inbound traffic to Ann Arbor from Interstate 94 no longer is no longer subject to a detour.
Those driving in from points east of Ann Arbor will encounter the ongoing construction on M-14. Traffic remains open to one lane in each direction.
Kari Arend, spokeswoman for the Michigan Department of Transportation, said further lane closures on the project will be pushed to off-peak traffic hours.
Beginning July 12, lane closures started between 8 p.m. and 6 a.m. During Art Fair days, those hours will be changed from 10 p.m. to 6 p.m., Arend said.
Construction on U.S. 23 north of Ann Arbor and south of I-96 will maintain two lanes of traffic in each direction, Arend said.
West of Ann Arbor, no major construction projects will interfere with daily traffic, Arend said.
In eastern Ingham County, lane closures on I-96 will begin July 20 at 9 p.m. which could affect people returning to the area from Ann Arbor late in the evening, Arend said.
Parking structures downtown will not be affected by the street closures for the Art Fair. For a complete list of all parking structures, click here.
Amy Biolchini covers Washtenaw County, health and environmental issues for AnnArbor.com. Reach her at (734) 623-2552, amybiolchini@annarbor.com or on Twitter.