Posted on
Sat, Dec 8, 2012 : 5:59 a.m.
Trustee's request to review football brawl investigative materials prompts spirited discussion
By Danielle Arndt
An Ann Arbor school board member still has questions she would like addressed about how the district handled the Pioneer-Huron football brawl this fall.
Trustee Simone Lightfoot asked to review the investigative materials and video footage that Ann Arbor Public Schools officials used to determine how to discipline the adults and students involved in the Oct. 12 on-field fight.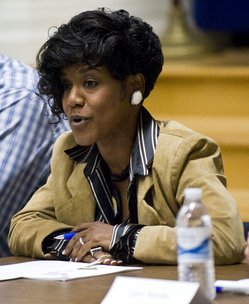 AnnArbor.com file photo
"When one of our babies, our students is thrown into the legal system as a result of something that happened in our district, on our grounds, I think we have a responsibility to do our due diligence," Lightfoot said at a school board meeting Wednesday night.
"... Every picture we saw showed a bunch of adults. And in the end, it is one child, one senior, who was on his way out, who has this outcome."
Pioneer High School student Bashir Traevon Garain, 18, was charged with two counts of assault with a dangerous weapon, which are felonies, and two counts of assault and battery, which are misdemeanors, for his alleged part in the brawl.
Lightfoot said she realizes the legal process is outside of the district's purview, but she wants to make sure the actions AAPS took with regards to coach and student discipline were equitable.
A post-game argument between Huron coach Cory Gildersleeve and Pioneer coach Paul Test led to the massive fight in October. Both coaches received one-game suspensions from the district. Pioneer defensive coordinator Vince Wortmann, who shoved Gildersleeve and started the physical altercation, was fired as a result of his actions.
Two students under 18 also are expected to be charged in juvenile court with two counts of assault with intent to commit great bodily harm less than murder, a felony, and two counts each of assault and battery, a misdemeanor.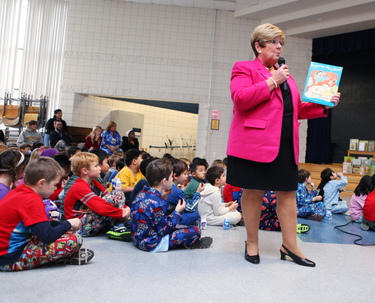 AnnArbor.com | Melanie Maxwell
At Wednesday's meeting, Lightfoot said she is not satisfied with the amount of information the school board has received about the brawl and the subsequent investigation. She pushed for more transparency, leading to a spirited exchange with Superintendent
Patricia Green
.
"Like how many people were involved in this thing?" Lightfoot said. "How many of us actually know the answer to that?" she asked her fellow trustees. She said she finds out more information in the media than from the district.
Lightfoot requested that an "update" on the outcomes of the investigation be scheduled for an upcoming board meeting and for an additional discussion to take place on the district's policies for handling these matters.
Lightfoot added she would like to revisit the brawl's discipline decisions now that the investigation is complete and it is out of the district's hands.
But Green said there are limitations to what can be shared publicly.
Lightfoot asked Green what it means, then, when the media reports the investigation is complete.
"I'm not sure what the media means when the media reports that. I'm not telling them that," Green said Wednesday. "We're not continuing to investigate. If something were to come up (in the police or prosecutor's investigation) that we did not know in our investigation ... that would become part of our record."
"This is getting to be confusing," Lightfoot said, adding she just wanted a simple yes or no. "I'm not talking about the police. I am so clear..."
Green said the Ann Arbor Police Department had to subpoena the district's videos from the brawl and other investigative materials it desired to use in its legal investigation.
Lightfoot asked what kind of a time frame the administration would need to gather the materials and make them available to view.
"I would say, if you can get in touch with me, so I can get in to the right people … it's not just sitting in my office. I'm going to need some time to organize it," Green said.
Lightfoot said she doesn't want the "run around" and she is trying to be courteous to administration and find out how long they need to pull the materials together for review. She said she just wants to know how long it might take — "A week? Two?"
"If you want it in a week, I'll put everything on the side and … give it to you in a week," Green fired back.
Board President Deb Mexicotte jumped in and suggested the materials be made available after the holidays and the subject of the brawl was dropped.
Earlier in the conversation, the board agreed to discuss the brawl as a sort of case study on student discipline policies at its Jan. 23 Committee of the Whole meeting.
Lightfoot did not want to limit the committee discussion to only student discipline, however. She also wanted to discuss the coach discipline piece and policies for discipline investigations in general, she said.
"I also want to know about the policy that came in around the incident itself, … how the staff worked on this and the policies and considerations that were taken, what led to our decision," Lightfoot said.
But other board members were not in favor of this, noting the policies already had been discussed after a presentation that took place at the Nov. 14 Committee of the Whole meeting.
On Nov. 14, the athletic directors from Ann Arbor's three comprehensive high schools talked about the athletic codes, policies and procedures that regulate coach and athlete behaviors in the district.
During the meeting, board members made several suggestions to administration for improving these policies, including adding language to ensure suspended coaches do not practice with their teams.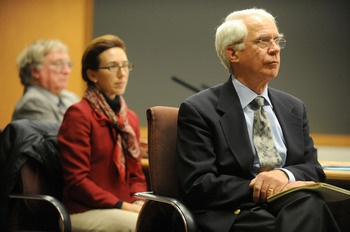 AnnArbor.com file photo
Board members expressed a plethora of opinions about what could have been done differently during that discussion, Secretary
Andy Thomas
said at the meeting Wednesday night.
"We turned all that over to administration with the intent that, at some point, there'd be a review of the supporting regulations. I don't think we're at the point where administration is ready to bring that forward," Thomas said.
Board members also pointed out that Lightfoot had to miss part of the Nov. 14 meeting and came in halfway through the athletic directors' discussion.
Trustee Glenn Nelson told AnnArbor.com Friday he thought another talk about the district's adult policies would be "plowing the same ground twice."
"I think a rereview so quickly of the adult (discipline) is letting this take over our agenda more than it should," Nelson said. "We have a very full agenda around educational programming and budgeting."
Nelson said he understands Lightfoot's desire to know more about this topic and encouraged her to continue her exploration. He said he personally has no desire to review the investigative materials.
"But I hope that kind of diversity of interest strengthens us (as a board)," Nelson said. "I'm happy when a trustee does want to look into things more. And I want to know about it when they find something. But I don't feel like we all have to do those sort of 'deep dives' on every subject."
During the meeting Wednesday, Lightfoot said she plans to sit and review all of the investigative materials and she has no problem asking questions at that time, "But I want us to be very public about this issue."
At the very least, Lightfoot said she would like an update about the professional development the athletic directors recommended for coaches in the wake of the brawl. She said funding for this concerns her because the board has been told there is not enough money to provide adequate professional development for teachers.
In an interview Thursday, Lightfoot told AnnArbor.com she does not feel like she is interjecting herself into personnel or administrative matters by having these expectations for reviewing what happened. She said board members owe it to their constituents to have the same amount of information as the media and others in the public when something tragic like this happens. And she said it should be the administration's duty to keep them informed.
"The idea that the superintendent can bring (this topic) back at her will is completely unacceptable to me," Lightfoot said Thursday. "We have a new superintendent, a new cabinet and new policies that have been put into place. This would be how we make sure all of this newness is passing the muster."
AnnArbor.com requested to speak with Green about the football brawl investigation and about the conversation that took place during Wednesday's board meeting. Green declined to speak with a reporter, and AAPS Communications Director Liz Margolis issued the following statement instead:
"The district's response to the conversation at the board meeting this past Wednesday is that we always welcome Trustees to come in and meet with staff and to view documents they are interested in. We will be fulfilling the recent request from a few Trustees to view the documents from the Huron/Pioneer Football incident."
Nelson said Friday he definitely felt the "intensity and the electricity go up for a short bit" during Wednesday's meeting. He said he wasn't sure what to make of it, but was happy to see it resolved.
Trustee Susan Baskett said Thursday she hopes it was just the long meeting and the late hour that led to the frustrations at the board table.
Baskett also has questions about the way the football brawl investigation was handled and the equity of the discipline. She said she plans to review the investigative materials as well.
Lightfoot added she has concerns about Green's attitude toward her personally and about her reluctance to make the materials available. Lightfoot said she sees a pattern in Green's demeanor "anytime we're trying to do our due diligence; it's seen as micromanaging."
"Dr. Green will write requests down from some trustees and not pick up a pen with other trustees," Lightfoot said Thursday. "... I've heard concerns from our community about her approach to communication and to experience it firsthand in a very public manner, it was disappointing. ... I think it's an indication of what some of our families experience.
"I want the public to know, I feel them when it comes to Dr. Green. It's on my radar."
Danielle Arndt covers K-12 education for AnnArbor.com. Follow her on Twitter @DanielleArndt or email her at daniellearndt@annarbor.com.