Posted on
Thu, Nov 15, 2012 : 8:15 a.m.
Huron-Pioneer football brawl prompts review of coach suspension policies
By Danielle Arndt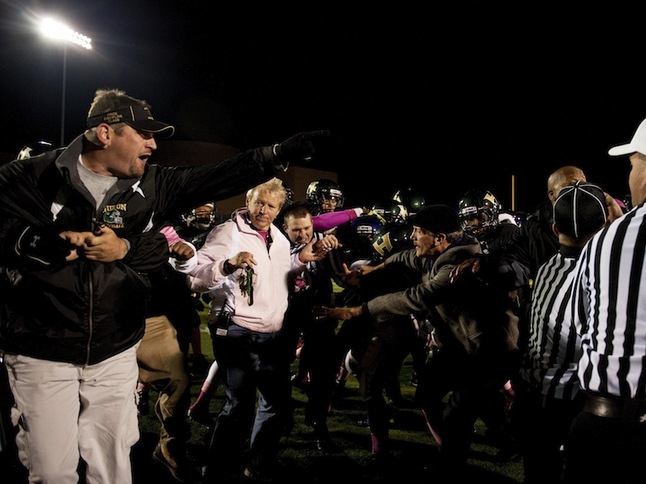 Daniel Brenner | AnnArbor.com
The
Ann Arbor school board
discussed Wednesday night suspending coaches without pay and prohibiting them from attending practice in the wake of the
post-game brawl
between Huron and Pioneer High School football coaches and players.
After discussing the matter at length, board members said they would like to add language to district policy that better explains disciplinary options but didn't set a timeframe for doing so.
The district's athletic codes, policies and procedures pertaining to coach and athlete behavior were brought before the board for its review in light of a brawl that broke out at the Oct. 12 Pioneer vs. Huron high school football game.
President Deb Mexicotte said several trustees requested the board look at the district's written expectations for coaches and the interplay between the MHSAA rules and the board's policies. Board members also wanted to gain a better understanding of the different types of coaches the district has.
"Our district policies really do have a lot of teeth," said Huron Athletic Director Dottie Davis. "And trust me, those teeth will be duly noted at every coaches meeting from here on out."
Davis, Pioneer AD Eve Claar, Skyline Athletic Coordinator John Young and Deputy Superintendent of Human Resources and Legal Services David Comsa provided materials to the board at its Committee of the Whole meeting and spent time answering the board's questions.
The massive postgame fight in Week 8 of the regular football season began when Huron head coach Cory Gildersleeve exchanged heated words with Pioneer head coach Paul Test following the final whistle of the 35-6 Pioneer win.
Test was shoved in the exchange, he said, and Pioneer defensive coordinator Vince Wortmann subsequently tackled Gildersleeve, which led to players from both teams charging the field. One student was sent to the hospital.
Both Gildersleeve and Test received single-game suspensions from the MHSAA and Ann Arbor Public Schools tacked on an additional one-game suspension. Wortmann was fired by the district.
Also in the aftermath, on Nov. 8, Gildersleeve announced his resignation as varsity football coach at the team's postseason banquet.
Players also suffered consequences for taking part in the on-field brawl, although the number of student-athletes suspended from each high school was not released by the district.
The disciplinary measures came after an internal investigation lasting multiple days, in which school officials reviewed video footage from the game, talked to parties involved in the fight and bystanders and conducted administrative discussions, Superintendent Patricia Green said Wednesday.
School officials explained the district has three primary categories of coaches: employee coaches, non-employee coaches and volunteers. Davis said only about 10 percent of AAPS' total coaching staff is employee coaches. These are the coaches AAPS is most responsible for disciplining.
Employee coaches have primary roles as teachers or administrators. Their coaching stipend and responsibilities fall under a supplemental contract, Comsa said. A teacher also could have a supplemental position in theater, art, music or another role outside of his or her classroom responsibilities, he said.
Gildersleeve was an employee coach, as he also teaches for the district. His teaching assignment was not affected by his discipline over the brawl or by his resignation from his supplemental position of head football coach. And because Test used to teach for the district and only recently retired, he has remained an employee of the district, school officials said.
Non-employee coaches are those individuals who work under a contract with Professional Contract Management Inc. (PCMI). District Spokeswoman Liz Margolis said AAPS began contracting with PCMI for the 2011-12 academic year.
Officials said Wortmann was a PCMI employee, and all that is necessary to fire these employees is to call PCMI to say their services are no longer needed.
AAPS also has a large number of unpaid volunteer coaches. Claar said except for the major sports, most teams have volunteer assistant coaches.
Secretary Andy Thomas asked if employee coaches are given the same due process as teachers who are facing disciplinary action. Comsa said it is similar, however teacher tenure law and union contracts can make disciplinary action more complicated for teachers.
"The coach is notified of the charges and then given the opportunity to be heard and then the administration makes a decision or a recommendation as to what the discipline might be," he said.
Thomas asked if district employees, either teachers or coaches, are ever suspended without pay. Comsa said no, not currently. However, under the new Michigan Teacher Tenure Act, which AAPS will be required to comply with in the 2013-14 school year after it negotiates a new contract with the AAEA, teachers can receive up to a 15-day suspension without pay, Comsa said.
Right now, teachers facing possible disciplinary action are placed on administrative leave with pay for however long it takes the district to investigate the charges against them, he said.
Thomas said he would like to see suspensions for coaches come with financial consequences, such as a loss of stipend for the games or practices the coach is required to sit out.
"A suspension without a financial consequence to me is a slap on the wrist," he said.
Trustee Susan Baskett agreed: "Hit 'em in the pocketbook."
But Vice President Christine Stead thought the blow to a coach's reputation at this level was more effective and appropriate than losing a modest amount of pay. She said it would be one thing if AAPS were a Major League Baseball team and the coach was fined $1 million for cursing out an umpire and exhibiting bad behavior.
"But we're just not at that scale when we talk about the high school coaching of anything," she said, adding if a coach is missing for a week from practice and competition, "that says a lot to the students he's responsible for and their parents and the community. … Respect is the most important thing a coach could lose in this environment. I think that's more meaningful than fining somebody or withholding something."
But in the one-game suspensions AAPS doled out to Gildersleeve and Test, the district chose to simply mirror the MHSAA's punishment, and both coaches were permitted to conduct team practices as usual during the week leading up to their single-game suspension.
Thomas asked why the MHSAA suspensions applied to the games alone.
"I think part of the reason is to keep the team physically prepared for the competition (to prevent injury)," Claar said. "Also because of the legal responsibility. … You have to have a qualified adult in charge of the team rather than a volunteer."
But Trustee Glenn Nelson did not find this argument convincing. He said the schools also have a legal obligation to have a responsible adult in the classroom when a teacher is suspended or even ill. The district is required to hire a qualified substitute with the appropriate certifications.
Thomas agreed, adding he doesn't understand why an athletic director couldn't step in to oversee the sports team for a day or two.
"I find it very disturbing that a suspension as it applies to an employee coach does not mean what I think is a common sense suspension," he said. "… And I'm not talking about Michigan rules, I'm talking about what we here as a district are able to impose beyond that and I think that suspensions should apply to practice and everything else that has to do with his role as a coach. … To me a suspension should be a suspension."
Davis told board members a poll of her coaches indicated a one-game MHSAA suspension with an additional week from AAPS, would prompt them to take a hard look at their behavior.
"All of them said, 'Absolutely, I'm going to think twice before I yell at that official,'" she said.
She added that in her experience with the district, "Normally we do present harder consequences than under the MHSAA."
Board members asked whether teachers who are coaches would be suspended from coaching duties if they were disciplined for something that happened in the classroom. Comsa said normally such a teacher cannot have any contact with students or parents on school grounds, which would mean he or she would be suspended from their coaching duties as well.
Nelson also expressed discontent with this "asymmetry," as he called it, that exists. He said it does not seem right that a suspended coach is allowed to continue to teach and to interact with athletes on a day-to-date basis while serving out a suspension.
"Can you give any examples of where we've suspended a teacher for morning classes but not for afternoon because the incident occurred in a morning class?" Nelson asked.
Comsa said that would not happen, but the administration does look at each case individually to determine if incidents that happen on the athletic field will have an impact on the coach's role as teacher.
The trustees agreed they did not want to take away the administrators' discretion in determining the best way to handle human resources and employee management situations. However, they did express a desire to look at adding language to existing policy that would better explain the available sanctions and the "depth of the discretion" that exists for administrators.
Danielle Arndt covers K-12 education for AnnArbor.com. Follow her on Twitter @DanielleArndt or email her at daniellearndt@annarbor.com.