Posted on
Sat, Sep 15, 2012 : 6:30 p.m.
Cooper Barton, of banned T-shirt fame, attends Michigan game, says he's faster than Denard Robinson
By Ben Freed
Melanie Maxwell | AnnArbor.com
Cooper Barton
, the Oklahoma elementary school student who was forced to
turn his "Big House" shirt inside out
, was given the royal treatment by the University of Michigan athletic department at Saturday's football game. Athletic director
Dave Brandon
pulled out all the stops. After
calling Barton personally
to invite him to the game and providing tickets, Brandon walked Barton and his family onto the field during the first quarter through two lines of cheerleaders and invited them to
join him in his suite
on the 50-yard-line.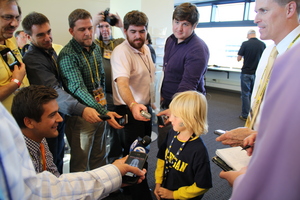 Ben Freed | AnnArbor.com
Barton, who attends Wilson Elementary School in Oklahoma City, was all smiles as he soaked in the cheers on the field and as he took in the game from his luxurious seat. Draped in enough Michigan clothing to last him a number of years, barring growth spurts, Barton cheered on the Wolverines with his older brother Nathan. When he came to the press box at half-time, reporters swarmed around the 5-year-old who looked a little overwhelmed as he answered questions with a mass of cameras and recorders surrounding him.
Barton mostly had one-word answers for the media, but he did reveal that Denard Robinson and Usain Bolt have another challenger.
"I think I could beat (Robinson) in a race" Barton said. "Because I'm this fast."
He proceeded to demonstrate how fast "this" was by rapidly waving his hand back-and-forth in front of his face. Barton added that he enjoyed going out onto the field and seeing himself on the big television screens located above the stands at the stadium.
The interview concluded with a lot of head-nodding and high-fiving.
Barton's father Chris Barton said the whole experience has been "surreal."
"When you get 100,000 people cheering for you, it's just remarkable," he said. "It's really actually very humbling.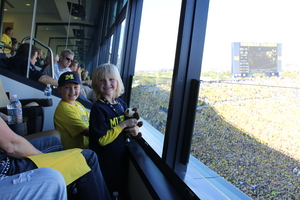 Ben Freed | AnnArbor.com
In addition to inviting Barton to enjoy the game, Brandon tasked the M-Den with designing a t-shirt that would show Michigan pride whether it was worn correctly or inside-out after Barton was asked to turn his Michigan shirt inside-out to comply with the school's dress code that banned all college team apparel except of Oklahoma schools.
The Michigan Alumni Association also got in the act, encouraging all Alumni to wear their Michigan gear on August 31 in support of Barton and his Michigan spirit.
The school district has suspended their dress code policy following the negative backlash received from the incident.
Ben Freed covers business for AnnArbor.com. Reach him at 734-623-2528 or email him at benfreed@annarbor.com. Follow him on twitter @BFreedinA2