Posted on
Thu, Aug 29, 2013 : 5:59 a.m.
Unauthorized immigrants in Washtenaw County could get county-issued ID cards
By Ryan J. Stanton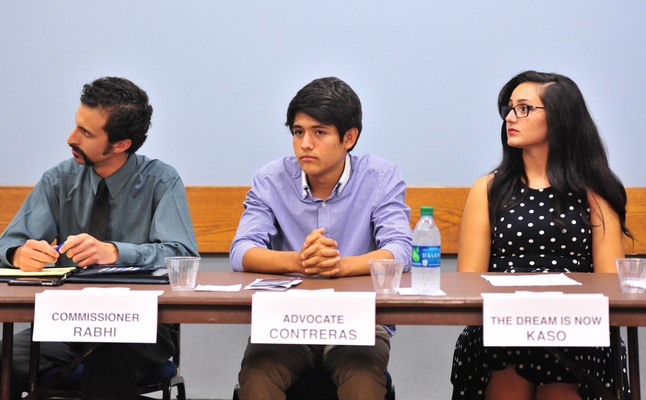 Ryan J. Stanton | AnnArbor.com
Washtenaw County
officials are working out the details of a new program that could put county-issued ID cards in the hands of unauthorized immigrants.
"We are working with the clerk's office to make that happen. This could be big for us," County Board Chairman Yousef Rabhi, D-Ann Arbor, said Wednesday night during a panel discussion on immigration reform at the University of Michigan.
"We're kind of tired of waiting on the state, we're tired of waiting on the federal government, and we're looking at actions that we can take right here in Washtenaw County to change the way things are going — especially for immigrants," he said.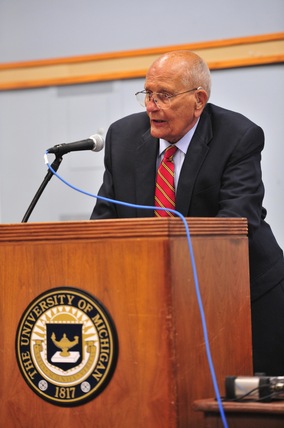 Ryan J. Stanton | AnnArbor.com
Rabhi was joined by state Reps.
Jeff Irwin
and
Rashida Tlaib
, as well as young immigration reform activists
Javier Contreras
and
Ola Kaso
, inside the Michigan Union.
The forum was hosted by the Washtenaw County chapter of Organizing For Action.
U.S. Rep. John Dingell, D-Dearborn, gave a keynote address, calling the U.S. immigration system broken and in need of reform.
He cited estimates that somewhere between 11 million and 15 million unauthorized immigrants are in the country, and he said they should be able to earn their way to citizenship.
Rabhi said the lack of a government-issued ID card prevents unauthorized immigrants from accessing a variety of basic services — everything from signing up for perks at a local grocery store to opening a bank account — and it leaves them in fear of getting pulled over without ID.
If an unauthorized immigrant is pulled over for speeding in the future and is able to show a Washtenaw County ID, Rabhi said, that person wouldn't necessarily be detained.
"Because they'd be able to provide proof that they are, in fact, a resident of Washtenaw County, and say, 'This is who I am and here's my picture,' " he said.
Rabhi said unauthorized immigrants aren't the only people who would benefit from a local ID program — it also could help out homeless people and transgender people.
"If you get an ID right now from the state, you're either a male or you're a female, and we want to make sure we're inclusive to everybody," he said of how it could help transgender people.
Rabhi said county officials still are in discussions about some security issues and how to establish identities in a way that's legal.
"I'm confident we'll find a solution that will work for our community," he said. "Hopefully the capital costs will be minimal and the cards will come with a small fee."
Irwin, D-Ann Arbor, said he's worked with Tlaib, D-Detroit, to introduce legislation aimed at making Michigan a more welcoming place for immigrants.
Ryan J. Stanton | AnnArbor.com
They talked about a package of bills called the
"New American Opportunity and Fairness Act,"
which they're co-sponsoring with other lawmakers, including Rep.
Adam Zemke
, D-Ann Arbor.
Tlaib is the chief sponsor of a bill that would establish an Office of Immigration Integration to help coordinate resources and services for aspiring citizens, students and investors.
Tlaib, who has a background as an immigration attorney, said she and her peers wanted to bring forward legislation that fits with Gov. Rick Snyder's message that welcoming more immigrants into the state is one of the keys to driving economic growth and creating jobs in Michigan.
"Having an Office of Immigration Integration where somebody could pick up the phone and call a department within the state of Michigan's system, I think, really will stand out," she said.
Irwin is the chief sponsor of a bill that he calls a "state-level Dream Act," which would provide in-state college tuition for unauthorized immigrants in Michigan. He gave credit to the University of Michigan for taking steps in that direction recently.
The lawmakers also are pushing for getting driver's licenses and state ID cards in the hands of unauthorized immigrants in Michigan.
The Michigan Department of State was required by federal officials earlier this year to begin issuing driver's licenses to DACA — or Deferred Action for Childhood Arrivals — participants.
Contreras, a recent Skyline High School graduate who came to the U.S. from Mexico with his family at age 4, talked about growing up as an unauthorized immigrant.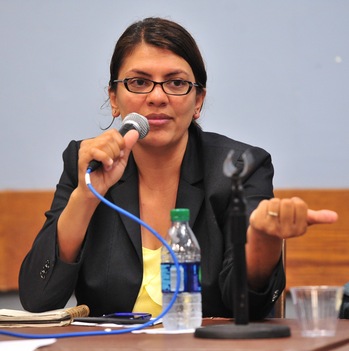 Ryan J. Stanton | AnnArbor.com
"I've been here 14 years and it hasn't been easy," he said. "I've always known I was undocumented and knew that eventually I would be faced with a lot of barriers."
He wasn't able to get a driver's license until recently. And unable to apply for student loans, he wonders if he'll ever achieve his dream of going to U-M.
"With immigration reform passing, I could finally get a bank loan, I could get federal aid," he said. "I can't sign up for FAFSA right now."
AnnArbor.com reported earlier this year that Contreras and his brother, Jose, have two-year full-ride scholarships to Washtenaw Community College.
Kaso, who was born in Albania, told her story of coming to the U.S. with her family when she was 5. At first, she couldn't speak a word of English, she said.
She eventually became proficient in English, excelled in her studies, and devoted herself to community service projects, but her immigration status threatened her future.
Two months before her high school graduation, she was spontaneously detained by Immigration and Customs Enforcement.
"I was led into the basement of the ICE office and handcuffed to a chair in the hallway for six hours," she said. "I was an 18-year-old honors student set to graduate in two months."
She was released and told she would be deported within a week — back to Albania, a place she could barely remember — but her community rallied to delay her deportation.
She's now a junior at U-M, studying biomedical engineering on the pre-med track — with aspirations of becoming a surgical oncologist.
Even now, two years after almost being deported, her future remains in limbo. She said she can't apply to medical schools because she's not a U.S. citizen.
"I'm an American in every respect," she said. "When I think of home, I think of Sterling Heights, Mich. When I think about my country, I think about the United States of America.
"However, under current law, there's no way for me to become a U.S. citizen," she said. "Make no mistake about it, our immigration system is broken."
Ryan J. Stanton covers government and politics for AnnArbor.com. Reach him at ryanstanton@annarbor.com or 734-623-2529. You also can follow him on Twitter or subscribe to AnnArbor.com's email newsletters.