Posted on
Thu, Jan 17, 2013 : 5:59 a.m.
New 2-acre solar panel field will be built off Fuller Road in Ann Arbor
By Kellie Woodhouse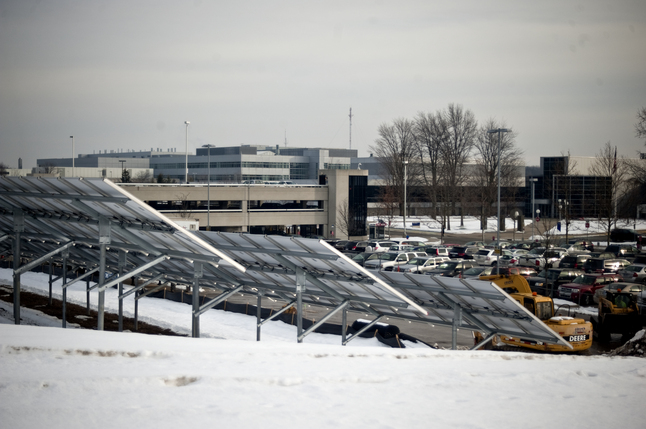 Joseph Tobianski | AnnArbor.com
Ann Arbor saw its
first large solar panel installation
recently, and officials say it's far from the last one that will alter the landscape of the area.
The University of Michigan — home to an array of 1,800 DTE Energy panels on Plymouth Road installed in fall — is planning to install another large array this spring.
That array will be on the school's north campus, near the architecture and engineering colleges, and will be visible from Fuller Road, said Terry Alexander, director of U-M's Office of Campus Sustainability. The installment is expected to be roughly the same size as the 2.4-acre Plymouth Road array.
Meanwhile, Matthew Naud, the environmental coordinator for Ann Arbor, says he expects the city, either alone or in partnership with another organization, to install its own large array "in the next year or so." Possible locations for such an installation, Naud said, include city-owned land near the Ann Arbor Municipal Airport and property near the landfill.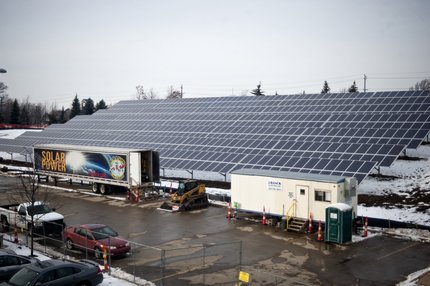 Joseph Tobianski | AnnArbor.com
The city already has small solar installations on the roof of Kerrytown Market, the Leslie Science and Nature Center, the newly constructed courts building and several fire stations. U-M has solar installations on the roof the School of Natural Resources building and atop a building near the school's central power plant, both on central campus.
Public forums would take place before any large installation.
The city is also planning to partner with Ann Arbor Public Schools and New York-based Wind Products Inc. on a potential $1.4 million wind energy project that would fund the installment of two large turbines.
Alternative energy is coming to Ann Arbor, but not without some controversy.
"People react to solar panels and wind turbines as they do to many new things: some love them, some hate them. They're new to the eye," said Mike Garfield, director of the Ecology Center in Ann Arbor.
The Plymouth Road installation generated a lot of feedback, with many Ann Arborites praising U-M for supporting solar energy while others criticized the university's approach to solar energy and the community and called the array an eyesore. Ward 2 Councilwoman Jane Lumm called the project "industrial" and "hideous."
"U of M is sending the message that solar is industrial, in-your-face, and ugly and we had just better get used to it," said Ann Arbor resident Dave Bizot.
Others disagreed.
"I think this is the most positive and appealing project either DTE or the [university] has created in years," offered Ann Arbor resident Sandra Awood.
Alexander said the visual impact of the Plymouth Road installation and planned array off Fuller Road will be mitigated with trees, shrubs and other landscaping. The solar panels installed over the spring will face Fuller Road, unlike the array near Plymouth.
Yet the arrays are strategically located so they can be seen.
"It's great that there's a visible solar project on site at the university. A lot of people coming to and from and through Ann Arbor will see it," Garfield said of the array on Plymouth. "I also think we're going to learn something from the reaction to it."
Added Alexander:
"It will grow on people. When I first saw it I had a reaction of 'Wow, that's big...' every time I drive by it, it looks smaller, so I am adjusting to it."
Concerns over the aesthetics of alternative energy installations, whether it be solar panels or wind turbines, are an ongoing aspect of proposals throughout the country.
"You kind of take the good and the bad, and know that you can't make everybody happy," Alexander said.
The planned array off Fuller Road will be installed on U-M land by DTE as part of the energy giant's Solar Currents program. The Plymouth Road project, which is also part of the program, generates enough electricity to power about 100 homes. DTE pays U-M $12,000 annually for the use of its land.
The panel installations are part of a $14 million initiative to enhance sustainability on the Ann Arbor campus. U-M President Mary Sue Coleman first announced U-M's plans to install solar panels during a sustainability address in September 2011.
Nearby, the city of Ypsilanti is in the process of leasing 4.5 acres of its land for a solar installation. That installation, operated by SunDurance Energy, would net Ypsilanti a $44,000 annual payment. Ypsilanti is expected to be notified this week whether it was chosen for a "short list" for the DTE project.
According to DTE, solar panels are producing 949 kilowatts of energy in Ann Arbor. In addition to the Plymouth Road installation, which produces 430 kilowatts, there are 64 customer owned installations throughout Ann Arbor that produce 400 kilowatts of energy. Another 21 projects scattered throughout Ann Arbor bring the total to 949 kilowatts.
The lack of a public forum prior to the installation of panels on Plymouth Road upset several nearby homeowners.
Get Ann Arbor news in your inbox
Keep your finger on the pulse of the Ann Arbor business community by signing up for the Business Review newsletter sent out early every Thursday morning. You can also sign up for the daily 3@3 email to see our best local stories every day.
"The installation, which took place without direct communication ... has lead to resentment and anger toward the [university]," offered Ward 2 Councilwoman
Sally Petersen
. "The university could have enlisted the the Ward 2 City Council members, Jane Lumm and myself, to organize a neighborhood meeting during which the University of Michigan could present their plans and hear feedback from the neighboring community."
U-M's community relations director Jim Kosteva said officials haven't decided if there will be any public forum prior to the spring installation of solar panels off Fuller Road.
"I would just hope that there'd be more outreach and recognition when they do these sort of projects," said Limm. "There is an impact on the adjacent neighborhoods."

View New University of Michigan solar installation s in a larger map
See a view of the panels driving down Plymouth Road:
Kellie Woodhouse covers higher education for AnnArbor.com. Reach her at kelliewoodhouse@annarbor.com or 734-623-4602 and follow her on twitter.