Posted on
Tue, Jan 22, 2013 : 5:58 a.m.
University of Michigan faculty beat: Retaining and wooing stars requires constant vigilance
By Kellie Woodhouse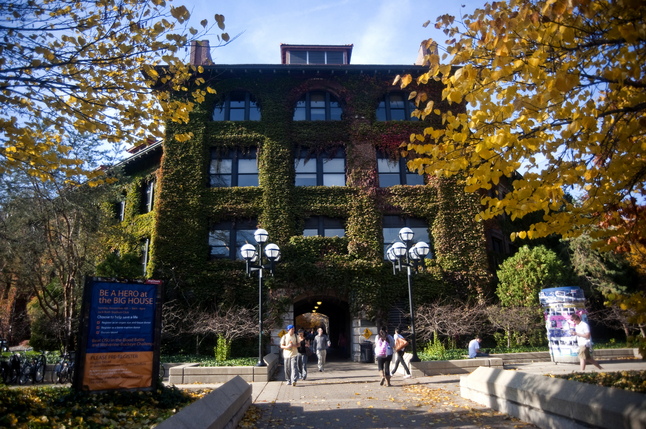 Joe Tobianski | AnnArbor.com
Losing star faculty is a blow to the gut, and most universities will go far to keep their favorite teachers and researchers.
Think of star faculty as in-demand athletes.
Just like the Cleveland Cavaliers didn't want to lose LeBron James to the Miami Heat, University of Michigan doesn't want to lose its star faculty to competing schools. U-M will offer research funding, financial packages and increased responsibility to sought-after professors, going as far as to help place spouses in jobs.
Yet in the game of higher education, faculty poaching is inevitable.
Sean J. Morrison, a leader in the field of stem cell research and acclaimed U-M faculty, left Ann Arbor in 2011 for a job at the University of Texas Southwestern Medical School in Dallas. And there's John Z. Ayanian, a former Harvard University doctor and a leader in health policy research. He left Boston to become the first director of U-M's Institute for Healthcare Policy and Innovation. Most recently, there's the case of U-M Provost Philip Hanlon, who is leaving his workplace of 26 years to become the president of Dartmouth College, another Ivy League institution.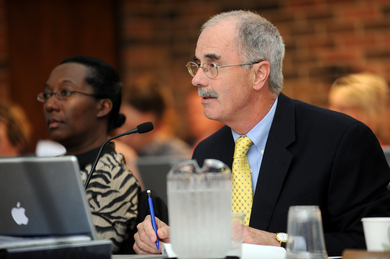 AnnArbor.com file photo
During a seven-year period ending in 2011, U-M lost hundreds of faculty to other top schools. The school also has recruited a fair share — 650 sought-after professors from other highly-ranked institutions— to Ann Arbor, which can be a costly and difficult process.
Harvard and the University of California at Berkeley are the two top poachers of University of Michigan talent. Harvard successfully recruited 55 U-M professors between those seven years and Berkley wooed 54 faculty members, according to university figures.
During a seven-year period ending in 2011, the top ten recruiters of Ann Arbor professorial talent were:
Harvard University, 55
University of California's Berkeley campus, 54
Stanford University, 46
University of Chicago, 37
University of Texas, 33
University of Pennsylvania, 28
University of North Carolina, 28
University of Maryland, 25
Columbia University, 24
Ohio State University, 23
"I do worry about the challenges that we get from very wealthy privates," said Martha Pollack, vice provost for budgetary and academic affairs. She said that wealthy private universities have an advantage when recruiting due to deeper pockets. "As our budget model gets tighter and tighter, the great public universities ... could lose our real talent to the wealthy universities."
During the same seven-year period, university administrators were able to make packages enticing enough to retain 510 faculty who other colleges were recruiting. That's a success rate of 60 percent, according to university figures.
The university typically persuades a professor to come to the university, or stay despite recruitment form elsewhere, in three ways. The first and most obvious is money, in the forms of salary and research support. For example, engineering dean David Munson received a 29 percent raise after he was recruited for a provost job at another school.
"I won't say we never make really enormous retention packages, but that's the rarity," said Pollack. "We try to be reasonable ... we try really hard here to live within our means."
A professor might be compelled to come to Ann Arbor if the university offers him or her money to support a lab for two or three years, until that professor has established a substantial enough following to start luring research dollars to the university through grants. This startup money could be funded by an interested college or also by a recruitment fund held by the provost's office.
Getting top faculty is an ever-competitive ordeal. Offering competitive salaries is necessary. Out of U-M's top 10 competitors for talent, U-M pays its professors the 7th-highest salaries.
Harvard University: $203,699
University of Chicago: $197,788
Stanford University: $192,915
University of Pennsylvania: $181,812
Yale University: $180,431
Columbia University: $180,321
Univ. of California at Los Angeles: $159,808
Univ. of California at Berkley: $152,521
University of Michigan: $148,763
University of North Carolina: $143,983
University of Texas: $140,583
University of Maryland: $136,359
Ohio State University: $130,143
A faculty member considering leaving the university can approach U-M administrators. Once every five years, recruited faculty members are eligible for a review.
"We really want this to be serious," said Pollack. "We don't want to just play games with people and get into bidding wars."
Reviews can result in a higher salary or more responsibility — or both — depending on the desires of the professor. They can also result in a final parting, says Pollack.
That leads to the second way faculty members are recruited and retained: They're promised more responsibility. According to Pollack, faculty awarded ownership over their department or college are more likely to stick around.
"Most of the time there is some salary increase," said Pollack. "It's very common for there to also be some sort of a leadership opportunity that makes sense for the person.
"(Administrators) will try to figure out what the faculty most wants. It's not always money. It can be research equipment, priority when (choosing) the next PhD student."
Pollack recalls being approached by a computer science faculty member who was recruited "to a very high level" at Microsoft. It was impossible for the university to counter his financial officer, so instead Pollack — who was dean of the School of Information at the time — offered the professor seed money to start an undergraduate research program. As a result, the professor stayed at the university and turned down a job that would have tripled his earnings.
Explained Pollack: "One of the reasons we do retention on our real stars is because they have very active research programs that help us mainly academically, and also financially."
The university can also offer a sought-after professor an endowed chair title, which not only offers job security and a nice salary, but also comes with a level of prestige.
The third tool of recruitment and retention: assisting professors whose partners are also seeking equitable employment. As dual-career couples are becoming increasingly common, this aspect of faculty recruitment is becoming essential, said U-M vice provost for academic and faculty affairs Chris Whitman.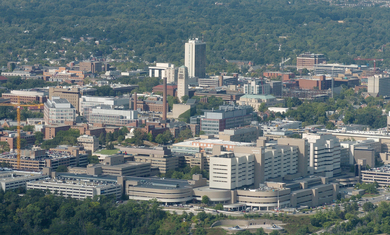 "We try to offer support in placing spouses," explains Whitman. U-M employs staff designated with helping dual career couples. Many find jobs at the university and their positions may be initially funded by provost office resources.
Whitman said that due to its Midwestern location, U-M is at a disadvantage in recruiting.
"It's difficult to compete with schools that are located in major urban areas," said Whitman. "Many people are looking for jobs for their spouse. The whole family needs to be involved."
Getting recruits into town can be the biggest hurdle, she adds. "People tend to assume, if they've never been to Ann Arbor, they don't want to come here."
The recruitment game is often played long before the actual offers are made. Administrators and leading faculty spend hours keeping abreast of academic and industry leaders and reading through academic journals to assess the success of scholars. Several U-M colleges have committees charged with locating vulnerable talent at other colleges. At a decentralized institution like U-M, recruitment and retention policies vary from college to college.
"It's very intensive. It is a very large drain on faculty time," Whitman said.
The most important work can be spotting a "star" before one has fully emerged.
"In terms of retention, we spot people who might be attractive to other schools before the other schools are trying to recruit them," Whitman continued. "We try to figure out what is important about Michigan and build on that."
Added Pollack: "We watch the situation carefully. We are carefully monitoring all the time to see who we are (at risk of losing)."
Overall, U-M is successful at retaining faculty. In the past two years on record, 2011-12 and 2010-11, the school lost less than 4 percent of its faculty each year, even after retirements were factored in.
The average length of employment for tenure and tenure-track faculty at the university is 11 years.
Kellie Woodhouse covers higher education for AnnArbor.com. Reach her at kelliewoodhouse@annarbor.com or 734-623-4602 and follow her on twitter.